The brand new Sylvia 2400 Super Large Opening Cabinet opening to fit the largest of embroidery machines. Includes left and right lift mechanisms on each side to support machine platform at both ends and the extra weight of the machine.

Closed Dimensions: 41.3/8" x 24.1/8" x 30.1/2"

Open Dimensions: 78.3/8" x 44" x 29.3/4"

More About Sylvia Sewing Cabinets Made in Canada
Sylvia Sewing Furniture is the only furniture manufacturer that designs and manufactures modular furniture. This allows the perfect combination of cabinets and storage chests to be created for today's quilter and sewer. Begin with one piece of furniture and add drawer stacks for a variety of combinations. Some cabinets even have an optional Quilter's Extension for extra surface area.

Integrate your workspace with Sylvia Sewing Furniture. Sylvia Sewing Furniture is the only furniture manufacturer that designs and manufactures modular furniture. Our sewing furniture allows you to sit centered in front of the needle for accuracy and sewing comfort. Let the 3-step patented Rudersburg Hydraulic Lift effortlessly raise or lower the sewing machine or serger for ease of use. Flush-mounted hinges will never snag your delicate fabrics or large quilts.

Solid Construction - Our glued and doweled construction provides strong, tight joints for years of trouble-free sewing and oversize steel-sided drawers protect your supplies. Our furniture has gently rounded edges and corners that are durable and smooth to the touch with a distinctive look. The extra thick top and base of our products give strength and stability, and cabinets fold away to protect the machine.

Easy to Use, Easy to Move - each model has Commercial-grade locking casters (wheels) for easy movement and positioning. Sylvia sewing furniture comes with a Lifetime warranty, and is fully assembled with the exception of the wheels.
US Warranty 1 year parts, 90 days labor on defects in materials and workmanship.
Non-US Warranty: 30 days parts and labor
Specifications
Sylvia Cabinets General Operational Instructions Download
(.pdf)
Please click here to view further warranty information.
Please review our Freight LTL Shipping Policies
Ships Ground Freight only.
*
For delivery please select options. "Lift Gate" which means a goods lifting platform installed at the rear of the delivery truck that facilitates the unloading of cargo from truck bed to the ground. Most shipments will require a lift gate, if there is not a loading dock, or fork lift available for delivery.
Open
Width: 78 3/4″
Depth: 24 1/2″
Height: 29 3/4″
Closed
Width: 39 3/8″
Depth: 24 1/2″
Height: 30 1/2″
Machine Opening
Width: 27 3/8″
Depth: 14 3/16″
OpenwithMachine_Hoops_467px
OpenwithMachine_Hoops_467pxOpenwithMachine_HoopsandOptional1570Extension_467pxClosed_467px
Share1
SewMate Sewing Machine Cabinet 2400 with Large Machine Opening
Choose Finish Color
Choose an option…
1
Add to cart
Product Information
The newly introduced Sylvia Model 2400 SewMate Cabinet can easily fit the largest of the large sewing and embroidery machines manufactured today. With a sewing machine opening of 27 3/8" x 14 3/16" to fit the largest of embroidery machines.
This sewing machine cabinet includes two Rudersburg lift mechanisms, one mounted on the left side of the machine opening and the other on the right side to support the machine platform evenly at both ends and the extra weight of these heavy machines.
This cabinet was designed by sewers and folks that embroider and has many conveniences built into the design. There is a space to store your embroidery unit when not in use. There are embroidery hoop hangers on the inside of the cabinet door to store all the hoops that came with your machine.
The lift has 3 positions – all the way down, so you can close up the cabinet completely – the middle position for sewing and quilting where the arm of your sewing machine is flush with the top of the cabinet. Very ergonomic and comfortable and meant to be used with a sewing machine insert that fits around the arm of your machine – and lastly, the all the way up position for taking advantage of your sewing machine free arm and using your embroidery unit.
The cabinet comes completely assembled. All you do is attach the commercial grade locking casters. The cabinet even comes with a lifetime warranty.
Ships to you by a trucking company, secured on a pallet in one box. We will phone you after you order to explain the shipping and what you can expect including the appointment with the trucking company so you are home to receive your cabinet.
Other Images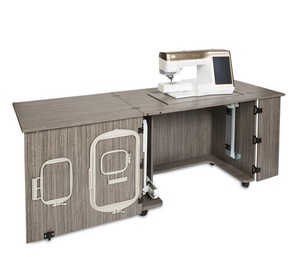 For Brother Dream Machines and Babylock Destiny in new Twilight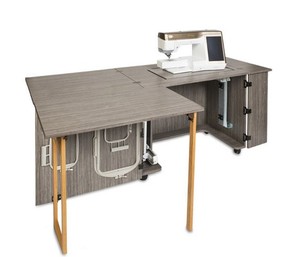 Shown with Twilight front quilt leaf extension and support legs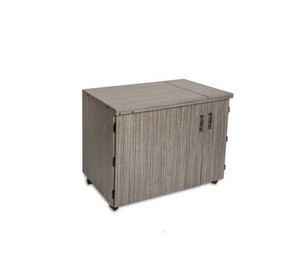 Shown closed up in Twilight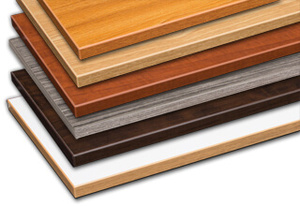 Sylvia finishes are durable, heat, scuff, scratch and stain resistant. Choose from any of the six beautifully rich colors that Sylvia has to offer: Sunset Cherry, Mahogany Clove, Brown Pearwood, Teak, Castle Oak, or White with Oak trim. Every Sylvia cabinet is completely finished front to back, inside and out
Lifetime Warranty We believe in our workmanship and materials so much we warranty our cabinets for as long as you own them. We have been in business taking care of customers for over 35 years.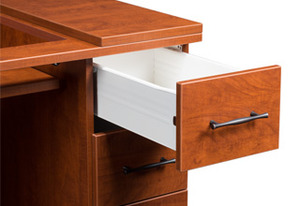 Solid Construction Quality materials, quality workmanship and customer satisfaction are the hallmarks of every piece of Sylvia Sewing Furniture. Top quality hardware from solid bronze hinges to modern drawer pulls. Sylvia cabinets come fully assembled (except for the casters).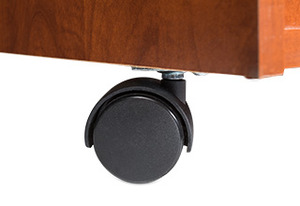 Easy to Use & Move All Sylvia cabinets are designed with center-of-the-needle sitting position which increases visibility and decreases back strain. Locking commercial grade casters make your cabinet easy to move, or remain securely in place. Heavy duty metal drawer glides are smooth and will last a lifetime.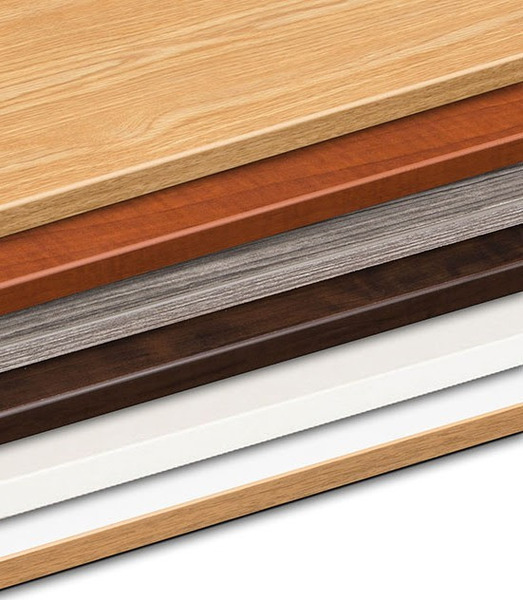 Current Colors Available:

Castle Oak
Sunset Cherry
Twilight
Brown Pearwood
White with White Trim
White with Oak Trim