BERNINA Embroidery Software 7 – uniquely yours
BERNINA Embroidery Software 7
EditorPlus
CorelDraw® Essentials X6
Automatic Digitizing
Color Wheel
Style Preview
The power to make it special.
EditorPlus 7 goes well beyond customizing existing designs. It can make them special.
With powerful tools normally only found in digitizing software, you can change stitch types and colors, add lettering and sophisticated monograms all with a few clicks of your mouse. Why settle for ordinary embroidery when you can make it special?
Easy-to-use in so many ways:
Intuitive User Interface is easier to navigate
Automatic Digitizing tools create embroidery directly from suitable graphics
Realistic hoop display makes for accurate results when you stitch out your designs
Creative tools that go beyond mere customizing:
450 Designs included in a wide variety of themes
Extensive lettering options:
61 built-in alphabets including micro fonts
Convert True Type fonts to embroidery alphabets
Elastic lettering
Reshape individual letters
Change individual letter colors
Advanced Monogramming
Design your own decorative buttonholes
Change stitch types and effects
Powerful features make designing easier:
Change colors, fills and outline types at any stage of designing, with a simple mouse click
Powerful Stitch Editor for touch ups when needed
Select the fabric for your project and EditorPlus will adapt the stitching for best results
Use the Color Wheel and Color Management to explore different color ways for your embroidery: great to adapt to different background fabrics
Preview your embroidery on articles to determine the best proportion for your designs
Open and Save embroidery files in a wide variety of formats
Use the Portfolio program to help you manage your embroidery library
More than just embroidery:
CorelDraw® Essentials X6 is included for graphics creation and preparation
BERNINA Quilter program included: design quilts and preview appliqué and embroidery placement
BERNINA Cross-Stitch program included:
create your own cross-stitch patterns and convert to embroidery designs
Convert photos to cross-stitch patterns
Convert photos to embroidery with PhotoSnap
Software features:
Windows® XP, 7, 8 and 10 compatible
Automatic Software updates
Also runs on Mac with Boot Camp 4.0 or later, VMware® Fusion 4 or later, Parallels Desktop 7 and Windows® 7 or later
Warranty Information can be found under Specifications.
Other Images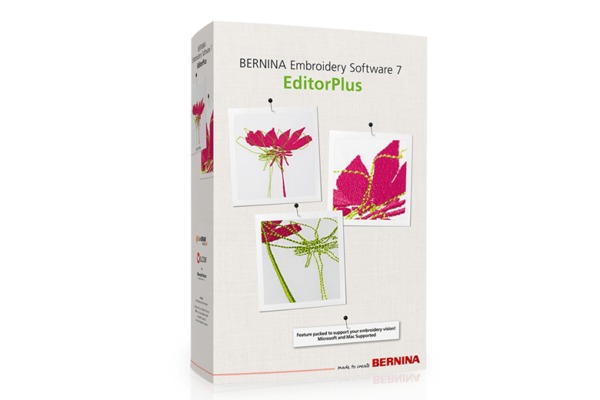 Bernina 033882.70.00 Embroidery Software 7 Editor Plus. BERNINA Embroidery Software 7 With the latest version update V7.0T your embroidery software will be partially executable under Windows 10. The functionality of the embroidery software under Windows 10 cannot be guaranteed, as Corel DRAW X6 is no longer supported by the manufacturer under Windows 10. Therefore, BERNINA cannot provide support for the embroidery software V7 in conjunction with Windows 10, but experience has shown that the embroidery software V7 should work under Windows 10. The function of the automatic fabric settings (auto fabrics) has been extended and can now be manually activated or deactivated. It makes embroidery easier and improves the stitch quality, while adjusting settings specifically to the fabric. To test the function, we provide you according to the winter season three snow stars as free download. These free-standing lace designs have no underlay stitches. Other such embroidery designs and stabilizers can be found on embroideryonline.com under the search terms free-standing lace and wash away stabilizer.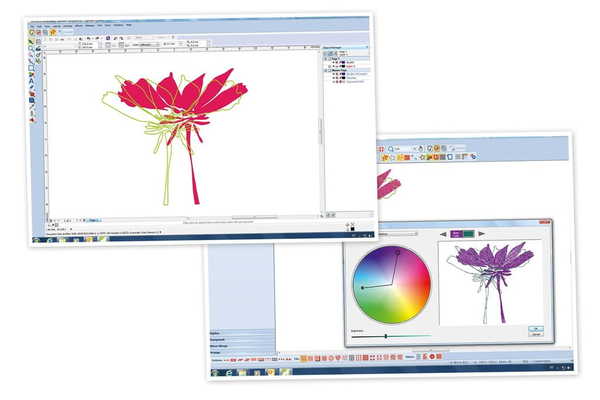 The EditorPlus Embroidery Software 7 makes each embroidery project uniquely yours with simple editing and extensive lettering options. Quickly preview designs in alternate colors with the powerful Color Wheel, create motifs with Automatic Digitizing and fine tune them with the various editing features included within the software.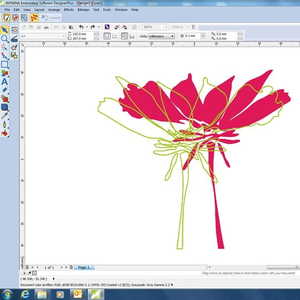 CorelDraw® Essentials X6 Enhance your creativity with the power of CorelDraw® Essentials X6. Apply special effects to artwork, add text, shapes; freehand draw elements or trace bitmaps for unique multimedia projects.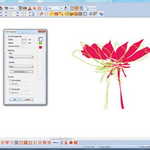 Automatic Digitizing Turn artwork from a number of popular graphic formats into embroidery with just a simple mouse click. No experience required! The powerful automatic digitizing takes care of everything.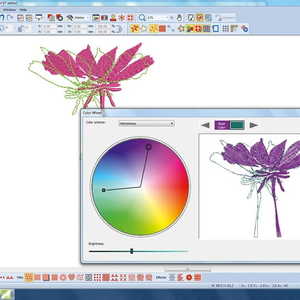 Color Wheel Preview your design in a variety of color ways quickly and easily. The software will select the perfect color match from the included thread charts. Color Wheel is just one of the easy ways to recolor your designs.