5" Embroidery Scissors - Perfect choice for all detailed cutting. The sharp points and blades are manufactured to the highest degree of quality and are engineered to trim threads closely and accurately. Nylon handles are comfortable and can be used by both right-handed or left-handed users. Metal blades are made of ice tempered stainless steel. Made in Germany.
Other Images

Metal blades are made of ice tempered stainless steel.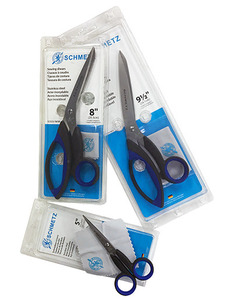 Made in Germany. SCHMETZ scissors have been humming along even with the former ugly packaging. Imagine our glee when the current scissor shipment included a free lint cloth in the new plastic clam. Durable packaging for the retailer and a freebie for the consumer. Cost remains the same. When in a cutting frenzy, just wipe away the lint with the SCHMETZ lint cloth. Handy
Cynthia A, San Francisco CA
Your phone reps were wonderful. I had tried for quite a while to reach Allbrands via phone,because I had some specific questions regarding your steamers. I left messages and my phone number numerous times. I missed one return phone call. I was persistent and finally was able to reach a voice! Allbrands was unable to match a lower price from another company. Aside from that,my goods arrived in a timely manner. I am happy with my scissors. I have not opened and used my steamers,yet. I am sure they will be fine. I will definitely order from you all again!