"I purchased a qnique mid arm first , I've never used or seen one before this , I was really impressed with how fast it arrived , I set it up with the frame by myself , it went together easily, (I am 81 yrs old ) I learned to quilt on it fast , I like it so much I decided to get the rear handles , too much fun , and easy to use , thank you, Ray M, Alvaton KY

Q'nique Quilter 14+ or 15 Ruler Base Accessory

Add this sturdy ruler base when machine quilting on your frame to use quilting rulers, straight-edges and templates. This attaches to your Qnique 14+ or 15 using a set of high quality magnets, and can be easily placed and removed. The ruler base adds a stable surface around the needle, under the quilt, so you can use templates and rulers in ways that would not be possible on fabric alone.

The ruler base is made of a clear acrylic and is ¼ inch thick, providing stability with a low profile. It comes with a set of four magnets to attach it to the bast of the quilting machine.

Use quilting rulers, guides and templates with your Grace Qnique by adding this ruler base to your quilting machine. It adds a level, sturdy extension to the base of your quilting machine when using a quilting frame. The ruler base is very easy to attach and remove.
Other Images
Qnique Ruler Base on Machine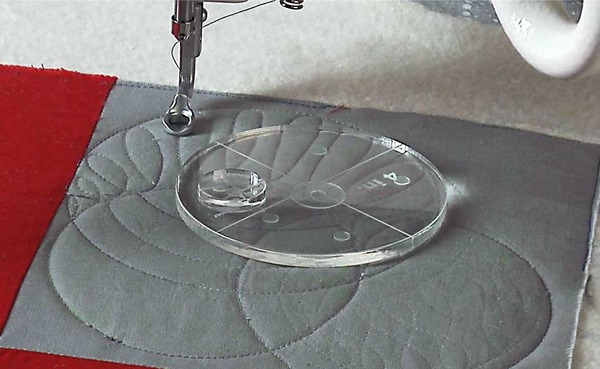 More and more machine quilters are discovering the ease and fun of using quilting rulers or templates with their quilting machine. Different templates can be used and combined to created intricate stitching designs and patterns. The ruler base accessory is required to use these quilting rulers and templates. The ruler base easily attaches to the bed of the quilting machine underneath the fabric, and provides a stable surface for quilting rulers while stitching.
Jody C, Schertz TX
Looking forward to using my new items for quilting