Also Includes

INCLUDED: SA8501 Purple Tote Bag 17x13x12" for Sewing Quilting Embroidery Serger Machines*
Click here to download Bernina's new app. View products, promotions, and more!
Straightforward and affordable access to the fascinating world of serging, on all types of fabric.
2 to 4 Thread Serging
15 Stitch Variations, including Overlock, Flatlock, Rolled Hem
Bernina Lay-in Threading System, with Automatic Lower-looper Threading
Differential Feed
Sewing Speeds up to 1,500 spm
In just one pass, you can cut, sew and finish edges on everything from fine silks and satin to denim, fleece and stretchy fabrics with the greatest of ease. And, although the 700D is an entry-level machine, you can sew like a pro with versatile features that make serging fast and simple.
Sewing with one or two needles, the machine's 3 and 4 thread overlock capabilities and adjustable tension ensure exactly the finish you want. A differential feed keeps seams smooth and flat. The built-in rolled hem feature is yours at the flick of a switch. And optional accessories let you add new capabilities, including 2 thread stitching as you go. It's top performance at a beginner price.
See Videos on Bernina 700D Serger
US Warranty 90 Days labor on defects in materials and workmanship.
Non-US Warranty: 30 days parts and labor
Specifications
FEATURES AND BENEFITS

BERNINA® Quality
Provides excellent stitch quality for all types of fabrics.
A fast, easy to use and reliable machine.
Product Support
Guide classes from your local BERNINA® Dealer get you up and running with your new serger.
Serger manual provides step-by-step threading instructions and a stitch chart to help you set your serger correctly for a variety of stitch formations.
Easy Threading
All thread guides are open! Simply lay the thread in the guides for quick and easy threading.
Threading paths are color coded and numbered to simplify the threading process.
Built-in threading guide inside the looper cover provides a handy reference.
Lift the pressed foot and all tensions are released; practical and helpful when threading or pulling threads through the serger.
Tension Free Tension
Numbered tension levers on the face of the machine make tension adjustments quick, easy and accurate.
Infinitely variable tension adjustments can be made from 1-9 for perfect stitch formation on any fabric.
Lift the presser foot and tension is released, making it easier to thread correctly every time.
Stitch Variation
Select from seven of the most popular stitch variations including a 4-thread safety stitch, 3-thead overlock, 3-thread narrow seam, flatlock and rolled hem.
The BERNINA® 700D offers one and two needle stitch options, providing the perfect stitch width for your fabric.
Two (with optional upper looper converter) or three-thread flatlocking can be done with either the right or the left needle, offering additional creative possibilities.
Two thread wrapped overlock, rolled hem, flatlocking and three thread super stretch stitch offer added versatility and design options with the optional upper looper converter.
Built-In Rolled Hem
Just a flick of the lever and the simple tension adjustments easily convert the machine from overlock to rolled hem.
Two (with the optional upper looper converter), three or four thread rolled hemming is easily accomplished on the BERNINA® 700D for beautiful finished edges on all types of fabrics.
Differential Feed
Located on the left side of the BERNINA® 700D for easy access while sewing.
Used for wave-free seams in knit fabrics and wovens cut on the crosswise grain.
Ideal for pucker-free seams in fine fabrics.
Gathers fabric quickly, making it ideal for home dec. projects.
2-Step Presser Foot Lifter
Lift and hold the presser foot for additional clearance under the foot. Handy when serging bulky fabrics such as polar fleece.
Presser Foot Pressure
Presser foot pressure may be increased or decreased for optimum feed of all fabric weights.
Stitch Length Adjustment
Numbered slide provides accurate length adjustments.
Infinitely variable length adjustments may be made from 1-4mm, ensuring the best stitch for the chosen fabric.
Cutting Width Adjustment
Numbered cutting width dial for precise adjustments.
Cutting width adjustments from 3mm-7mm provides the sewer with a variety of stitch widths, ensuring success with any fabric.
Marked Seam Guides
Right seam markings are located on the knife guard as a practical aid for consistent seam allowances.
Light
Built-in light illuminates sewing area for extra visibility.
Sewing Speed
For speed and efficiency the BERNINA® 700D sews up to 1500s.p.m.
Electronic Foot Control
The electronic foot control provides fine speed control from slow to full speed for intricate sewing. This is especially helpful for beginners.
The electronic foot control provides consistent needle penetration at any speed.
Suction Feet
The four strong suction feet on the base of this machine provide stability when serging.
Included Accessories
Electronic Foot Control
Spool Caps
Tweezers
Looper Threader
Cleaning Brush/Needle Inserter
Thread Nets
Needle Set
Small Screwdriver
Oiler
Accessory Bag
Dust Cover

Other Images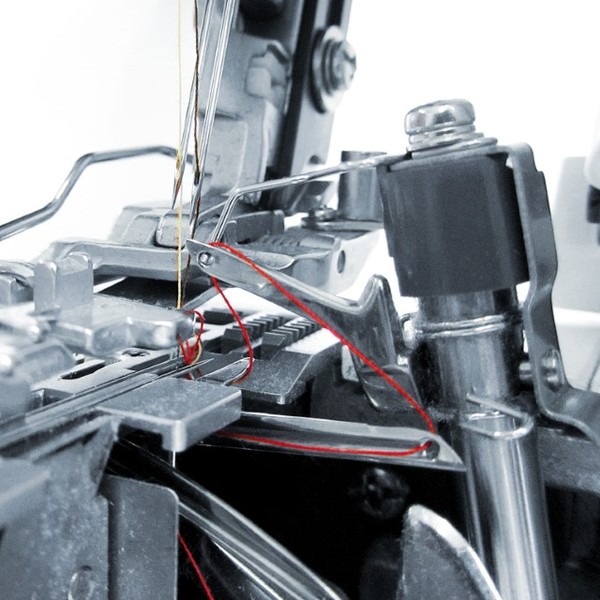 Professional knife drive from above Thanks to its robust workmanship and clever technology, the BERNINA 700D also delivers outstanding results when cutting and neatening your project. Even thick fabric layers and heavy fabrics won't deflect the upper knife, which provides exceptionally high cutting force. This means that despite being a compact-class machine, the BERNINA 700D features professional technology that ensures your ability to cut and neaten the edges of your project precisely and professionally, right from the get-go. In this way, the 700D delivers results that stand up to all critical scrutiny – accurate down to the last detail.
Bernina 700D Serger Differential feed for flat or gathered seams With the BERNINA 700D, even serging knits or very fine fabrics is a breeze, since its precise differential feed makes puckered or "wavy" seams a thing of the past. Use the control knob to precisely set the feed to produce smooth, perfectly pucker-free seams with the 700D – even during the serging process. This means that if worse comes to worst and annoying puckers should occur, you can correct the settings in a flash. Where the gathering of a seam is actually desired, the degree of gather can be set equally quickly and easily with the control knob. In this way, the BERNINA 700D gives you extremely easy access to effective creative techniques, while delivering a consistently precise stitch pattern.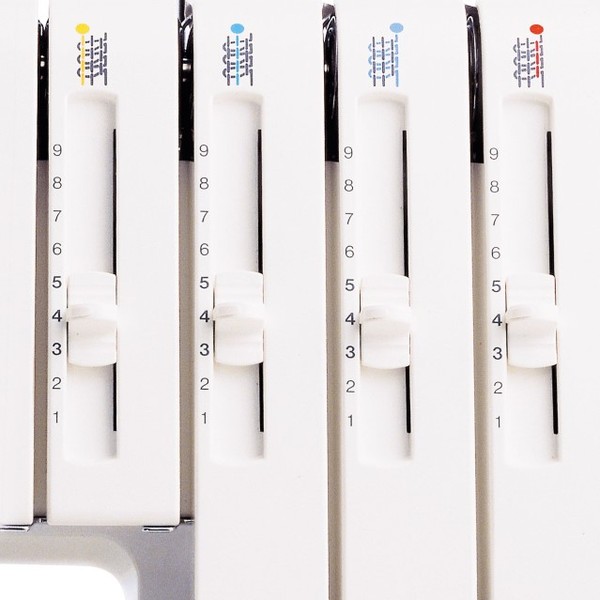 Adjustable thread tension – optimal control. With the BERNINA 700D, the thread tension is always under control: The practical slide controls show you at a glance what thread tension is currently set, and enable quick adjustment of the thread tension to the selected stitch pattern and to your material. The 700D thus guarantees you optimal control over thread tension at all times for a precise, accurate stitch pattern, leading you to flawless results in no time flat – especially useful and practical for beginners in the world of serging.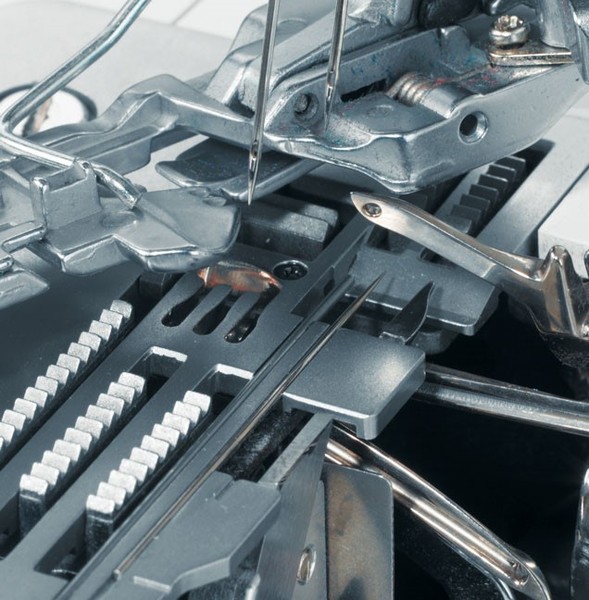 Sewing rolled hems – simplicity itself with the rolled-hem lever With the BERNINA 700D, there's no need to first change the stitch plate or presser foot when you wish to sew rolled hems. Simply switch to a rolled-hem stitch by moving the rolled-hem lever, which is located next to the feed-dog. And it's just as easy and straightforward to revert to the normal stitch afterwards by simply moving the lever back to the normal stitch setting. This clever feature of the BERNINA 700D permits swift, interruption-free serging and saves you time, allowing you to focus completely on your creative work.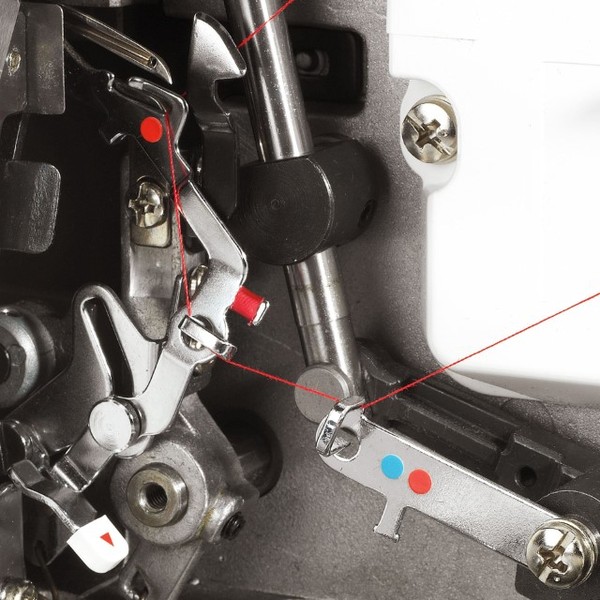 Convenient lay-in threading system The BERNINA 700D also aids you during the threading process, which can frequently be a time-consuming affair for beginners. Thanks to the straightforward thread guide, the thread can be laid-in in no time flat during a thread change, and the automatic lower-looper threading system also lets you thread the lower looper effortlessly. This saves time and frustration, and reduces effort to a minimum – so you'll get the thread change over and done with in a jiffy, enabling you to return to your creative work with next to no delay. In this way, the BERNINA 700D offers incomparable sewing convenience and ease in the compact class – clever and well thought-out down to the smallest detail.