SABES4UG1 (BES4 Power Pack 1)
Nap Control – Make embroidery designs pop on plush towels or blankets

Design Split Save for PES for Jumbo Hoops – Ability to auto split large designs and save as PES files for multi-needle jumbo hoops

Enhanced World Collage – Apply two fonts to one word collage design, save your own applique or artwork as new shapes

Built in Emoji designs

Creating custom letter and monogramming projects has never been easier. Plus, with the free wireless upgrade kit, create designs on your PC, transfer them wirelessly and edit on-the-go with select Brother machines.

With the BES4 Dream Edition Power Pack, you can unlock new tools, templates and fonts that will take your projects to next level. Enhance your projects today with the BES4 Dream Edition Power Pack add-on!

Send multiple designs from both desktop and cloud in one send action. Send directly to your wireless-enabled ScanNCut cutting machine right from your desktop BES4

Auto split large designs and save as PES for multi-needle jumbo hoops

Additional stitch and cutter functionality for more options and control in your designs

Enhanced Word Collage – now with two font capability and the ability to save your own shapes as a template

Added Nap Control to apply auto underlay for napped fabrics

Convert TTF to run or appliqué

Convert fonts or shapes to decorative fills with borders at the click of a button

Unlock more BES Cloud features

Import and/or open SVG files and open PHC file formats

330+ built-in Emojis

UNLOCK NEW FEATURES
BES 4 DREAM EDITION POWER PACK ADD-ON
Creating custom lettering or monogramming for all your sewing projects has never been easier! Now you can unlock new tools, templates and fonts as well as over 330 emojis to enhance your projects and take them to the next level.



For use with: SABESLET4



Main Features
For Use With: THE Dream Machine 2 Innov-ís XV8550D

Click Here for the Manufacuter's Sell Sheet on the Brother SABES4UG1 BES4 Dream Edition Upgrade Power Pack Software Add-on(.PDF)
US Warranty 30 days replacement if defective.
Non-US Warranty: 30 days parts and labor
Specifications
FILE FORMATS FOR FULL VERSION OF BES®4
Compatible with most brands of embroidery machines and software. Save designs in multiple formats: .pes, .sew, .jef, .hus, .pcs, .dst, .xxx, .exp, .shv, .vip, .vp3; and these quilting formats: .dxf, .pat, .cqp, .hqf, .iqp, .plt, .ssd, .qli, .wmf Import designs from: .brf, .pes, .pec, .sew, .jef, .hus, .pcs, .dst, .xxx, .exp, .shv, .vip, .art, .vp3, .zip Import .fcm cut files and export as: .fcm and .svg cut files Export as artwork files: .jpg, .png, .bmp, .gif
MINIMUM PC REQUIREMENTS:
Computer: PC or compatible computer Operation System: Microsoft® Windows® 7, 8 or Windows® 10 Processor: Genuine Intel Pentium IV 2GHz or higher Memory: 1 gigabyte of RAM Hard disk free space: Minimum 1 gigabyte Monitor: 1024 x 768 video resolution with 16-bit color or higher USB Port: Required for installation Mouse: Required for operating software Internet Access: Required to activate license and utilize wireless and Cloud capabilities Wireless router (2.4 GHZ band) required to activate embroidery machine's wireless and Cloud capabilities
FEATURES:
Send multiple designs from both desktop and cloud in one send action. Send directly to your wireless-enabled ScanNCut cutting machine right from your desktop BES4
Auto split large designs and save as PES for multi-needle jumbo hoops
Additional stitch and cutter functionality for more options and control in your designs
Enhanced Word Collage – now with two font capability and the ability to save your own shapes as a template
Added Nap Control to apply auto underlay for napped fabrics
Convert TTF to run or appliqué
Convert fonts or shapes to decorative fills with borders at the click of a button
Unlock more BES Cloud features
Import and/or open SVG files and open PHC file formats
330+ built-in Emojis
BES4 Dream Edition Software.
BES4 Dream Edition Tutorial: Importing fcm Cut Files It's simple! Convert cut files into appliqué embroidery files, and then embroider on your embroidery machine. BES4 Dream Edition Tutorial: Turn a Scanned Image into Applique See 13 Video Library
Free BES® Cloud to Edit and Store Designs On-The-Go
Go Wireless with BES®4 Wireless Upgrade Kit.
Enhanced Design Customizing and Editing
199 Pre-Digitized Fonts, Including 9 Fonts
840+ Embroidery Designs, Including 101 Designs
Included Accessories
Whats IN THE BOX.
USB containing full version of software
8GB SD Wireless Card
Card Reader (USB Adapter) – allows PCs and embroidery machines without SD card slot to use the included SD Wireless Card
Installation and Quick Start Guides
Other Images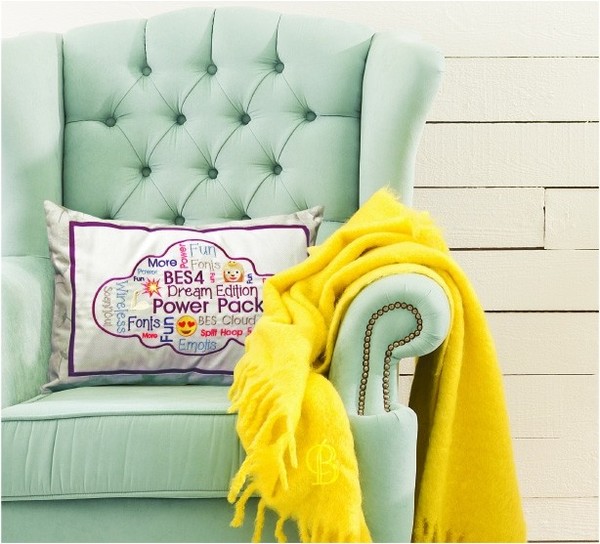 Brother SABES4UG1 BES4 Dream Edition Power Pack Software Add-on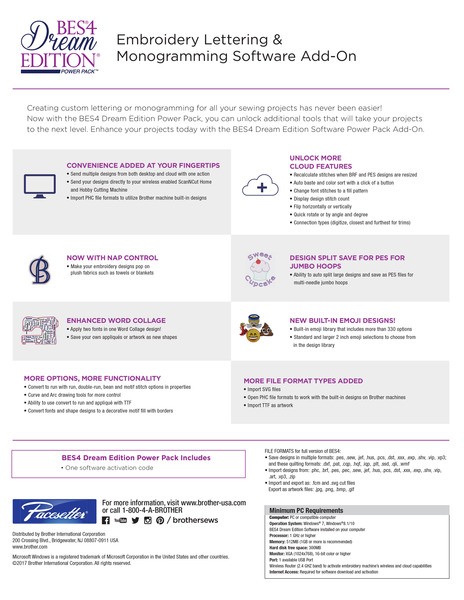 Brother SABES4UG1 BES4 Dream Edition Upgrade Power Pack Software Add-on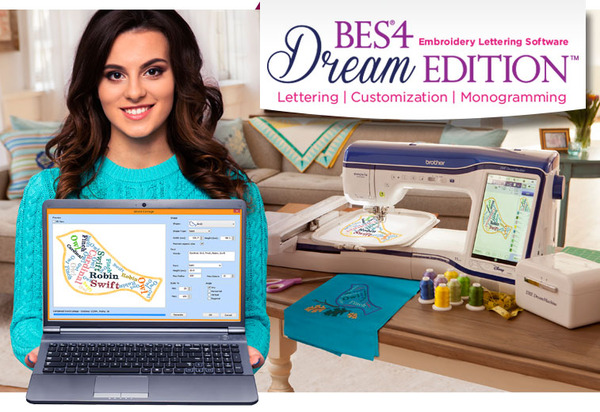 Optional BES®4 Dream Edition Software. True Innovation in Embroidery Lettering and Monogramming PC Software Plus BES®4 Wireless Upgrade Kit & Free Access to BES® Cloud for basic edits on-the-go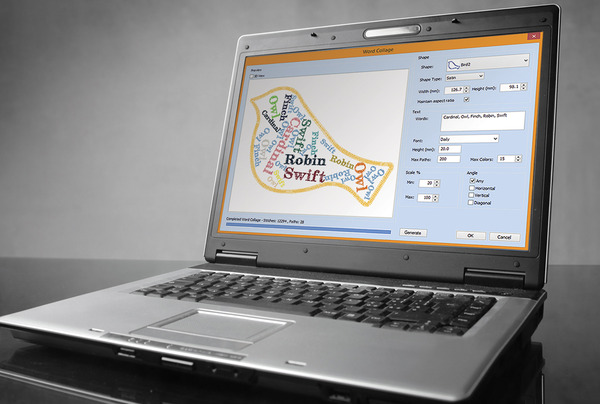 Optional BES 4 Dream Edition is a full-featured desktop lettering, monogramming, and customization PC Software that opens your world of creativity with fonts, designs, and editing features. It also includes a wireless upgrade kit for many Brother machines as well as file storage and basic editing capability through the free access you receive to BES Cloud.
FAQ's
Can I activate & use BES®4 if I do not have an internet connection?
Where do I find the BES®4 Activation Serial Number?
How can I connect to my embroidery machine with my wireless connection?
How do I access BES® Cloud on the web?
Where can I go for user help and instructions on how to use the software?
Is BES®4 compatible with ScanNCut?
What type of devices work with the www.BESCloud.co web application?
Can I use the SD wireless card in more than 1 compatible embroidery machine?