Save up to 70% off 8 Foot set for Brother and All Brands of Snap On Shank and Screw Low Shank Sewing Machines up to 7mm Stitch Width, Sew Tech Generic is less than 25% of the price of same collection of Brother and Babylock SA# feet.
Specifications
For Use With:

XL-2600, XL-2610, XL-3510, XL-3500T, ES-2000, ULT-2003D, XR-40, PC-8500D, NX-200, PC-6500, NX-600, NX-400, SE-270D, XL-5500, XL-5600, XL-5700, CS-8072, Innov-ís 2500D, Innov-ís 1000, Innov-ís 1500D, Innov-ís 4000D, PC-2800, PC-3000, PC-6000, PC-7000, PC-7500, PC-8200, PE-300S, PS-2200, PS-2300, PS-2500, ULT-2001, ULT-2002D, XL-3500, CS-6000T, PE-400D, CS-6000i, EX-660, HE-120, CS-100T, CS-6000, CS-80, CS-8060, CS-8150, Innov-ís 500D, PC-8500, PS-1000, PS-1250, PS-1800, PS-1950, PS-2100, XL-2121, XL-2230, NX-450, NX-250, NX-650Q, Innov-ís 1200, QC-1000, PC-210, PC-420, CE-4000, NX-400Q, XL-2600i, BC-1000, CS-6000B, Pacesetter™ PS21, Duetta™ 4500D, Innov-ís 40- Limited Edition, Innov-ís 80- Limited Edition, PC210PRW - NEW Ltd Edition, PC420PRW - NEW Ltd Edition, Innov-ís 900D, SE-350, CE-5000PRW, Quattro™6000D – New!, LB6770 PRW - Limited Edition
Included Accessories
1. SA129 Clear Free Motion Foot (7mm)
2. SA147 Plastic Open Toe Foot (7mm)
3. SA160 Stitch Guide Foot (7mm)
4. SA167 Straight Stitch Foot (7mm)
5. SA185 Piecing Foot-Guide 1/4"
6. SA198 Adjustable Binder Foot (7mm)
7. SA140 Walking Foot (7mm)
8. SA132 Quilting Guide
Other Images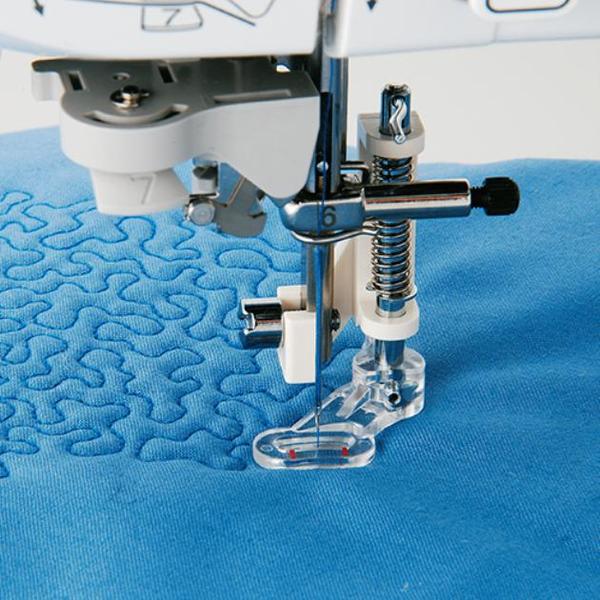 SA129 This clear plastic foot raises and lowers with the needle to allow fabric to be moved between stitches and to hold fabric in place while stitches are created. Screw on clear plastic foot has markings for easy reference. Requires Low Shank Adapter for ULT/PC series. Also known as a Darning Foot and may be used as a free motion foot.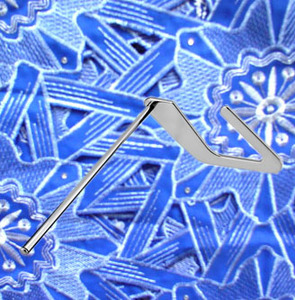 SA132 The adjustable guide can be used to sew parallel rows at preset even intervals. Slide straight bar into the hole of the presser foot ankle or walking foot (equipped with a mounting hole). The distance from the needle may be adjusted by sliding the guide from left to right.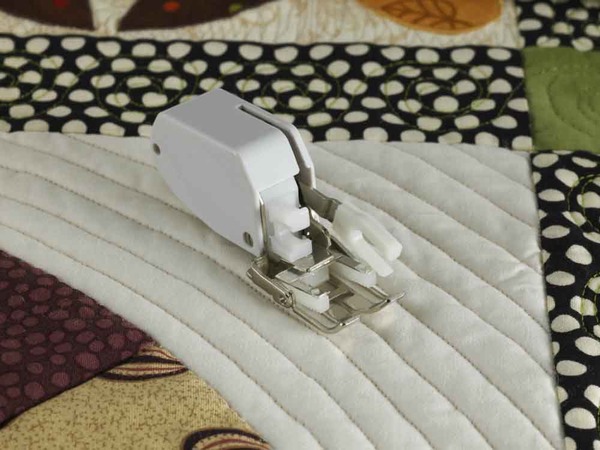 SA140 The walking foot is a moving feed system that holds and moves fabric between the presser foot's upper feed dog and the machine's lower feed dogs to better control difficult fabrics as well as multiple layers of fabric. The walking foot is great for sewing when matching prints or plaids or when fabric drift is an issue or quilting.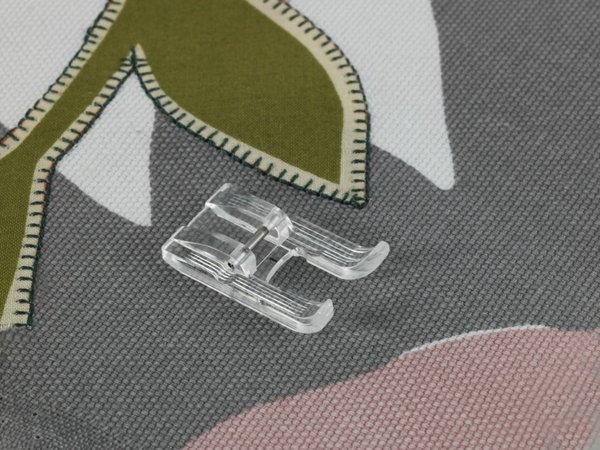 SA147 Genuine Brother® Accessory. Clear plastic foot allows for sewing with complete visibility. Clearview foot for easy viewing of stitches, seams and pattern markings. Wide opening for use with decorative stitches. Horizontal opening for wide range of left to right needle positions and added sole pressure.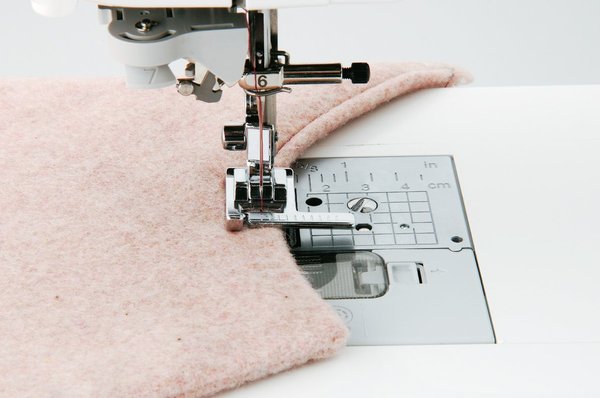 SA160 Genuine Brother® Accessory. Stitch guide for utility and embellishment projects. Stitch Guide foot for accurate sewing. Incrementally marked ruler. Horizontal opening for wide range of left to right needle positions and added sole pressure.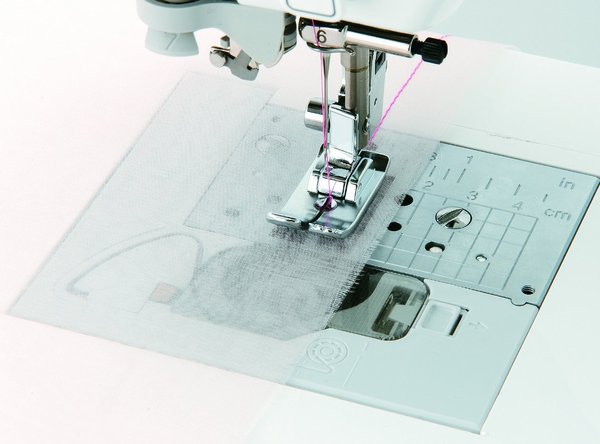 SA167 Genuine Brother® Accessory. Used exclusively for straight stitch applications for fine or light weight fabrics. Straight Stitch center needle position foot. Single needle hole prevents fine fabrics from being caught in feed dogs. Curved foot toes travel over varying fabric thicknesses.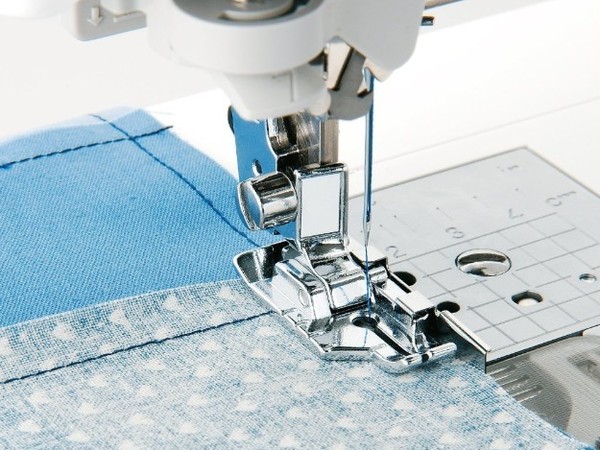 SA185 Genuine Brother® Accessory. Exclusively for centered straight stitching quarter inch seams on fine fabrics. Quarter inch piecing foot with blade for seam sewing. Accurate reference marking on 3 sides of foot for visibility and accuracy. Single hole foot prevents fabrics from sinking into feed dogs.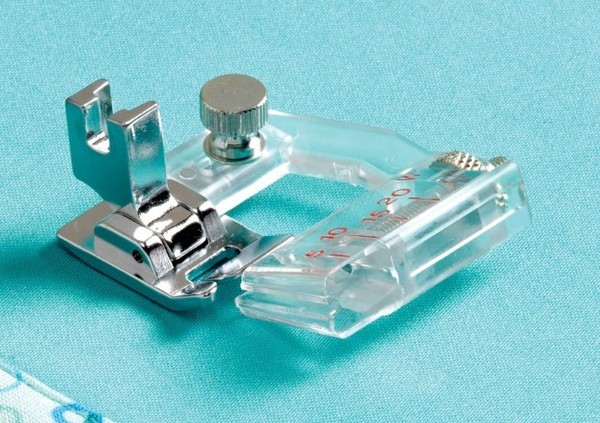 SA198 This foot has clear plastic bias tape guide. By adjusting this guide, users can sew various width bias tape from ¼" to ¾" (5mm to 20mm).