*Brother NV6700D Quattro 2 a Recommended Best Buy Computer Sewing Embroidery Quilting Machine in Consumer Digest Magazine!
Like its predecessor, the Quattro® 2 sets the standard for state-of-the-art sewing, quilting, crafting and embroidery with a truly innovative array of features engineered to let you realize your creative vision more than ever before.
See All Videos on You Tube for Brother Quattro 2, Overview, Color Shuffling, Scanning, Auto Density, Pen Tablet, Height Adjuster
EMBROIDERY FEATURES: EXPANDED VERSATILITY AND CONVENIENCE
enhanced embroidery features give the Quattro® 2 a definitive step-up from the competition. Embroidery designs can be duplicated—virtually an unlimited number of times—in the embroidery edit mode without returning to the selection screen. Designs are rendered instantaneously, 3 times faster than previous models. Zoom in and out for a microscopic view of designs. The Quattro® 2 screen shows you the size of the hoop and time required to stitch designs thus shortening the planning time needed for your projects. One-touch access opens a world of embroidery editing capabilities for improved design work.
Change the background color of embroidery designs for editing ease and greater visibility during the preview process. Combine embroidery designs with decorative stitches for even more artistic variety.
The Pen Tablet for use with My Custom Design™, Color Shuffling™ Function and Scanning Features of the Quattro® 2 allow for even more embroidery creativity. Create your own design on the Pen Tablet, re-color it and see what it will look like on your fabric!
The Quattro® 2 comes with 3 built-in USB ports:
• One high-speed 2.0 port to transfer designs even faster from any standard storage media or from the
optional external card reader.
• A second port for machine peripherals.
• A third port for computer connectivity for design import/export, screen saver import and for downloading software updates from www.brother.com.
AUTOMATION IS PERFECTED WITH ENHANCED SEWING FEATURES
Improvements start at the needle with the Quattro® 2. The automatic threading system threads the needle with a push of a button giving you a time-saving convenience. Threading is accomplished regardless of variations in needle size and thread type. Upper thread tension adjusts automatically for more reliable stitch work. The bobbin winding system boasts improved tension and features an adjustable winding speed
giving you high-performance bobbins. Wind specialty thread, including taut metallics, without stretching, breaking or distorting the thread. Accuracy is even more exact with the enhanced thread sensor, leaving low levels of thread on the bobbin.
Adjust the knee lifter lever in three different positions to match your optimum sewing position. Avoid the stress of fabric getting caught on the presser foot lever with its placement on the back of the machine.
The needle position ensures a gradual approach to the fabric with three varying needle heights. Realistic stitch rendering shows detailed thread work on your chosen design with a rendering speed incomparable to any competitor.
Create unique stitch patterns and save to machine memory for later use with the Brother exclusive My Custom Stitch™ feature.
MORE SPACE, MORE CONTROL: WHAT EVER QUILTER DREAMS OF
Envision more space to quilt and greater hands-on precision for exact stitching and seam quality. Stitch large quilts with fluidity using the optional extra-large extension table and generous work area. Utilizing the InnovEye® Technology, create beautiful edge-sewing with straight 1/4" seams.
The adjustable presser foot height makes free-motion quilting and pivoting even easier on any type of fabric.
Lightning-quick pivoting is enabled by the pivoting function, which allows you to leave the needle down and the presser foot up to turn perfect corners
The Automatic Height Adjuster™ (AHA®) feature continuously detects fabric thickness and automatically adjusts the presser foot pressure to ensure precise, smooth and even stitching over a variety of fabric thicknesses.
The "pointing needle" feature helps you line up the needle for perfect appliqués before it pierces the fabric. Quilt gracefully with the Quattro® 2. Sew quilting lines equal distance around an appliqué or motif for beautiful echo quilting.
Make it with the 8" x 8" square quilting hoop. With this included hoop, you can make perfect fully-stitched square quilt designs
Access the Quattro® 2 library of quilt designs—including full frame, medallion and corner styles—in one-touch convenience. Built-in lettering lets you sign and date your quilt as you sew it.
The Quattro® 2 comes with three free-motion quilting feet:
• One foot for more control
• One foot for greater visibility
• One see-through foot for perfect echo quilting
ENTER A WORLD OF CRAFTING
Expand your sewing and embroidery repertoire with innovative crafting projects made with the Quattro® 2. Create customized frames, trendy home décor pieces, elaborate scrapbook pages or handcrafted art with the built-in technology of this intuitive machine. Add pizzazz to your crafting projects using the built-in utility and decorative stitches. Turn off the thread sensor to sew without thread for a truly unique paper-punched effect. Complement greeting cards, picture mats, albums and more with the personal touch of paper punching.
Add greater dimension to crafting surfaces with the Appliqué Creator function. Design custom appliqués from existing designs, adding color and texture to any project. Achieve even more visual variety by adjusting the width of the appliqué outline.
Add texture to your crafting projects with the included Bobbin Work case and 14 Bobbin Work embroidery designs.
SPACE: OUR LARGEST WORK AREA YET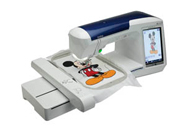 Embroider with perfection, sew with unlimited creativity, quilt with ease and craft with brilliance. The large work area means greater room...room to design, room to create and room to be free. Free yourself from the stress of completing big projects such as quilts, jackets and home décor projects.
Achieve the unimaginable with almost 50 square inches of workspace. A spacious ten-inch x five-inch work area accommodates those larger
projects you only dreamed you could create. Bulky sewing projects, large-format paper crafts and quilts up to nine inches in diameter are no match for the Quattro® 2. Make the impossible…possible.
We give you plenty of room to develop and perfect your skills. The spacious sewing area transforms into a canvas for impeccable design when the embroidery arm is attached. Go beyond your usual embroidery or quilting and experience its great sewing features, too. With the Quattro® 2, you can sew with the embroidery arm on for a time-saving convenience.
Embroider breathtaking designs with the jumbo 12-inch x 8-inch embroidery hoop. Use the built-in embroidery designs to complement your treasured pieces for the satisfaction of personal customization. More space means less re-hooping…less re-hooping means more time and less effort!
IMPROVED ADVANCED SUPER VIEW (ASV) HD LCD DISPLAY BY SHARP® CORPORATION
View your design in crisp, sharp clarity on the improved Advanced Super View (ASV) HD LCD touch screen display, which provides our widest,
most enhanced viewing angle with little or no color shifting. See the on-screen buttons and functions, and your designs, form virtually any angle.
The 4.4-inch x 7.3-inch touch screen encompasses the latest in display technology from the leader in LCD displays. A great visual field, nearly 32 square inches, delivers razor-sharp graphics, visibility from any angle and less interference from overhead glare.
• See many designs at up to 200% their actual size with the on-screen viewing enlargement feature
• Preview your design with the background color change feature
• adjustment feature allows you to change the brightness of the screen to suit your room's lighting environment or for better viewing of light designs, such as lace
• The improved LED back lights have no mercury and consume 15% less power than before, making it energy efficient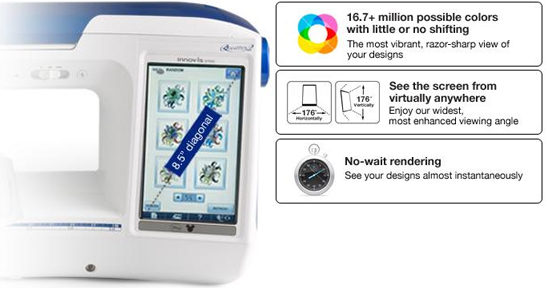 Become a Quattro® 2 connoisseur with 16 on-screen instructional videos, and enjoy the screen's expansive size as you learn setp-by-step how to master your dream machine.
Personalize your Quattro® 2 with a custom screensaver. Choose from 5 built-in screen savers, including Disney designs, or upload your favorite photographs and images creating your own custom slideshow.
BE YOUR OWN COLORIST WITH THE EXCLUSIVE COLOR SHUFFLING™ FUNCTION - ONLY FROM BROTHER
Change your design color palette with the touch of a button. You'll be amazed at the virtually infinite possibilities of thread color choices for every design.
Just select a design, touch the Color Shuffling™ icon and select one of four different color scheme choices - random, vivid, gradient or soft.
The design will appear onscreen in six different color combinations. Zoom in on one for a close-up peek or turn the page to see even more options. Save the different color offerings into Memory or your stick. Don't see the look you had in mind? Just shuffle again for a whole set of colors.
Perfect when you want to place the same design on multiple creations, but want to add a personalized touch to each. Or when you want to place a design on fabric that might not match. Take it a step further and scan your fabric in the hoop and see your color combination on the fabric - without taking a stitch. Don't like it? Don't stitch it. Let the machine give you more options until you find the perfect rainbow for you.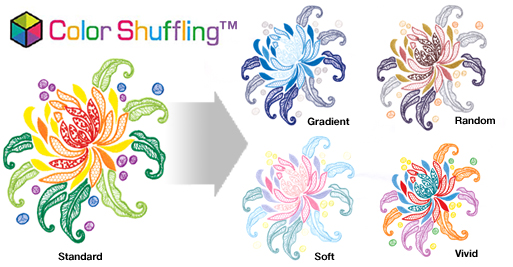 TURN SKETCHES AND HANDWRITING INTO CUSTOM EMBROIDERY DESIGNS WITH THE MY CUSTOM DESIGN™ FEATURE AND THE PEN TABLET
Want to dabble in creating your own designs? With the My Custom Design™ feature, you can use the included stylus to create personalized, unique designs on the LCD display, and watch in amazement as the Quattro® 2 turns them into digitized files you can stitch out!
Take your creativity to the next level and create designs using the included Pen Tablet. Designed specifically for Quattro®, the Pen Tablet makes it even easier to create your own original embroidery with the My Custom Design™ feature.
Attach the Tablet to the Quattro® 2 and have the My Custom Design™ feature running on your machine. As you draw, the mouse moves on the LCD display screen, so you can see where you are touching on the tablet. Never before has it been so simple to autodigitize a design without a PC or software.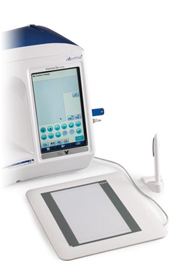 Use the included Pen Tablet to:
• Draw or write freehand using the included pen
• Create one-of-a-kind personalized design sketches
• Trace designs from existing photography or a child's drawing
• Add your signature onto your work, including quits
The created designs can be resized and combined with characters or images in the editing screen, just like a built-in design can. When you're done, you can save the custom design to the machine's memory for later use.
With the My Custom Design™ feature and Pen Tablet, there are so many ways to create a custom, personal work of art - and really fun way to create embroidery!
INNOVEYE™ TECHNOLOGY & UP-CLOSE™ VIEWER: PRECISE POSITIONING
The Brother exclusive InnovEye™ Intelligent Eye Technology and Up-close™ Viewer gives a bird's eye view of the needle area. This industry first is like having a built-in camera above the needle plate. Providing a live detailed image right on the LCD display, sewing, embroidery, quilting and crafting have never been more exact. Imagine how easy it will be to see your work up close and personal. By using hte InnovEye™ Technology, the needle-drop guessing game is over...elaborate designs and intricate decorative stitching are incredibly accurate.
InnovEye™ Technology means precise needle placement for those hard-to-see areas - especially when attaching buttons and making buttonholes.
Estimating stitch placement is no longer a hassle, leaving more time to dream the unthinkable and create the unbelievable.
Edge sewing is so simple. InnovEye™ follows the edge and—guided by a pre-set seam allowance—keeps stitches smoothly hugging the edge whether they are straight or curved. Sew a long, thin piece of material, like a ribbon, with ease. Even free arm sewing is made simple using InnovEye™ Technology to sew point to point.
Utilizing a unique Snowman® Embroidery Positioning Sticker placed on your fabric, the InnovEye™ Technology automatically positions the needle and design for perfect embroidery placement.
No more starting over when you slightly mishoop your fabric! Let the InnovEye™ detect the sensor positioning sticker and make corrections for you! Additionally, use placement of the sensor positioning sticker to create beautiful fashions, including multiple embroidery designs, quickly and easily.
INTRODUCING THE WORLD'S FIRST SCANNER IN A SEWING & EMBROIDERY MACHINE!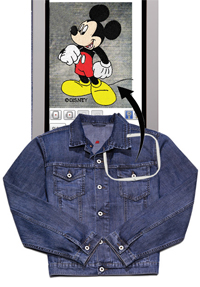 How nice would it be to ensure that the logo on shirt pockets is perfectly centered, or that two designs are placed just right in relation to each other? Now you can! Use the InnovEye® Technology to scan the embroidery field and see the bigger picture of your creation on screen, so you can be certain that you're putting a design exactly where you want it in relation to your entire hooped area. Perfect for positioning designs on pre-made garments and for delivering precision placement on projects such as quilt blocks.
• Use the scanner to scan the fabric in the entire embroidery area
• View the real-time scanned image on the LCD display
• Place your design exactly where you want it, using the LCD display for perfect placement every time
Being able to see the bigger picture of your fabric and work area makes your options for creative design greater than before! You no longer have to imagine how your design will look and choose a needle drop area - now you can actually preview it on screen!
RUNWAY® LIGHTING: SURROUND YOUR PROJECT WITH THE BRIGHTEST IN LED TECHNOLOGY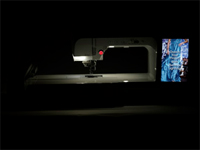 Covering almost 10-inches of full-spectrum lighting around the needle, the Brother exclusive Runway® Lighting embodies museum-quality illumination, projecting clear, bright light onto your project. Colors are more vivid and brighter. The Quattro® 2 incorporates our latest light diffusing system as well as lens focusing technology to create a wider, more uniform area of coverage.
Enlighten your touch with the best lighting in the industry.
The runway is a place to shine, and your projects will radiate with Runway™ Lighting. Extra lighting is unnecessary as the Quattro® 2 projects a light intensity equivalent in power to 56 standard LED lights. Customize the lighting output by adjusting the angle under the needle to eliminate any shadows. Regulate the brightness between five settings, including an off mode, to find your ideal level.
PRINT AND STITCH TECHNOLOGY: GIVE YOUR CRAFTS A 3D DESIGN
Brother's exclusive Print and Stitch Technology combines printed images with embroidery designs to create your own 3D craft art. Complete with eight built-in backgrounds, including three Disney images, the Print and Stitch function is ideal for accenting apparel and home décor pieces. Frame your creations for a unique decoration. Or, even create your own wearable embroidery art.
Enhanced On-Screen Auto Density Adjustment
This innovative feature allows you to resize embroidery designs on-screen and automatically recalculates the stitch count to ensure your resized design has the same stitch quality as the original. Resize from 60% to 200% of the original design size. You also have the freedom to adjust the density of designs with a simple slide bar.
Easy Navigation Through On Screen Pages
The enhanced onscreen navigation allows you to easily get to the screen you are looking for. Go from page 1 to page 10 without having to scroll through each screen.
Enhanced Embroidery Editing Features
Change the background color of designs for greater visibility during the preview process. Combine embroidery designs with decorative stitches for even more artistic variety.
Sew With The Embroidery Arm Attached
A great time-saver and allows for more precision. With the touch of a button the embroidery unit moves completely out of the way for quick sewing process change overs and allows you to sew in the embroidery hoop.
Jump Stitch Thread Trimming
Brother's exceptional thread trimming system will cut the thread at the end of each color as well as trimming between jump stitches.
Thread Wiper
Brother's unique embroidery foot thread wiper pulls the thread tail back and out of the way for embroidery sewing.
Resume Function
When the machine is turned off in the middle of a design and turned on again it will return exactly to where it was when it was turned off. The machine continuously saves designs without having to program anything.
Automatic Threading
The enhanced threading system threads the needle with a push of a button.
Back to the Beginning Key
When sewing is stopped press this key to go back to beginning of the decorative stitch series.
Thread Sensors
There are thread sensors for both the needle and bobbin. The machine senses when either the needle thread or bobbin thread runs out or breaks.
USB Mouse Port
For convenience, there are two USB ports as well as a direct computer link. Use the included Brother USB mouse for manipulating designs.
Embroidery Drag & Drop
Using the mouse or stylist, it is now possible to drag and drop the design precisely when creating a larger design or border.
Sewing Type Selection Key
When the sewing type selection key is chosen, the stitch advisor will automatically set machine width and length for appropriate stitch function.
Embroidery Frame Display
This provides the ability to position designs in the hoop on screen. This increases the ability to accurately position the embroidery designs in the hoops and precisely align embroidery motifs. The size of the embroidery is proportionate to the embroidery hoop display.
Design Duplication
Embroidery Designs can be quickly and easily duplicated in the embroidery edit screen.
Separate Bobbin Winder System
A separate spool pin and motor are on the machine for winding bobbins. The needle does not have to be unthreaded to wind the bobbin using the separate bobbin winding system. This saves time and effort when sewing and embroidering.
Stitch Preview
Allows close up viewing of stitches. Shows an enlarged view of the stitches. This is helpful when combining multiple stitches or rotating designs.
Embroidery Preview
Allows close up viewing of Embroidery Designs. Shows an enlarged view of embroidery designs. This is helpful when joining multiple designs together to see how they look and to make sure they are aligning properly.
Larger Internal Memory Capacity for Embroidery
The machine has a large computer memory capability to store embroidery designs. The large memory capacity provides space for saving a large number of customized embroidery designs or standard designs for quick access.
Larger Internal Memory Capacity for Sewing Stitches
Storage of stitches within the machine. Up to 5 different setting for each utility stitch can be saved into the internal memory of the machine. Customized stitch settings can be saved for easy access for future use.
Needle Plate Detector
Senses the Needle Plate. This is a great safety device for anyone who switches between the single needle plate and the 7mm needle plate...it prevents accidental usage of a decorative stitch while using the single needle plate. It also turns the machine off when the needle plate is removed...another great safety device.
Embroidery Basting Function
Secures items in place for embroidery. This function bastes the fabric and stabilizer together to minimize shifting while the embroidery is being sewn. It also helps minimize pull compensation with dense designs. The distance of the basting stitches from the design can be adjusted.
Feed Dogs
High precision feed. Improved feed dog system to feed virtually any type of fabric and achieve precise, perfect stitches.
Embroidery Thread Palettes
Exchangeable thread palettes. There are many thread colors as well as thread vendors to choose from for customizing the embroidery thread palettes built into the machine.
12 Built-in Languages
Multiple Languages can be selected to meet the needs of every customer. There are 12 built-in languages that can quickly and easily be changed.
Extra high lift presser foot
The presser foot height can be programmed or manually raised higher than the standard setting to accommodate the thickness of fabrics. This is especially helpful when sewing high loft batting or thick textured fabric.
Updatability
The machine can be updated from the Brother website using one of the USB connections and the included cable.
Frame Patterns
10 frame patterns are built into the machine.
Operation Buttons
The operation buttons are ergonomically positioned on the front of the machine. These buttons include the Start/Stop, Reverse, Needle Up/Down, Thread Cutter, Presser foot lifter, sewing speed controller, and the automatic threading button.
Design Alignment
Built-in thread marks can be added to the perimeter of designs for exact placement when combining patterns. This function can also be and for aligning multiple hoopings for extra large designs.
Built-in Border Function
Using the built-in border function designs can be repeated both vertically and horizontally. In addition, the sewing order of colors in the combined designs can be changed to continue sewing without repeatedly changing the upper thread or changing the sewing order manually.
Trial Position
The trial function is used to check design positions within the embroidery frame. There are eight trial positions.
Extensive On-Screen Editing Potential
Designs can be duplicated, combined with lettering, moved, rotated in 1 degree increments, mirror imaged, reverse imaged, grouped or ungrouped.
Alphabet Configurations
Extensive lettering capabilities are built into the machine such as array, spacing, multiple colors, linking.
US Warranty 90 Days labor on defects in materials and workmanship.
Non-US Warranty: 30 days parts and labor
Specifications
Operating Manual Instruction Book User's Guide to Brother NV6700D Quattro 2
Quick Reference Guide to Brother NV6700D Quattro 2
Disney Design Guide to Brother NV6700D Quattro 2
Brother Optional Accessories Catalog
Click HERE for 2/28/2013 Release, Free Firmware Software Update version v3.20 to recognize the 6X6" square quilting frame plus additional performance improvements on Brother Quattros 6000 and 6700, for Windows XP / Vista / 7 / 8
Basic
LCD Size (Horizontal x Vertical) inches: 4.4 x 7.3
Display (Number of Colors): 16,777,216
Stitch Select: Touch panel
Screensaver: Yes
Opening Screen: Yes
On-Screen Help: Yes
Built-In Languages: Yes
On-Screen Editing: Yes
Lighting: LED. 10" Surround™ Lighting + Light Adjusting Function
Thread Tension: Automatic
Needle Threading System: Automatic
Easy Bobbin Winding: Yes
Adjustable Bobbin Winding Speed: Yes
Thread Sensor: Upper and Bobbin
Thread Sensor On/Off: Yes
Automatic Thread Cutter: Yes
Quick Set™ Bobbin: Yes
Full USB: 2
Computer Connectivity with Update Capability: Yes
Mouse Capability by USB: Yes
Media Type: Several Media via USB, Embroidery Card (Via Card Reader)
InnovEye™ Technology: Yes
Embroidery File Formats: .PES and .DST embroidery data files are compatible with this machine.
Embroidery
Maximum Embroidery Area (X x Y): 8" x 12"
Maximum Embroidery Speed (stitches per minute): 1000
Standard Included Hoops: 4 (8" x 12",8" x 8", 4" x 4", 1" x 2.5")
Total Built-in Embroidery Designs: 677
Built-in Embroidery Designs Featuring Disney/Pixar Characters: 207
Built-in Frame Designs: 10 Shapes x 12 Stitch Patterns
Built-in Embroidery Lettering Fonts: 18
Thread Wiper: Yes
Resume Function: Yes
Trial Position/Layout Function: Yes
Built-in Border Function and Designs: Yes
Automatic Color Sorting on Border Function: Yes
Sewing with Embroidery Unit Attached: Yes
Appliqué Creator Function: Yes
Automatic Feed Thread Cutting: Yes
Curving Text on Screen Editing: Yes
Space Reduction among Embroidery Alphabets: Yes
Pattern Rotating: 1, 10, or 90 Degrees
Drag and Drop Editing: Yes
Onscreen Automatic Density Adjustment: Yes
My Custom Design™ Feature: Yes
Color Shuffling™Function: Yes
Print and Stitch™ Technology: Yes
Design Duplication: Yes
Programmable Monochrome Embroidery: Yes
Sewing
Bed area (With an accessory table /depth x width) inches: 8.4 x 15.9
Work space (height x width) inches: 4.9 x 10.0
Maximum Sewing Speed (stitches per minute): 1000
Knee Lifter: Yes
Feed Dog: 7
Back to Beginning Key: Yes
Standard Presser Feet Included with Machine: 15
Built-in Sewing Stitches (Includes Buttonhole Styles): 638
Buttonhole Styles: 15 One-step + 1 Four-step
Built-in Sewing Lettering Fonts: 3
Stitch Width: 7mm
Stitch Lenght: 5mm
My Custom Stitch™ Feature: Yes
Side Feeding: Yes
Start/Stop Button: Yes
Speed Controller: Yes
Twin Needle Setting Key: Yes
Needle Position Key (Up/Down): Yes
Quilting
Automaticmatic Height Adjustment™ AHA® Feature: Yes
Presser Foot Pressure Adjustment: Yes
Presser Foot Leveling: Yes
Automaticmatic Presser Foot Lifter: Yes
Pivot Function: Yes
Drop Feed/Free Motion: Yes
Free Motion Quilting Foot: Included (3 types)
Built-in Quilting Stitches: Yes
Included Quilting Feet: No
Wide Table: No
Other
UPC Code: 012502630203
Machine Dimensions: 24.213" L x 13.071" W x 10.63" H
Machine Weight: 33.731 lbs with free arm / 40.12 lbs with embroidery arm
Shipping Dimensions: 31.102" L x 27.559" W x 25.512" H
Shipping Weight: 87.287 lb
UL/CSA Listed: Yes
See You Tube Videos on Brother Quattro Sewing and Embroidery Machines
Included Accessories
EVERY ACCESSORY YOU NEED: STANDARD!
Explore the machine's innovation using the included accessories. Redefining the industry meant redefining every feature and function, especially the tools designed to save you time and effort.

CUSTOM ROLLING BAG & SOFT COVER INCLUDED
Take your Quattro® 2 on-the-go with the fashionable rolling bag and embroidery arm/accessory bag. And the matching soft cover protects your machine from dust and dirt.

10" PEN TABLET
Sketch and trace designs, and even sign your name, then watch the on-screen assets be digitized and brought into the Quattro® 2 for placement on your projects – no PC required!

FOUR HOOPS, INCLUDING THE JUMBO HOOP
Embroider monograms and other small designs using the 1-inch x 2.5-inch and 4-inch x 4-inch hoops. The 8-inch x 8-inch square hoop is ideal for quilters. The 12-inch x 8-inch jumbo hoop accommodates larger designs and prevents the need for re-hooping.

15 DIFFERENT SEWING & EMBROIDERY FEET
Achieve perfection with a wide array of feet including a vertical stitch alignment foot for effortless edge sewing as well as feet for buttonhole sewing, monogramming, free-motion quilting and echo quilting.

TWO-SPOOL THREAD STAND
Featuring improved stability, the two-spool thread stand is a great tool for multiple or specialty threads.

ADJUSTABLE PRESSER FOOT KNEE-LIFTER
Adjust the lever in three different positions for your ideal sewing position.

ACCESSORY CASE
Designed to fit within the arm of the Quattro® 2, the accessory case allows you to keep all of your tools neatly organized.
Other Images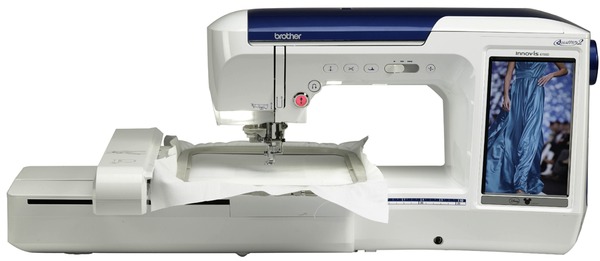 Brother Trade In Quattro2 NV6700D 8x12" Embroidery Sewing Quilting Machin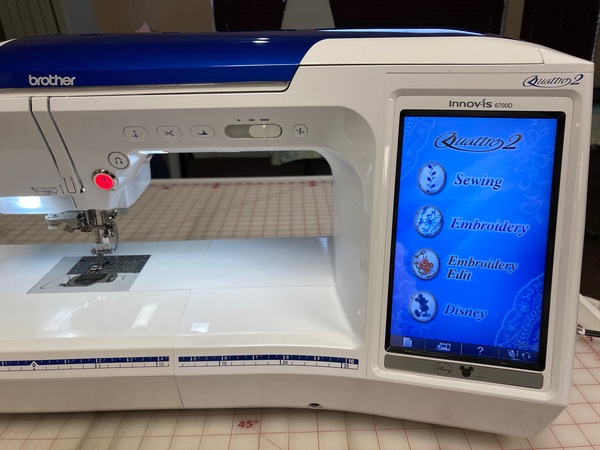 Brother Trade In Quattro2 NV6700D 8x12" Embroidery Sewing Quilting Machine, Serviced with Warranty, Like Babylock Ellisimo2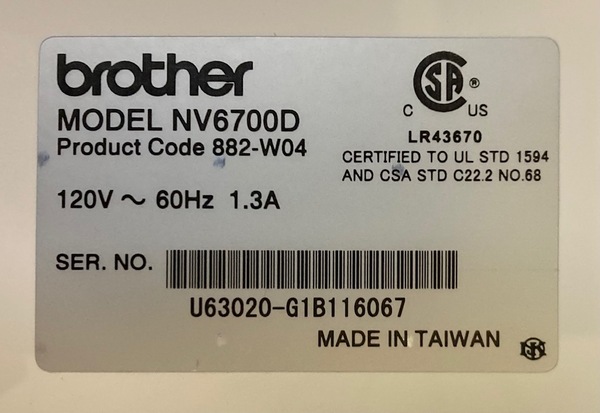 Serial Number Plate on back of machine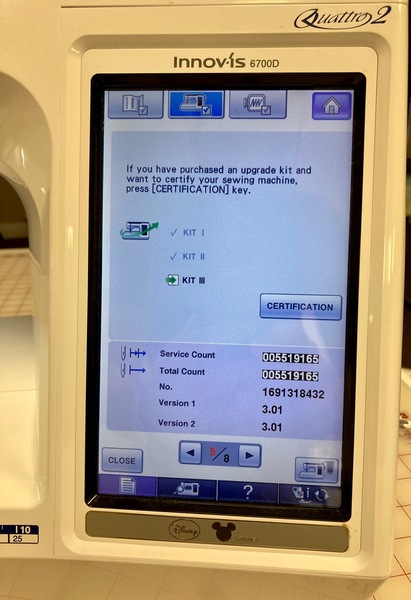 Stitch Count, Firmware Version Update, and Upgrade Installations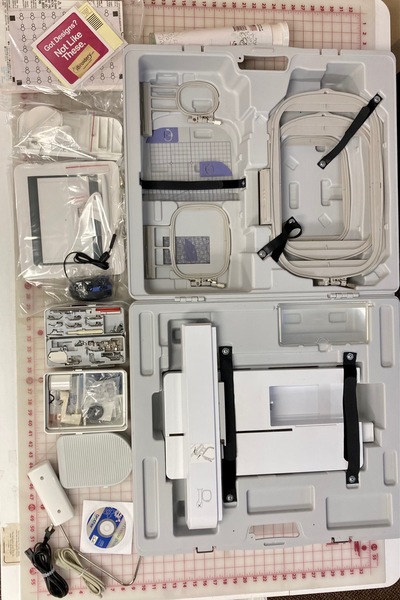 Accessories and Embroidery Arm Case.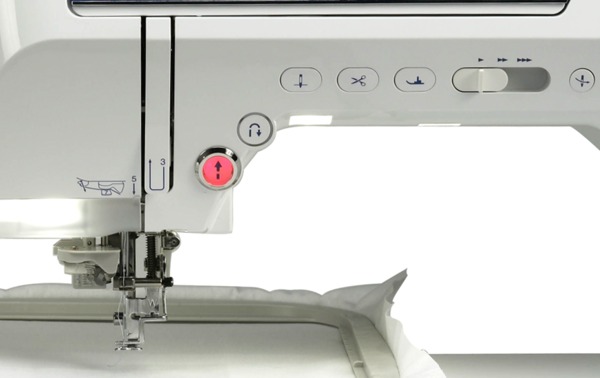 Serviced with Warranty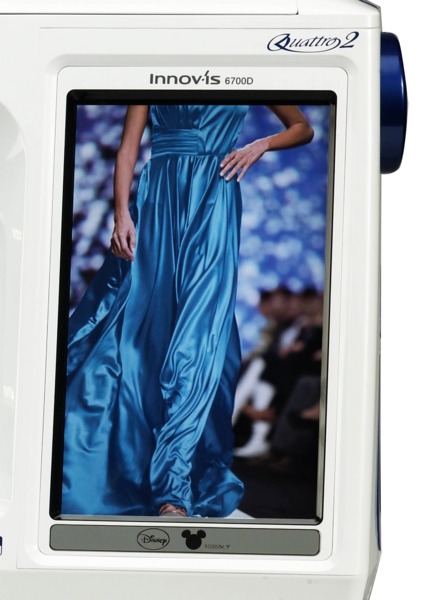 Large LCD Touch Screen
Bundle & Save
Get additional savings when you purchase any of these items along with this product.