This event has been CANCELLED due to COVID-19
Don't miss your chance to be a part of our
BRAND NEW
2 Day Hands-on In-the-Hoop Embroidery Party featuring Anita Goodesign!
Don't let the name of the class fool you; it's not just about embroidery.
With Embroidery Made Easy II you don't have to wonder about using different threads and fabrics in conjunction with our beautiful embroidery designs. You don't have to ask how we do our time, money, and fabric saving quilting - all in the hoop - you'll fi nd all this out and sew much more in this BRAND NEW class!
Our inaugural class in our Anita's University series, "AU: 101, Embroidery Made Easy", was such a huge hit that we're now offering an expanded curriculum called "Anita's University 102: Embroidery Made Easy II!" If you're intrigued by
blanket stitch applique
then you'll want to see how we've modernized the technique while still giving you the heirloom look.
Cutwork
and
freestanding lace
are some other popular embroidery techniques that will be included in this class too! Find out how Anita Goodesign saves you time, fabric, and money with our innovative in the hoop quilting techniques. You'll also see how our free motion designs allow you to have an overall quilted design on your entire quilt while creating each individual block effortlessly in the hoop Our In the Hoop projects are also sew fun & easy to stitch! Attendees will work on top-of-the-line embroidery machines with up to 3 people per machine. Some of the designs included in the AU: 102 class are zippered bags in the hoop, creating unique cards, and unique kitchen décor. There are sew many designs that our hoop runneth over…yours will too!
Click here for Syllabus!
This Will Be The Best Embroidery Event That You Ever Attended!
One of our highly trained educators will teach you how to create some of our favorite designs and projects. When you attend Anita's University, you'll learn our machine embroidery techniques in a hands-on, team-sewing environment.
WHAT'S IN IT FOR YOU?
Just for attending an event, you will receive a 3-ring binder including 200+ pages of the educational curriculum presented at the event, printed in full color for your reference at home. The binder also includes a USB stick loaded with over 100 designs that are exclusive to each University course.
WHY DO CUSTOMERS LOVE OUR EVENTS?
Anita's University courses provide the best education to both new and veteran machine embroidery fans in a fun, hands-on format. Our events are comprised of multiple curriculum options that focus on education and cater to many different interests within the industry!
WHAT'S INCLUDED AT AN EVENT?
Special gifts and prizes when signing up for an All Access membership

Our deepest discounts on all of our products

The ability to purchase event only products like All Access Back Issues and our retired Anita's University binders

A chance to WIN prizes and giveaways through fun drawings

Sign up for an Anita's University class today and experience learning in a new and fun way! You'll get to stitch out projects in our hands-on team-sewing environment.

Each attendee will be able to choose which design they want to sew within a certain technique which means you'll get to see many different stitch outs – peeking on your classmate's work is encouraged at Anita's University!





Specifications
ABOUT OUR EVENT
•Allbrands Creative Sewing Large Space Classroom•

We are re-arranging over 5,000 square feet of the store to host our event!




11777 West Ave San Antonio, TX 78216
Time:

Friday, August 21, 2020 - 9:00 AM to 5:00 PM
Saturday, August 22, 2020 - 9:00 AM to 5:00 PM
Doors Open at 8:00AM Each Morning



2019 Anita Goodesign Highlight Videos







---
For more information about Anita Goodesign™:
Official website: www.anitagoodesignonline.com

Official Facebook Page: Anita Goodesign
Included Accessories
Don't be tardy for class! For only $99.99 all attendees will receive: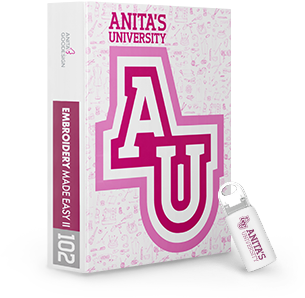 • A 3‐ring binder with detailed step‐by‐step tutorials
• A USB stick with over 100 designs and exclusive tutorial videos!

and More!

• New special class pricing on all products and machines
• Exclusive sneak peeks on new techniques & new collections
• Each team will stitch out 7 hands‐on projects on state‐of‐ the‐art machines
• New fun ways to win prizes
• Use of top‐of‐the‐line equipment
• Lunch and plenty of chocolate included each day



Pat H, Kyle TX
the store is great I wish it was not so far down there. Tammy is very nice like talking with her. Love the Anita Goodesign classes have being going to them since 2007 or 2008.


This product cannot be added to your cart at this time