Includes

INCLUDED: DUPICATE PID 89951 Grace 0111781 G Series Top Plate Carriage +Front/Back Handles for Home Sewing Machines on Grace,
Includes Auto Needle Threader and Thread Cutter Trimmers, Drop Feed for Free Motion, Speed Limit Control, Dual Tension Adjustments, Knee Lift Lever for Presser Foot
Juki TL2010Q, New LED Lights, Sub Tension (Pre Tension Knob for Consistent Thread Delivery), 1 Foot Pedal for Auto Thread Trimming and Speed Control, Speed Limit Control Slider Knob On Front of Machine, (like TL2000Qi and TL98 + 4 New Features). All have Knee Lift and Hand Lever for Presser Foot Lift, Automatic Needle Threader
* Synchrony Bank 12 Months No Interest Financing Equal Monthly Pay plus any applicable taxes. Apply online. Transaction Code 112
Synchrony will advise you of any maximum amount or full credit that you can use towards purchase.
---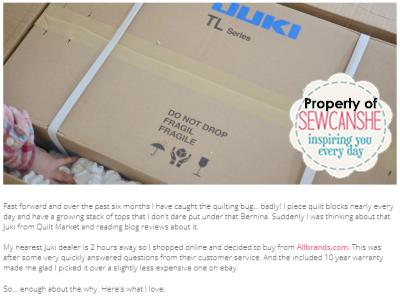 "My Juki 2010 makes me feel so confident starting quilts because piecing is so much faster and more accurate now. And I can quilt them myself without fear! I am so, so happy about that. My nearest Juki dealer is 2 hours away so I shopped online and decided to buy from Allbrands.com. This was after some very quickly answered questions from their customer service. And the included 10 year warranty made me glad I picked it over a slightly less expensive one on ebay."
– Caroline, owner of SewCanShe.com
Article (2/15/14):
My New Juki TL2010Q
---
Same as Juki TL98 +1 Pedal Trim + Speed Control On Board. Be sure to use your toes on the foot control to run the machine and your heel to activate the thread trimmer. If you use try to use your heel to run the machine, it will only activate the thread trimmer and not run the machine. John Douthat, Owner & Tech, AllBrands.
The New Juki TL2010Q is a Single Needle Lockstitch Machine for straight stitching and quilting is also perfect for tailoring, dressmaking and home decor items. The Juki TL2010Q can be used as a table top machine, mounted into some cabinets or used on machine quilting frames. It is portable and has a built in carrying handle. Sewing area extension shown in picture is included with the machine.
The Juki TL-2010Q is a high-performance sewing and quilting machine. The TL-2010Q is a single needle, lock-stitch, portable machine, constructed of aluminum die-casting to ensure industrial-quality sewing.
*With advanced features, such an industrial sub-tension system, *variable speed control slider
, and bright white LED lighting, this machine is built for precision sewing. With a large work area of up to 23 inches (with auxiliary table attached), the TL-2000Qi can handle large quilt, sewing or home decor project with ease.
---
Juki TL-2010Q Instruction Manual
(.PDF)
---
Two Types of Quilting Foot / Drop Feed
Two typed of quilting feet are supplied as standard accessories with the machine. A 1/5 Quilting Foot is used for basic quilting and the Quilting Foot for precision sewing with 1/4" inch stitch width. The feed dog can be raised and lowered simply by depressing a switch. When quilting, the drop feed allows you to sew curved stitches with ease.

Even Feed Foot

With its reliable feed, the even feed foot ensures the machine's ability to produce beautiful seams when sewing difficult-to-feed fabrics such as georgette and velvet, as well as heavy weight materials such as leather.

Automatic Thread Trimmer

The machine is equipped with an automatic thread trimming device that simultaneously cuts the needle and bobbin threads at the sewing end by lightly pressing the push-button. It uses the thread trimming mechanism that is similar to the industrial sewing machine type.

Easy Bobbin Replacement

A new bobbin case latch and an enlarged bobbin case area make it easier to remove and replace the bobbin.

Automatic Needle Threader

The push lever automatic needle threader easily threads the needle without eyestrain and allows you to start sewing quickly.

Knee Lifter Lever

The knee lifter lever allows you to lift / lower the presser foot without using your hands.

Adjustment of Presser Foot Pressure

Presser foot pressure can be adjusted according to the fabric being sewn by turning a regulator located on the top of the machine.

Extended Sewing Area

The throat size from the needle to inside the machine is 8.5 inches.

---



JUKI TL Series - Chapter 1: Set Up.Welcome to chapter 1 of the TL-18QVP instructional video series. In this video, we will teach you how to set up and operate your machine.

Juki TL Series - Chapter 2: Basic Settings and Operations

TL Series - Chapter 3: Winding the Bobbin

TL Series - Chapter 5: Test Sewing

TL Series - Chapter 7: Replacing the Needle


Juki TL Series Instructional Videos

How to thread a Juki TL 2010Q

JUKI TL-2010Q NEEDLE THREADER

Instruction Manual(.PDF)


Parts List Manual for Juki TL2010Q



Dimensions: 17.8 x 8.6 x 13.8 inches

Sewing Speed: Max. 1,500 r.p.m

Stitch Length: Max. 6mm

Lift of the Presser Foot:
- By Lever, Max. 9mm
- By Knee Lifter, Max. 12mm

Needle: HAx1 (130/705H) #7-#18 (HLx5#9-#16)

Dimensions: 17.8 x 8.6 x 13.8 inches

Weight (Machine only): 11.5kg

Rated Voltage / Power Consumption: 120V / 1.4A, 100W

Power Consumption of the Lamp: 12V, 3W

Auxiliary Table (Dimensions): 590 x 277 (mm)

Hook: Horizontal-axis Full-rotary Hook

Sewing Speed: Max 1500 RPM

Stitch Length: Max 6mm

Lift of the Presser Foot : By lever Max 9mm, by knee lifter Max 12mm

Needle: HA x 1

Dimensions: 452 (W) x 350 (H) x 219 (D) (mm)

Weight (machine only): 11.5 Kg/25.4 Lbs


LED light

Sliding Speed Control

One Pedal foot control

Sews heavy weight materials with ease

Predetermined stop position of the needle

1/4 foot and free action foot

Adjustment of pressing pressure according to material weight

Thread tension scale

Automatic stop-bobbin winding

Portable sewing machine

Automatic thread trimmer


1500 stitches per minute

Stitch length: 6 mm

Universal presser foot tape ribbon narrow elastic application

Presser foot lift 7 mm by hand

Knee lifter 12 mm extra lift

Throat Area: 8.5(L)x 5.9 (H) inches

Auxilliary table included: dimensions 590 mm x 277 mm (12 x 23)

UL Listed








Manufacturer's US warranty 5 year limited warranty on defects in materials and workmanship.
Non-US Warranty: To view the warranty for this combo, please view specific warranty information on the individual product pages.
Specifications
Grace Continuum Frame is the 1st machine quilting frame with adjustable depth front to back between rails. Adjust the fabric area by moving the front rail back depending on arm space.
For over 30 years, the Grace Company has produced some of the finest machine–quilting frames available. Now the Continuum combines some of the most sought after features into a modular system that's available for quilters of every level and nearly every sewing machine type.
With steel and cast–alloy components, the frame is one of the sturdiest and longest–lasting frames ever designed. This modular frame has many available configurations and accessories. This is a no–baste frame designed to make your quilting projects easier, more convenient, and more beautiful. The frame is available in standard 8 foot or 10 foot sizes.
Product Features:
SureTrack dual-wheel system

Channel locks for easy straight lines

Adjustable depth for machines with different throat lengths

Leveling feet

height-adjustable legs

Note: The Grace Continuum Frame is made for their Qnique 14+ 15R, Q19 and Q21 machines. Continuum is not made for any other brand of longarm quilting machines which come with their own custom carriages and frames. These carriages will not fit and not work on Grace frames. Note: If ordering the Continuum frame for use with a machine other than a Q'nique machine, please call in to Grace Company so we can make sure you receive the correct parts for your machine.
1-800-264-0644. You can use mid arm machines such as Juki TL, Brother PQ and Janome 1600P portable machines if you add the Grace Top Plate and Handles under Recommended Accessories on this page.

The Continuum Frame can be configured in multiple set-ups and optional accessories, so it will be the perfect fit for you no matter what your quilting requires. Think you might upgrade your machine to a longarm in the future? The Continuum frame can work with your short or midarm machine now, and then be adjusted for a longarm when you need it. Add the optional accessories now or later to make your quilting process more convenient.

The new Continuum Quilting Frame has been designed by the Grace Company to perfectly accommodate the Q'nique 21 machine, as well as a number of other machines on the mar

Grace Continuum King Frame Features:


Sets up in king (123.5") or crib (63.5") work areas

Adjustable depth

Hand wheel allows you to roll all layers of the quilt with a take up rail hand wheel

Fits machines with throats up to 18"

Steel construction to withstand extended heavy use

Dual wheel track system for improved carriage motion

Height adjustable legs

Leveling feet

Includes set of four bungee clamps

Easy to use hand-wheel for take up rail


Included Accessories
Continuum Package Includes:
4 Bungee Clamps
Cloth Leaders and Velcro
Juki TL2010Q Includes the Following Accessories:
Standard Straight Stitch Foot

1/4 inch Quilt Foot still included

NO 1/5 inch Quilt (Also called "Free Motion" Darning Feet) Foot* is no longer included.

Walking Foot

NO Compensating Foot* is no longer included.

NO Rolled Hem Foot* is no longer included.

Zipper Foot

Foot Control

Power Cord

Instruction Manual

Lint Cleaning brush

4 Bobbins

Spool cap

Oiler

Needle pack

Power cord

Foot control w/ thread trimmer

Instruction manual

Knee lever Lifter

Extension table (see product image)

Auxiliary 8x12" extension work table

Exclusive T screwdriver

Screwdriver (small)
Note: The TL-2010Q now comes with 3 less feet below
They are:
Roll Hemming Foot A9837-090-0A0

Compensating Foot A5149-E98-ZA0

1/5 Quilting Foot A9811-E98-AA0A