This is a copy of the best & most popular bulky knitting machine & ribber combination that Brother ever made. 9mm between 114 needles on knitter & 110 needles on the ribber.
*See same Taitexma TH260 Knitter and TR Ribber Now Available for about $400 Less Money than Artisan KH/KR260 !
Stitch count: 114 Stitches. Needle Pitch: 9.0mm. Power: Manual Selector: By Punch card. It has a 24 stitch pattern repeat. Come with a set of 15 card Knitting Patterns: Flat knitting, Tuck Stitch, Slip Stitch, Fair Isle, Partial Fair Isle, Embossed, Thread Punch lace, Plating, and Tuck Stitch plating weaves.
Uses 24 stitch punch cards (a set of basic pattern cards is included or you can purchase blank cards and a punch to make your own)


Designed for Worsted and Chunky weight yarn

Virtually identical to the Brother KH-260 & Creative 3000

All Brother KH260 bulky accessories fit this machine

Package includes ribber bed

Just like hand-knit only better and faster using worsted and bulky yarn

Punch Card knitting patterns include Thread Lace, Tuck, Slip, Weaving, Fairisle and Single Motif Isolation

Pattern cards included or make your own with optional puncher and blank cards

9mm needle pitch

Ribbing Attachment


9mm pitch, 110 needles

For rib knitting and double bed fairisle patterns

Includes D slider for drop-stitch designs

Drops down when not in use or can be detached
Specifications
ON BACK ORDER UNTIL MAY 2018
A bulky knitting machine knits fabric that looks just like hand-knitting, only better and faster using heavier double knitting (DK) and worsted yarn. (It does not knit US hand knit style bulky yarns, just DK and Worsted)
You can knit stockinette stitch and ribbed stitches when you include the ribber.
However, this bulky knitting machine can also use a Punch Card to create knitting stitch patterns automatically.Place a punch card in the machine and activate it. Now you can automatically knit Thread Lace, Tuck, Slip, Weaving, Fair Isle and Single Motif Isolation and more stitches. 110 needles
There is a basic bulky knitting machine pattern card set included or you can make your own with an optional extra puncher and blank cards.
Bulky punch cards for this machine are 24 stitch-wide pattern repeats.24-stitch punch cards are available from other brands of knitting machines and are interchangeable with this machine.
The bulky gauge machine is a 9 mm needle pitch knitting machine. This means there are 9 mm between the needles which is wide enough to accept double knitting weight up to bulky weight yarn. Thus the name bulky.
Bulky Ribbing Attachment:
The bulky ribber is included and is also 9 mm pitch, with 110 needles.For Rib Knitting and Double Bed Fair Isle patterns.Included is a D Slider used to make dropped-stitch designs. If you are not using the bulky ribbing attachment, it drops down out of the way or it can be detached and stored.
Optional knitting machine stand available.
Note: This machine is not as well made as the Silver Reed brand machine. It runs much rougher, and really needs to be oiled regularly. We recommend liberally oiling inside and outside before using. This machine may come with bits of rust, dings, scratches or other blemishes that affect the appearance but do not affect the performance. This machine is like a fixer-upper. Once you have it tuned for your needs, however, it should continue to serve you for many years.
Martha Stewart interviews actress Karen Allen of Indiana Jones films in her cashmere yarn cut and sew knitting studio and shop in Great Barrington, MA
Brother Knitting Machine Set Up: Short lesson for knitting machine newbie showing unpacking and setting up the unit. General procedure is the same for all single bed Japanese knitting machines, in this video Brother 260 Bulky unit was featured. Let's keep this unique art alive! Happy knitting everybody, Taisia.
Included Accessories
Extra Needle

2x1 transfer tool

3x1 transfer tool

3x2 transfer tool

seaming needle

claw weights

crochet hook

cast on thread

knit gauge ruler

wax and holder

oil

tools

instruction book

Other Images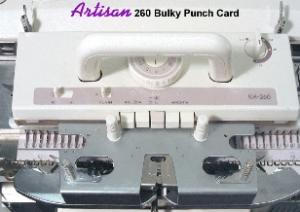 Carriage for Manual Knitting or Automatic Needle and Color Selection on each Row. Can knit one or two colors in each row.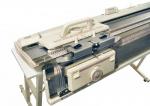 Double bed knitting knits in the loops on the back side of the fabric, so they don't snag. Double Jacquard, Afghans, Blankets, Sweaters, Ribbing and Tubular items such as socks can be knit on double bed knitting machines.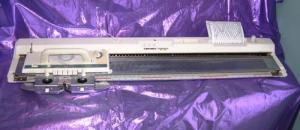 Single bed knitting (ribber drops down) produces lighter/weave fabrics but with heavier yarns such a 4 ply worsted. Fairisle, Tuck, Slip and Punch Lace designs are possible while knitting just on the main knitter bed, without the ribber in operation.