Revolutionary Technology That's Light Years Beyond!
If you do not have a trade in to offer us, or are not interested in financing interest free, please ask a sales associate.
AllBrands will match prices in our stores for the same offers and services, if they exist.
Be the first of your friends to get your hands on the most intuitive, and newest technology in sewing and embroidery.
Click here to view the Brother Innovis XP2 Information Sheet (.pdf)
Presenting the Luminaire 2 Innov-is XP2. Now you can enjoy all of the advanced features of the original Luminaire, such as revolutionary StitchVision Technology, plus brilliant new quilting innovations and app-based features available from your mobile devices. Sewing technology has just gone from light years ahead to light years beyond.
New Features:
Brother Luminaire XP2 Sewing, Embroidery, & Quilting Machine New Features with Barbara
New Disney design on the face plate

Embroidery Features:

New hexagon shape for auto split of sash features: 5 new designs

2-color quilting sash: 5 new designs

New quilting sash patterns

Triple stitches option for quilting sash patterns: option to select the single or triple stitch for quilt sash patterns (same function as thickness of decorative fill on MDC)

Shorter length embroidery BH patterns

Easy decorative fill stitching in embroidery mode

Enhancement in random shift

400% magnifier

Option for magnifying feature

Option to extract the outline

Saving the scanned image for My Design Center

Sewing and Quilting Features:

End point setting function for sewing: detects the mark of the sticker using the built-in camera. After the camera detects the sticker, you will see the black circle shade over the sticker.

Revolutionary StitchVision Technology
• Achieve perfect placement of your stitches and embroidery designs with the industry-first StitchVision Technology. Stitches and embroidery designs can be projected right on the fabric for precise placement. The 5" x 3" virtual preview area also displays guidelines in single, double and grid lines. An embroidery pointer with 3 color choices avoids having to mark fabrics with messy chalks.

End Point Sewing Function
• Stop your stitch exactly where you want. InnovEye Plus Technology detects the Snowball End Point Sewing Sticker on your project, and the machine stops sewing at the sticker.

Large 10 5/8" x 16" embroidery area
• Create larger-than-life embroidery with ease. Frame includes rubber plates on both sides for a superior grip on fabric, while an ergonomic spring lever release enables easier, clamp-free hooping. Additional frames include 4" x 4", 5" x 7" and 10 5/8" x 10 5/8" sizes.

65 square inches of workspace – 13.1" needle to arm
• Our largest needle to arm is a dream for any sewer, embroiderer, crafter or quilter, with the ability to easily accommodate a rolled king-size quilt. With the powerful combination of the large 65 square inches of workspace – the largest of any Brother machine – and the generous 13" needle to arm span, projects of virtually any size are easily managed.

Large 10.1" built-in high-definition LCD display with capacitive technology
• The simple and intuitive 10.1" capacitive touch screen LCD display works like a tablet with familiar sliding, swiping, scrolling and pinch-to-zoom for viewing detailed steps, categories and designs.

Expandable Library of Built-in Tutorials
• Explore 43 enhanced tutorial videos directly on the high-definition LCD display – with everything from basic operations to embroidery functions.

My Stitch Monitor Mobile App
• Walk away from your machine and be notified via your iOS or Android™ mobile device when you need to change threads or if your project has finished stitching.

My Design Snap Mobile App for Image Transfer
• Transfer images wirelessly with the My Design Snap mobile app. Simply select a picture of line art or an illustration from your mobile device. The image is sent to your machine through your wireless network and then converted into embroidery data. Personalization and customization are available in seconds. Select, send, edit, create.

My Design Center Decorative Fill Options
• Enjoy more designs with the Brother-exclusive My Design Center, featuring 42 decorative fill options inspired by geometric shapes, basket weaves, leaves and bubbles.

Brother Exclusive 'Quiltbroidery' Features
• Are you a quilter who wants to dabble in embroidery or an embroiderer who wants try their hand at quilting? Only the Luminaire 2 has five options of two-color quilting sash designs, which are perfect for eye-catching, colorful borders. Building upon the sensation of the auto-split designs, enjoy five hexagon shapes to give you more options, and then choose from either single or triple stitch for quilt sashing your stitches stand out on your projects. We call it 'Quiltbroidery!'





Allbrands Exclusive First Look Videos:






US Warranty 25 years head, 6 years electronics, 2 years labor
Extended US Warranty: Extended Warranty Available
Non-US Warranty: 30 days parts and labor
Specifications
Manuals, Quick Reference Guide, Pattern List, Designs and Disney Guides, and Optional Accessories for Brother XP2 Luminaire PDF to Download and Print Out
Luminaire Innovis XP2 Brochure
Brother Support XP1 Luminaire.
NEW Brother accessories online catalog by machine model numbers
Basic Features
Diagonal LCD Display, 10.1" Capacitive (5.3" x 8.5")

Up to 16,77,216 colors

Side scrolling stitch select, pinch in/out

On-screen help

One action needle plate

12 built-in languages

On-screen editing

Instructional manual PDF viewer

8 LED lights

13" surround LED lighting

Automatic thread tension

Automatic needle threading system

Easy bobbin winding

5-level adjustable bobbin winding speed

Upper thread and bobbin thread sensors

Automatic thread cutter

Quick-set bobbin

2 full USB

Automatic updates via wireless capacity

Optional mouse capacity by USB

USC and SD card capabilities

Projector

5" x 3"

40 lm

WVGA resolution

TI DLP technology

Dimensions

Unit Dimensions (W" x D" x H") 27.16" x 12.67" x 13.74"

Unit Weight (lbs) 43.21

Embroidering

Maximum embroidery area 10 5/8" x 16"

1,050 SPM maximum embroidery speed

4 standard included frames: 10 5/8" x 16", 10 5/8" x 10 5/8", 5" x 7", 4" x 4"

1,322 built-in embroidery designs

192 built-in embroidery designs featuring Disney/Disney-Pixar characters

140 built-in frame designs (10 shapes x 14 stitch patterns)

24 built-in embroidery lettering fonts

Enhanced InnovEye Plus technology

Resume function

Trial position/layout function

Built-in border function and designs

Color sort feature

Sewing with embroidery unit attached

Applique creator function

Automatic feed thread cutting

Curving text onscreen editing

Enhanced onscreen letter editing

Advanced multiple pattern selection

Space reduction among embroidery alphabets

Pattern rotating: 0.1, 1, 10, or 90 degrees

Drag and drop editing

Onscreen automatic density adjustment

Enhanced My Design Quilter feature

Projector LED embroidery pointer (Dot or "T" mark, 3 color choices)

Basting stitch before embroidery

Forward backward stitch: 1, 10, 100, 1,000, and progress bar

Sewing and Quilting Features:

8" x 18.8" bed area

5" x 13.1" work space

Maximum 1,050 SPM

Knee lifter

7 feed dogs

Back to beginning key

14 standard presser feet

824 built-in sewing stitches (includes buttonhole stitches and 10 decorative Disney stitches)

15 one-step buttonhole styles and 1 four-step buttonhole style

4 built-in sewing lettering fonts

7 mm stitch width

5 mm stitch length

Reinforcement stitch

Dual purpose stylus for stitch width/length/L/R shift setting

Projected angle line marker

Projected gridline marker

Projected guideline marker (single or double)

Straight stitch needle plate

MuVit Digital dual feed

My custom stitch feature

Side feding

Start/stop button

Twin needle setting key

Needle position key (up/down)

Automatic height adjuster (AHA) feature

Presser foot pressure adjustment and leveling

Pivot function

Drop feed/free-motion

Built-in quilting stitches

Included quilting feet

Optional included wide table
Included Accessories
Included Frames and Accessories
4 embroidery frame sets

Embroidery foot

Zigzag Foot

Monogramming Foot

Overcasting Foot

Zipper Foot

Camera Detecting Buttonhole Foot

Blind Stitch Foot

Button Fitting Foot

Dual Feed (Digital Dual Feed) Foot

Straight Stitch Foot

Free-Motion Quilting Foot

Free-Motion Echo Quilting Foot

Free-Motion Open Toe Quilting Foot

1/4" Quilting Foot (Piecing Foot)

Couching Dual Feed Foot

Yarn Guide for Sewing Couching

Embroidery Couching Foot

Yarn Guide for Embroidery Couching

Yarn Threader

End Point Sewing Stickers

Straight Stitch Needle Plate

Large Accessory Case

Dual King Spool Thread Stand

Adjustable Presser Foot Knee Lever

Grid Sheet Set

ScanImation Scanning Frame

Embroidery Needle Plate Cover

Dual Purpose Stylus

Additional Accessories Included in Box

Free Updates

Enhancement of projector

MDC: One level will be added on adjusting the density for the background image

Auto split of sash features

Add new frame for attached frame (7" x 14" magnetic sash frame)

Optional Accessories Compatible with XP2:

Hoopnetic Magnetic Sash Frame

7" x 14" (180 mm x 360 mm)

Center of large project can be hooped

8 gray magnets: 4 long magnets, 4 short magnets

Magnet lifter tool

Magnifying Lens

Single or double layers (can be easily switchable to change magnification)

One lens magnifies 1.4x, double lens magnifies 1.7x

Use to check the needle drop position and the fabric edge when you sew the quilt binding or applique

Use to check the needle drop position to start/end marked point for sewing

Use to check the threading when you do manual threading (ex. Wing needle, Twin needle, Metallic thread)

Use to check the position to connect the pattern for the auto-split quilt sashing

Endpoint Stickers

Create easy stop points

The machine will stop sewing at the sticker position, even if it is in the middle of the sewing pattern

Set includes 4 sheets, 972 stickers in all

UGK2

Software features

Endpoint stickers

Activation card

*All XP users can use the magnetic sash frame after they free-update the machine.
*The end point sticker is used for the end point setting function as one of the UGK2 features.
Other Images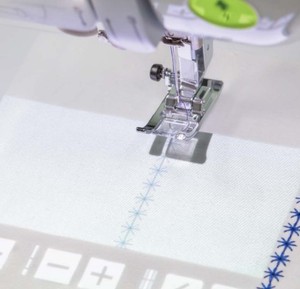 Stitch Precision with StitchVision Technology: Achieve precise placement of your stitches and embroidery designs with the industry-first StitchVision Technology. Experience more accuracy than ever before as stitches and embroidery designs can be projected right on your fabric.
SEEING IS BELIEVING! Choose your desired sewing stitch and watch in amazement as the stitch is projected onto the 5" x 3" virtual preview area.*
*In some cases, there may be some difference between the projector view and the actual embroidery stitch-out, based on materials used.

The brother Luminaire Innov-is XP2 features a NEW 2-color quilting sash feature. There are 5 new sashing designs!
This is just one example of the new embroidery patterns available to you with the XP2. There are so many more!
Now you can create easy stop points with Brother End Point Stickers, another recommended accessory for the XP2. The machine will stop sewing at the sticker position, even if it is in the middle of the sewing patterns.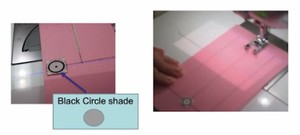 Stop your stitch exactly where you want. InnovEye Plus Technology detects the Snowball End Point Sewing Sticker on your project, and the machine stops sewing at the sticker.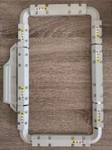 Optional Hoopnetic Magnetic Sash Frame (Optional Accessory)
Now the center of large projects can be hooped!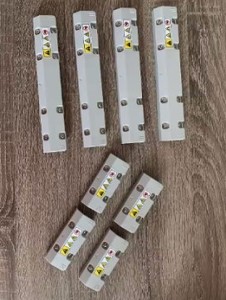 Magnets for the optional Hoopnetic Sash Frame (8 total—4 long magnets, 4 short magnets)