Let's Have a Snow Date!
Join us for a full day of Embroidered Quilting fun! You'll stitch along in an exclusive Facebook Group to make your own darling Snow Date Table Runner.

A Full Day of Embroidered Quilting Fun!
You'll be a part of our Event-Exclusive Private Facebook Group and join in on the fun in the comfort of your sewing room! Designer, Lisa Archer will post video instructions throughout the day to teach you how to create your fun table runner.



Join in on conversations with other event participants, share photos of your work in progress, and reach out to the event hosts with any questions you have.

Facebook Live Trunk Show!
Lisa will present a fun and informative Pickle Pie Trunk Show with her favorite and bestselling Embroidery Designs! We'll also have time for a Q&A session.

What's included with your Event Registration? We're glad you asked! You'll receive our popular Pickle Pie Event Box!

All of your Event Materials arrive in a pink Pickle Pie Box, valued at $200+, and include the following goodies...

Pre-cut and labeled fabric and batting to complete a table runner, $39 value
Event-Exclusive Snow Date Embroidered Quilt Design set, a $59 value
Bonus Embroidery Design Collections, $90 value
Pickle Pie swag (tote bag, pen, notepad, etc.) $10 value
Full color printed instructions, $5
and more

Event-Exclusive Snow Date Embroidered Quilt Design Collection CD
This Darling Design Set includes...
Three Embroidered Quilt Blocks with Satin Appliqués in 4 sizes
Three Embroidered Quilt Blocks with Raw Edge Appliqués in 4 sizes
One Embroidered Quilt Sashing Block with Satin Appliqués in 4 sizes
One Embroidered Quilt Sashing Block with Raw Edge Appliqués in 4 sizes
One Snowflake Embroidered Quilt Sashing Block in 4 sizes
Two BONUS Appliques in 3 sizes each

Door Prizes, Event Specials, and more!
Specifications
This private event, and will be recorded for those who preregistered to watch for a limited time.

Before the event starts…

• Decide which blocks sizes you are working with (Large, Medium, etc.) and load
both the Sashing and the Block to your embroidery machine. You'll stitch the Sashing first.
• Hoop a piece of Mesh Cutaway Stabilizer in your embroidery hoop.
• Thread your machine to match Fabric A. White bobbin thread is fine. (See Photos in Spec Images)


10:00 Live Video with Shop: Welcome and Project Introduction
10:15 Video 1: Project Introduction by Designer, Lisa Archer
10:30 Video 2: Sashing Block Tutorial
11:15 Stitch your first Sashing Block
11:30 Live Video with Shop: Door Prize Drawings & Show Specials
12:00 Live Video Trunk Show with Pickle Pie Designs
12:15 Lunch Break (and time to complete Sashing Block, if needed)
12:45 Video 3: Pickle Pie Scissors Demo
1:30 Video 4: Quilt Block Tutorial
1:45 Attendees Stitch their first Quilt Block
2:45 Video 5: Hoop Envy Club Presentation
3:00 Video 6: Joining Your Blocks/Covering the Back Seams Tutorial
3:15 Attendees Join Two Blocks
3:30 Video 7: Binding Your Quilt Tutorial
3:45 Live Video with Shop: Q&A, Door Prize & Show Specials

Included Accessories
Full Kit Includes:
* Snow Date Embroidered Quilt Collections on CD - $60 Value
* Fully Cut and Ready-to-Stitch Fabric & Batting Kit - $30 Value
* Pickle Pie Design Pink Tote - $5 Value
* Pickle Pie Swag/Goodies - $10 Value
* Bonus Design Collections - $80 Value
* Full Color Printed Instructions
* Catalog

Other Images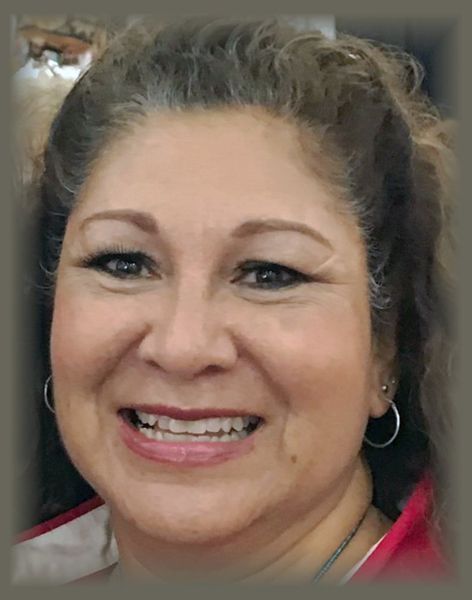 Rosemary Castillo-Sartin is an educator for Allbrands.com San Antonio, responsible for mastery classes for new owner machine purchases, ScanNCut and various quilting/embroidery project classes. She is a certified Kimberbell Designs Event coordinator and educator.

Rosemary served for 23 years as a United States Air Force musician, performing on clarinet and saxophone throughout the southwestern United States and Europe. Her additional duties included event/concert planning and logistics, travel pay, marketing/publicity, unit comptroller, group leader for several ensembles, supervisor and unit First Sergeant/Personnel Director for over 60 bandsmen. During her service, she received numerous awards, accolades and decorations for her accomplishments. She retired in 2014, receiving a Meritorious Service Medal, first oak leaf cluster.

Rosemary is the owner/operator of Upper 90 Logos & Embroidery, specializing in custom embroidery, heat transfer vinyl design, screenprinting, sublimation, and promotional products. She also is a digitizer and education consultant for several local businesses and designers.

Rosemary has been sewing and quilting since childhood. Her free motion quilting and embroidery skills are displayed in various samples in the San Antonio store.

Rosemary lives in San Antonio with her husband Phil, son John and her schnauzers Laini and Apollo. She is an avid sports fan, cheering for the Dallas Cowboys, San Antonio Spurs and Houston Astros. She also enjoys movies, boating and wake boarding.