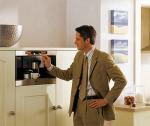 Miele was presented with an award for being 'the most successful company in Germany in 2007'. In the category 'Best Company', Miele beat last year's winner Google, who placed second and Porsche who placed third. Click
here
to learn more.


33097: Miele CM5100 Countertop Coffee Maker Espresso Machine and Cup Warmer

Our Price: $1,499.00
Prices are subject to change, and only current prices will be honored.

Shipping: Free Ground Shipping to the Contiguous USA
Availability: Limited StockGround shipping guaranteed 3 days or less for contiguous US!
Condition: New In Box

Features
The first, fully automatic, bean-to-cup counter-top espresso machine from Miele. This truly versatile coffee system combines features and capabilities of much larger machines and fits them all into a small, convenient package without sacrifices.



Perfect Results Through Individually Adjustable Parameters
All parameters for a perfect cup of coffee can be set according to individual taste: amount of coffee and water, coarseness of the grind and temperature. And the beauty of the fully automatic Miele countertop coffee machine is that you only have to do it once to suit your preferences, and then your perfect coffee will be delivered every time you simply press the button.

Great Coffee With The Aromatic System
For a perfect and intensive coffee aroma, the dynamic Miele brew unit expands when water flows in, allowing ground coffee and the water to mix more thoroughly. After the brewing process, the volume in the brew container decreases, the coffee powder is squeezed and then expelled into the waste container. Your benefit: optimum extraction of all of the enticing flavors and aromas that make coffee so irresistible!

Cappuccinatore For Perfect Froth
It's never been so easy to prepare hot milk and froth - straight into the cup, or a separate container, at the push of a button. The Cappuccinatore draws the milk from a separate container via a tube. In seconds, it heats or froths the milk directly into the glass or cup. Unbelievably easy to adjust for the density of the froth as well as the temperature of the milk, the Miele Cappuccinatore allows you to enjoy delicious cappuccino or latte macchiato the way you like it best. Once you're done, the unit can be completely removed and easily cleaned under running water. The clear tube serves as an immediate reminder to check for any milk residues to ensure the purity of your milk-based drinks.

Easily Removable Brew Unit
The brew unit is at the heart of the coffee preparation process. On the Miele CM5100 coffee machines, it can easily be removed by hand and rinsed under running water, ensuring consistently high quality coffee and a longer lifespan for your machine.

Being able to easily access and remove the brew unit without special tools gives you peace of mind that there are no stray coffee particles building up to clog the system or, with the warmth and humidity in the machine, potentially develop into unhealthy micro-organisms over time.

Convenient Cleaning Programs
With its integrated cleaning programs, the CM5100 makes light work of cleaning. Spouts are automatically rinsed when the machine is powered on or off. The built-in clear-text display will alert you when it's time to perform regular maintenance. With only a few presses of a button, optimum cleaning, timely degreasing of the brew unit and descaling of the water-carrying components is carried out automatically with no fuss by the machine. This not only gives you peace of mind that the machine is in its optimum working condition but also assists with the life-span of the appliance.

Ultra Quiet Operation

Extensive effort was placed on making the CM5100's operation as silent as possible. The conical burr bean grinder is not only one of the best for coffee quality, it's also one of the quietest. Going even further, the grinder area was supplied with extensive sound dampening material. The specially engineered pump produces 15 bar of pressure while keeping noise levels to a minimum.

Renowned Miele Quality
All major components and moving parts are attached to a robust aluminum internal frame. This means superior rigidity, while maintaining a low weight.

The CM5100 series of coffee machines are tested to last 20 years. This equates to about 50,000 coffee or espresso cycles. Miele coffee machines stand for unparalleled quality that you can depend on, all day, every day, morning after morning.

Integrated Cup Warmer - CM5100 Exclusive Feature
Create an even better café beverage with the convenience of a warm cup. The heated cup warmer, with the heating element positioned at the front of the system, allows for just 15 minutes for the front section to heat up and 30 minutes for the complete warmer to heat up. Space is available for 6 espresso cups or 3 coffee cups.

Electronic Steam Valve - CM5100 Exclusive Feature
Push-button simplicity automatically draws just the right amount of steam or hot water for your beverage. No more guesswork, just a great cup of coffee, every time.

Brushed Stainless Steel fascia - CM5100 Exclusive Feature
High-end appeal, to match your other Miele appliances
Extended US Warranty: 1 year limited warranty on defects in materials and workmanship.
Non-US Warranty: 30 days parts and labor.
Specifications
Drink capabilities: Espresso, Coffee, Cappuccino, Latte Macchiato, Milk Froth, Hot Milk and Hot Water

Programmable cup sizes: Espresso Single/Double & Coffee Single/Double

Multi-Language two-line display with intuitive interface. 14 Languages total, including English.

Whole bean coffee system

Height adjustable coffee spout

Energy saving Eco-Mode

Coffee strength and amount selectable per cup

Adjustable grind coarseness

Electronic steam valve

Heated cup warming area

Brushed Stainless Steel fascia

On/Off programmable timer

Programmable automatic switch-off: after 15 min - 9 hrs

Quiet operation

Automatic prompts alert you for cleaning or replenishing beans and water

Safety system lock

Coffee waste container capacity: approx. 11 portions

Powerful 15 bar pump with high quality stainless steel flow-through heater

Hardened steel conical burr grinder

Alternate container for pre-ground coffee

Capacity of fresh bean container: 250 g / 9.01 oz.

Capacity of fresh water tank: 1.8 l / 60 fl. oz.

Removable, easy-to-clean brew unit

Automatic cleaning and rinsing programs

Easy cleaning of milk pipes and Cappuccinatore

Insulated stainless steel milk flask

Dimensions: 19.53"L x 10.47"W x 14.53"H

Weight: 21.16 lbs.





Our Price: $249.00
Prices are subject to change, and only current prices will be honored.

Availability: Usually leaves the warehouse in 6-8 weeks.

Features
Miele is so confident in the quality of their products, they have designed a new, cost-effective way for you to multiply your warranty.

The MieleCare extended service contract delivers four additional years of worry-free operation of your appliances (five years total, Miele standard warranty is 1 year).

This contract can be purchased at any time, within one year of the original appliance purchase date.

This contract is not valid for rotary irons being used in a commercial setting. The manufacturers warranty on any residential equipment used for commercial use is 6 months parts & labor from the manufacturer.

Additionally, no major Miele appliance is excluded from this service program that covers you and your family with the following benefits:


"Thank you for calling Miele"
A staff of technical service representatives is available to effectively manage your questions, and if need be, schedule your service appointment on a day and time most convenient for you.
When you call Miele, you get Miele.

Convenient and Qualified Service
Miele's technicians or Miele's national network of authorized service providers will work with you quickly and efficiently to resolve any technical issues.

In fact, Miele employees perform the majority of at-home repairs.

Remember, a key benefit of the MieleCare extended service contract is that all services are administered by Miele—courteous, at home service is just a phone call away.

Power Surge Protection
From day one, you will be covered for any damage to your appliance caused by voltage irregularities due to thunderstorms or other electrical mishaps.

No lemons—guaranteed
If the appliance requires three repairs for the same problem after Miele's warranty expires, Miele will replace it, no questions asked.

Fully transferrable
If you move and leave your Miele appliances, the MieleCare extended service contract is fully transferable to the new owner.
No fees—just a little paperwork.

So you can enjoy your new Miele products from the first day forward, we recommend using the services of an Authorized Miele Installer.
Non-US Warranty: 30 days parts and labor.
Specifications
Miele Service Contract Agreements, Terms & Conditions