John M. and Annette Douthat, the passionate marital team behind our brand, have been in the sewing business since the mid-70s. Together, they have spent almost forty years cultivating AllBrands as their pride and joy, setting an example for competitors everywhere on how to properly offer superior customer service and unbeatable satisfaction. Still active within the company today, John is a regular at our weekly meetings, as vibrant and passionate as ever before. A walking encyclopedia of sewing machines and repairs, he can be regularly found bouncing ideas off of his tailor-picked staff through email, discussing business propositions with vendors and salesmen, and attending conventions.
(PHOTO: John M. Douthat, greeting guests at a Brother convention)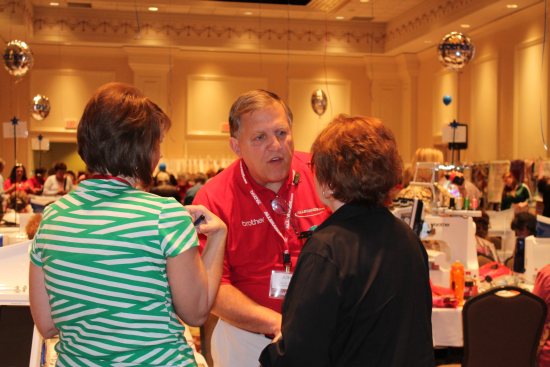 Back in 1995, it was the suggestion of their preadolescent son, John F., that prompted the senior John to consider a website. At the time, the Internet was just pulling itself out of its infancy, long before the dot-com bubble burst of 2000. The World Wide Web was a new frontier, offering limitless potential to some, but nothing more than a gimmick to others. Regardless to say, John and Annette took their business online, becoming the first sewing and vacuum business on the Internet. Shortly after, a new era of prosperity came to AllBrands, and John M. was able to suspend his extensive trips between his ten retail stores. He consolidated his brand further towards home, able to focus on delivering exemplary customer service.

Their twins, John F. and Barbara, have both been a part of the business since high school. Always tinkering with electronics and computers from an early age, John F. built the website, and can be usually found glued to his MacBook Pro while continuously improving and streamlining our extensive system. Barbara, meanwhile, is the head of Product Development, overseeing the cherry-picked selections of vendors, product lines, and products themselves. She maintains and oversees the presentation and quality control of our inventory.


HOW WE GIVE BACK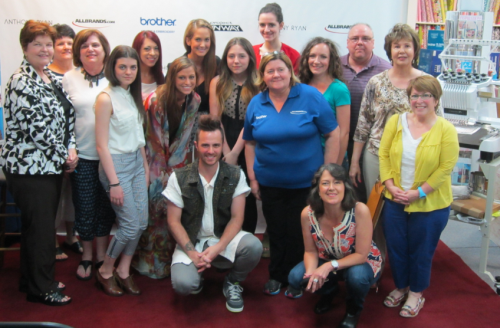 AllBrands has participated in extensive philanthropy work both here in Louisiana and outside our community. and To our local youth development 4-H charter, The Douthats have donated a brand-new machine every June for the last thirty years to the winner of their design contest, as well as supplies to all the contenders. Several years ago, the company donated over 1000 machines to the 4-H national charter.

Among the other extensive local charities and clubs supported are Fashion Week New Orleans, which raises attention through a variety of high-end runway shows, pop-up boutiques, networking opportunities, and chic parties, and Hemline@LSU, the official student fashion organization at Louisiana State University.
(PHOTO: Project Runway All-Stars winner Anthony Ryan Auld, surrounded by fans at an AllBrands event.)

Outside of our home state, AllBrands responded to the 2010 earthquake in Haiti. After learning that 60% of the country's exports are sewn products, John M. donating over one hundred factory-sealed Brother sewing machines to the cause. We are also a proud member of the SeaHope Partners, working to do our part to curb the aftereffects of the 2010 Deepwater Horizon oil spill in the Gulf of Mexico, as well as the Sewing Machine Project, dedicated to donating machines around the world that have been ravaged by misfortune and disaster.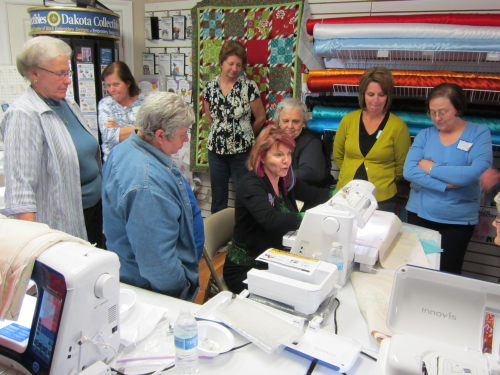 At our various retail locations, AllBrands is host to a variety of sewing classes for the community, incorporating such guests and celebrities such as Paula Reid of Batts In the Attic and Anthony Ryan Auld, first-place winner of Project Runway All-Stars Season 2.

Giving back to the community is a massive part of who we are. It's how we identify ourselves. Whether it's donating a hundred sewing machines to Haiti, offering sewing classes to the community, seeking out and presenting the biggest names in sewing and crafting, working with and inspiring the local youth, or sponsoring local fashion events, we are here to help.
(PHOTO: Paula Reid conducts a class at an AllBrands.)
THE ALLBRANDS PROMISE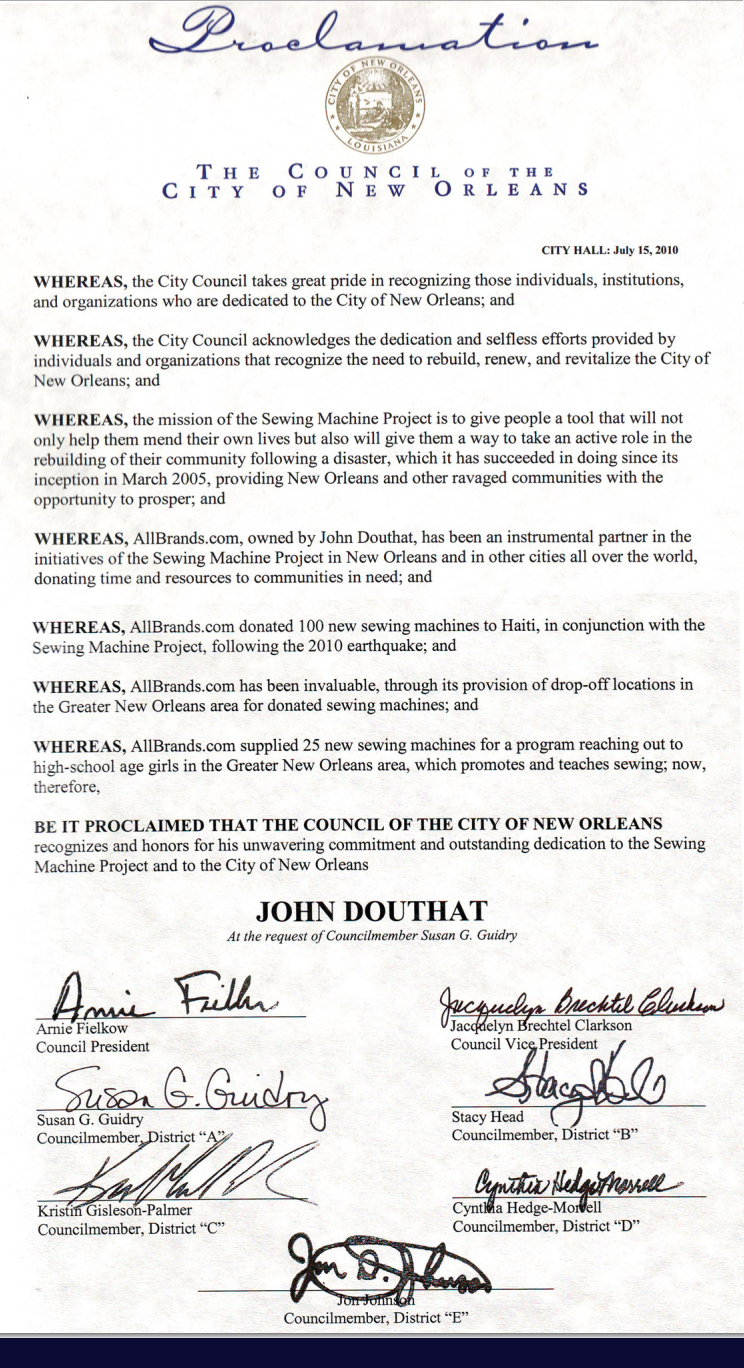 Dedicated to serving our community whether that's Baton Rouge or any of our retail locations, or worldwide with our diverse charity work we are here to give back. Our extensive contributions have gone back more than thirty years, with well over a thousand machines donated, annual machines given to our beloved local groups, and disaster relief. We came from humble beginnings, and are resolved to leave a large, positive footprint on the world one sewing class, fashion show, or donated machine at a time.
 We promise unparalleled customer service and satisfaction, guaranteed. We like to say that everyone on our team wears a lot of hats, and it's true that almost everyone does several distinctly different things. The overlap allows us to fulfill your every sewing need, and we collaborate to ensure your experience is the best it can be.


(PHOTO: Allbrands Proclimation to The City Council of New Orleans CLICK TO ENLARGE)