Ergonomic handle for better grip and control. Curved tip ensures beautiful curves on pockets & collars and easily gets under seams.
Open any catalog of sewing notions and you'll immediately be overwhelmed. There are so many specialty tools with each designed to assist us in an incredibly wide variety of specific sewing tasks. It's often hard to keep track of them all. There are, however, some sewing tools found within those pages that are common, even necessary, to almost everything we do in sewing. And as expected, many of those tasks involve detail work. Quilting, fashion, home décor or crafts, all are made better when we pay attention to even the most obscure details in the construction process. But this requires more than just paying attention. It means all of those little points, folds, creases or seams have to fit together with precision. Unfortunately, our fingers often obstruct our view of the sewing field and those all-important details as well as often limiting our access to them. In an effort to enhance our creative process, Clover has refined the design and effectiveness of one of the most useful tools in all of sewing, the Tailor's Awl.
What do they do?
In the pantheon of purposeful sewing tools used by today's modern sewists, the tailor's awl stands at the head of the class. It has applications to almost everything we do with fabric and threads. Clover has developed four styles of tailor's awls to meet any specific technique requirements we might face. Armed with Clover's straight, tapered, curved or ball point awls there is little that cannot be accomplished. Select the style(s) that best suits your needs. Clover's selection of tailor's awls:
Allow us to safely reach into tight spaces at the needle plate or get close to hot irons without incurring personal harm

Allow us to smoothly feed fabric to the sewing machine needle so hems are not stretched

Are invaluable for keeping seam allowances from flipping in the wrong direction while stitching across intersecting seams

Can be used to mark the placement of button holes, darts or pleats in our fabric

Can be used to unpick threads

Are perfect as a point turner or to turn under applique edges

Assist doll makers and other crafters who find awls useful for pushing stuffing into tiny arms or other confined spaces

Clover Curved Tailor's Awl Overview Video
Join Shannon and Jason Mullett-Bowlsby, the dynamic DIY duo known as the Shibaguyz as they give you handy tips to using our Curved Tailor's Awl!
Specifications
The ergonomic handle provides better grip and comfort for controlled results. The curved tip ensures beautiful curves on pockets and collars. The special tip also allows you to easily get under seams and stitches. When using the awl as a stiletto the curved tip also means higher visibility for every application.

Caution

Handle carefully
Keep out of reach of children.
*Includes a protective cover

Materials

Steel
ABS Resin
Elastomer
Olefin Resin (Cover)




Other Images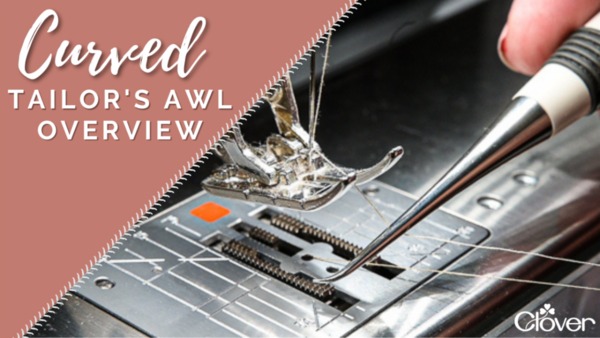 Almost as old as the needle itself, the awl has a long history in the sewing world. Originally used for punching holes in leather and fabric, the simple tool has so many more uses that make it one of our close-at-hand tools for all of our sewing on our machines and by hand.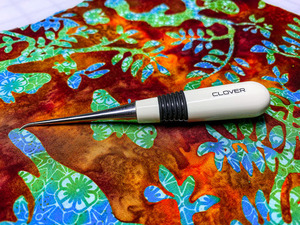 To pull up the bobbin thread when quilting. To save yourself a lot of heartache when you are free motion quilting or generally quilting on your domestic machine, it's important that you bring the bobbin thread to the top of your work. This simple tip will eliminate the dreaded thread snarl on the back of your quilt. Place your quilt under the presser foot of your domestic machine and S-L-O-W-L-Y turn the wheel toward you by hand making your first stitch (Note: Always turn the wheel toward you, as turning it clockwise will cause your thread to jam). As your needle comes up from below, gently pull the top thread tail back to the top of your fabric and use your Curved Tailors Awl to grab and pull up the bobbin thread to the top of your work. Then, securing both top and bobbin threads, take a few stitches to secure everything… You are ready to quilt without worrying about cleaning up a thread mess on the backside of your quilt. We thread both of these back into our hand sewing needle to anchor and bury those tails at the end of our quilting.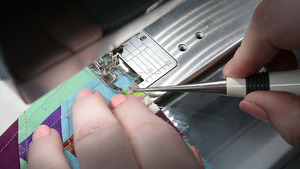 For picking stitches You're going to make a mistake while sewing… we all do. The Curved Tailor's Awl is small enough to use as a thread pick to undo everything from a few small stitches to an entire line of stitches without snagging and breaking the threads of your fabric. Working on the bobbin side slide the curved tip under each stitch and pull the thread out, unworking each stitch. Using this method instead of using a seam ripper will ensure you don't accidently cut or snag your project fabric. The Curved Tailor's Awl is especially handy for picking stitches on delicate fabrics to protect them from damage.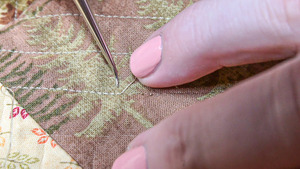 As a precision stiletto Especially handy for working on small pieces, the Curved Tailor's Awl allows you to maneuver fabric next to your sewing machine needle that is "not behaving." Use the tip of the awl to gently hold or even coax your fabric edge back into place as you sew. This comes in handy when we are working with small scrap quilting pieces or improve pieces that might not have perfectly straight edges that need eased into place during sewing. The Curved Tailor's Awl keeps your fingers well away from the pointy needle… and, let's face it, those Minions bandages are cute but a trip to urgent care to remove a microtex needle ain't cute… at all… just sayin'.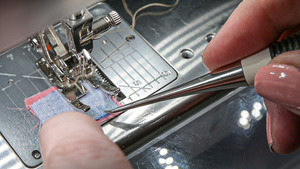 Our Curved Tailor's Awl comes into play while sewing together our scrap quilts and improv piecing project. We use the tip to keep our seams heading the right direction and not twisting as we sew.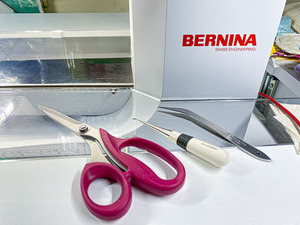 In short, the simple awl is not just a punchy tool… it is the ultimate multi-tasker and we keep them on both of our work stations grabbing for them as often as a pair of thread snips. We keep our Clover Curved Tailor's Awl right next to our BERNINA 790+ whenever we are sewing and have one in our project bags for hand sewing and sashiko. This is definitely a tool we don't let stray far from our work.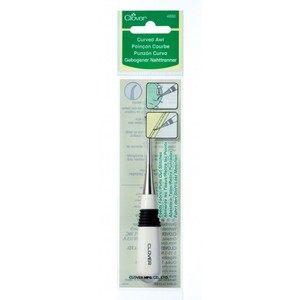 Clover CL4880 White Curved Tailors Awl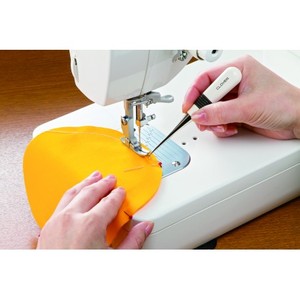 Ergonomic handle for better grip and control. Curved tip ensures beautiful curves on pockets & collars and easily gets under seams.