Imagine a tool that allows you to master curved seam piecing. A tool that makes sewing curved seams as fast and easy as strip piecing straight seams! That tool is here, now!
Ensures automatic easing of curves for a perfect fit. Snap-on adapters included: *Low Shank. High Shank, Singer Slant, and Sears Kenmore Super High Bar Tall. (Note: Bernina sewing machines require a optional Bernina adapter to use with the included low shank adapter.)
Like the look of Drunkard's Path, Double Wedding Ring or Grandmother's Fan but worried about all those curves? The Curve Master provides automatic easing of curves, eliminating the need for making center points of curved pieces. Turns a three-step process into a one-step process. Also available is a 5/8" foot.
Yes, now those challenging concave/convex, inside/outside curves of so many beautiful quilt blocks are within the reach of ALL quiltmakers...Double Wedding Ring or Drunkard's Path… Wheel of Mystery, Wheels of Whimsy, Robbing Peter to Pay Paul, Improved Nine Patch, Royal Cross… The Strips and Curves quilts… Turn traditional blocks into curved-seam creations...All possible with the Curve Master Presser Foot.
Invented by a quilter, for quilters.
The Curve Master allows even beginners to sew:
On Any Sewing Machine

¼" Seams, Either Scant or Full, and Curved or Straight

At a Steady, Medium-to-Fast Machine Speed

Without Stopping to Align Fabrics

Producing Square Blocks that Rarely Require Trimming,

AND, Without Pinning, Marking or Clipping!!!

The Curve Master was the brainchild of Sandy Chandler. You have probably seen her at quilt shows demonstrating the Curve Master. As a quilter of some 20 years, she was frustrated when making a Double Wedding Ring Quilt and came up with a better "mousetrap." With development expertise from John Martelli, the Curve Master was introduced at Houston Quilt Market in October 2002 and has become the #20 top selling sewing and quilting notion since then, according to a leading notions distributor.

Curve Master LLC is the manufacturing, warehousing and distribution business for the Curve Master and is located in Pensacola, FL. The Curve Master Presser Foot is available at distributor pricing to sewing and quilting notions distributors who sell to quilt shops at wholesale pricing. It is available at many fine quilting and sewing machine stores for retail purchase. It is often demonstrated at quilt shows, seen at shop hops, and other special events.



Frequently Asked Questions.
Specifications
Note this video shows Several items which are not all included in this package. Fast Forward to 4 Minutes to see the Curve Master Foot Demonstration
In this video I show you the tool that allows you to sew curved seams with a perfect 1/4" seam using absolutely no pins! The Curve Master presser foot is truly amazing! The Curve Master Presser Foot is a new sewing technology that allows us to sew any 1/4" (or 5/8") curved seam without pinning! It also does perfect straight seams. It adapts to fit any home sewing machine regardless of brand or age of the machine.
Sandy Chandler Curve Master Blog and Customer Reviews
Other Images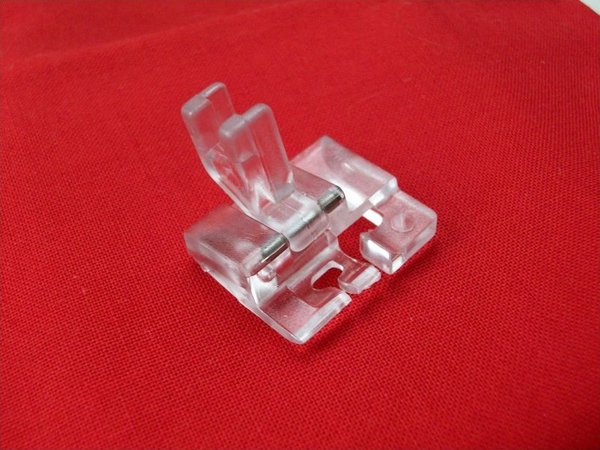 The Curve Master Presser Foot sews a quilter's quarter-inch seam (either scant or full) for both curves and straight seams. Fits any sewing machine (see adapter guide on this website).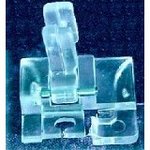 ~Invented by a quilter, for quilters!130bb ~Perfect patchwork piecing foot sews 1/4" straight and curved seams. ~No pinning necessary. No clipping of seam allowance needed. ~Adapts to fit most sewing machines. ~A must for Double Wedding Ring, Drunkard's Path & Wheel of Mystery.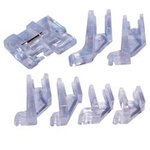 Snap-on Foot adapters included: Low Shank, High Shank, Singer Slant, Kenmore Super High Bar Tall. (Note: Bernina sewing machines require a Bernina shank adapter to use with low shank ankle adapter.)