Bundle & Save
Get additional savings when you purchase any of these items along with this product.
In Stock! EverSewn is the sewing machine made for the new generation. The clean and sharp design of the EverSewn machines combine the classic design with a modern twist. All three of the Sparrow machines are made at the same factory as Bernette machines, so you can know they are durable.
* Synchrony Bank Sewing & More Fixed Payments 0% No Interest Financing with approved credit!
Click HERE to Apply Online for Synchrony Bank Sewing and More Credit Card Approval to use for Online Checkout or in AllBrands stores
The EverSewn Sparrow 15 is a mechanical model without computer control. The stitch package features 32 stitches including a buttonhole with a maximum stitch width of 5mm. The two knobs on the front of the machine and the wheel on top can be used to set thread tension or stitch length, as well as to select stitches. The manual needle threader and the thread cutter help you sew efficiently. Four presser feet (soles) come standard with the EverSewn Sparrow 15.
The EverSewn Sparrow 15 has 4mm stitching width and with a 5mm stitching width a 1-Step button hole, and 4 Standard presser feet (Zig-zag foot, zipper foot, button foot, and hole foot).
Brochure on the Eversewn Line of Sewing Machines
(.PDF)
US Warranty 5 Years Mechanical, 2 Years Electrical, 90 Days Adjustments on defects in material or workmanship.
Extended US Warranty: Extended Warranty Available
Non-US Warranty: 30 days parts and labor
Specifications
EVERSEWN 32 stitch mechanical sewing machine. Features Include: CB Hook System, 150mm Free arm lgth 750 spm (Maximum sewing speed), Upper-thread tension manually adjustable, Presser foot pressure manually adjustable, Manual thread cutter, LED sewing light, Threader, Twin-needle capability, 2- step presser foot lift, Electric foot control, 1 (1-step) Buttonholes including eyelets, 15 Utility stitches including stretch stitches, 6 Decorative stitches, 1 Quilting stitch, 5mm Maximum stitch width, 4mm Maximum stitch length, Automatic bobbin winder, 4 Presser feet (soles), and a dust cover.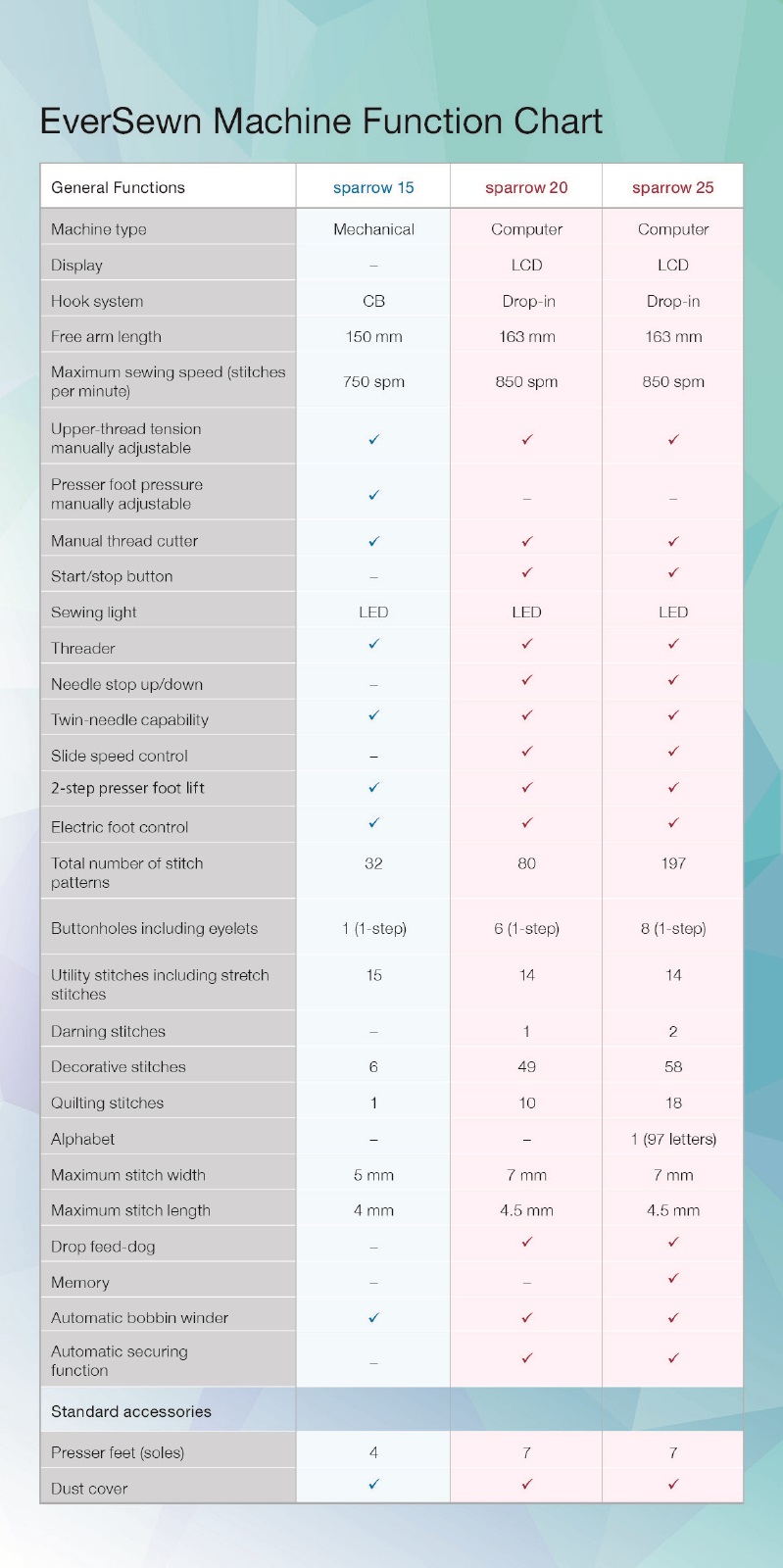 Eversewn
Warranty and Certificate Registration
Warranty Certificate Registration
This warranty shall not be valid until and unless the attached card is completed and returned within thirty (30) days after the date of purchase of said product or registered on the website www.eversewn.com.
The product must be unplugged from the power source when not in use.
Notice: The user assumes the risk of and this warranty does not cover herby excludes, liability for defects, failure, loss, deterioration, personal injury or damage which are due to (i) ordinary wear and tear or exposure, (ii)misuse, abuse, alteration, negligence, or (iii) the installation of parts other than genuine EverSewn parts of equivalents.
Please Note: In no event shall EverSewn be liable to the purchaser of said machine or to third parties for special or consequential damages, including, but not limited to death or personal injuries.
EverSewn does not assume or authorize any person to assume on its behalf, any other obligation or liability other than set forth herein.
Some States do not allow the exclusion or limitation of incidental or consequential damages so the above limitation or exclusion may not apply to you. This warranty gives the purchaser specific legal rights, and the purchaser may also have other rights which vary from state to state.
There are no implied warranties of merchantability or fitness for a particular purpose that extend beyond the express warranty described on the face hereof. To the extent the laws of any state created or recognize any implied warranties for this product, the duration of those warranties shall not extend beyond the duration of EverSewn's limited warranty.
This warranty is not transferable. EverSewn is not party to and shall not be bound by any other warranty given in connection with the product indentified below.
If a service problem should arise, the purchaser must contact EverSewn toll-free at 1-844-EVERSEW (383-7739) to arrange for warranty repair.
EverSewn warrants the product identified below to be free of any defects in workmanship and materials under normal use upon the terms and conditions hereinafter set forth. This warranty is offered solely for the private, non-commercial use of the product.
This warranty will be in force only for the periods of warranty duration, specified herein when the product is owned by the original purchaser and is limited solely to the repair or replacement of original parts which, in the opinion of EverSewn are defective in workmanship or material and not normal wear and tear and which are returned to EverSewn or authorized servicing center as may be designated by EverSewn.
Limited Warranty
This warranty shall extend, from date of purchase, for a period of:
1 year labor
1 year electrical parts
10 years in the case of mechanical parts from the date of purchase of the product.
The liability of EverSewn shall be limited solely to the cost of the affected part and does not include labor charges. All other costs, including the costs of shipment to EverSewn or authorized servicing center designated by EverSewn or to such other point as may be designated by EverSewn for service of repair under this warranty, shall be those of the purchaser.
Said product will be returned to EverSewn or authorized servicing center designated by EverSewn for all repairs or replacements covered by this warranty. This limited warranty is given subject to the following additional terms and conditions:
EverSewn shall be under no obligation to honor any claim under this warranty in the event that said product has been misused, neglected, damaged in transit or has been tampered with in any way or if the specifications supplied by EverSewn at the time of purchase with respect to proper maintenance and lubrication have not been observed or if the serial number affixed to the machine has been tampered with or defaced or if
the original bill of sale, warranty certificate for the machine or other proof of purchase
acceptable to EverSewn is not presented at the time service or repair is sought under this warranty.