Precision pin feeding system: It's so easy to sew a wide variety of fabric thicknesses thanks to Brother's Pin Feed system for precision fabric feeding. The feed pin passes up through all layers of fabric moving with the feed dog's motion to feed all layers of the fabric evenly.
✽ For safety, the feed pin is automatically lowered when presser foot is raised.

For Use with Brother PQ1300, PQ1500, PQ1500S, PQ1500SL, PQ1500SLPRW, DZ1500F Designio, BL500A Jane, BL520B Accomplish, BLQP Quilter's Choice Pro
Specifications
See page 13 Pin Feeding for hard to handle fabrics
Velvet, Quilt, Synthetic Suede, Knit, Coating
What is pin feed sewing discussion topic @ PatternReview.com.
LOWER NEEDLE (FEED PIN), BABYLOCK, BROTHER #138483051 DETAILS
Guaranteed to fit Babylock Sewing Machine Models:
BL500A Jane, BL520B Accomplish, BLQP Quilter's Choice Pro
Guaranteed to fit Brother Sewing Machine Models:
PQ1300, PQ1500, PQ1500s, PQ1500SL
Alternate Part Numbers: 138483001
Changing the Feed Pin:
1. Set the feed dogs to "velvet" position. (see Page 5)
2. Remove needle, presser
foot and needle plate.
3. Lower presser foot and
turn hand wheel until feed
pin is in its highest position.
4. Insert small screwdriver (included) as shown in diagram.
5. While holding spring
with fingertip, lower the
feed pin changer onto
the needle to pick it up.
6. Attach new feed pin to
feed pin changer, lower
and attach while holding
spring with fingertip.
7. Remove screwdriver.
8. Re-attach needle plate,
needle and presser foot.
Pin Feed Video
Other Images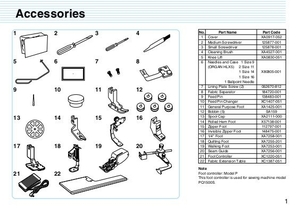 Feed Pin is #9 on Accessories Page of Instruction Book for Brother PQ1500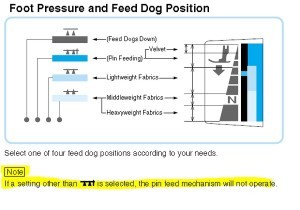 Feed Dog Positions including one setting for use of pin feed.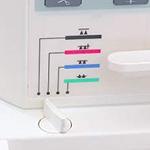 Feed dog adjuster. Using the feed dog adjuster in conjunction with the presser foot presser dial allows you to sew with ease on all types of fabric, even special fabrics such as velvet.