Table with Servo Motor (Replaces MF-7823), The machine can be used for the hemming process of the sleeves and bottoms of T-shirts and for the covering process for sportswear and knitwear. It is not a specific-purpose model, but a basic one which can be used for a broader range of processes independently. The MF-7900 Series is a newly developed coverstitch machine provided with lots of mechanisms for improving the seam quality.

Specifications
Model: Juki MF-7923
-A needle bar stroke conversion mechanism
-Looper thread twining prevention mechanism
-Stitch type :3-needle top and bottom coverstitch
-Max. sewing speed :6.500rpm
-Stitch length: 0.93.6mm (stitch length can be adjusted
to 4.5mm)
-Differential-feed ratio(switchable): 1:0.91:1.8 (1:0.61:1.1)
-Needle gauge :4.8mm 5.6, 6.4mm
-Needle UY128GAS: #9S#14S (standard #10S)
-Lift of the presser foot: 5mm (with top and bottom coverstitch), 8mm(with bottom coverstitch)
-Stitch pitch adjustment: By dial
-Differential feed adjustment: By micro-adjustment mechanism
-Lubrication: Automatic
-Lubricating oil: JUKI Machine Oil 18 (equivalent to ISO VG18)
-Micro-lifter: Provided as standard
-Needle bar stroke converting function :Provided as standard
-Silicon oil tank for needle tip and
needle thread :Provided as standard
-Cartridge oil filter: Provided as standard
-Weight of the machine head: 42kg

*Speed depends on thread, material and operation.

Applications

The machine can be used for the hemming process of the sleeves and bottoms of T-shirts and for the covering process for sportswear and knitwear. It is not a specific-purpose model, but a basic one which can be used for a broader range of processes independently.

Features

The Juki MF-7900 series is newly launched and includes totally renewed seam quality functions and performance. The machine is able to sew almost all kinds of sewing products, such as foundations, light-weight underwear and heavy-weight fleece, increasing the number of sewing items. The machine produces seams, which match materials and thread with consistency.

Seams can be adjusted depending on the application or material by changing the thread path or adjusting the thread tension controller, to produce soft and low-tensed seams for inner wear or to produce high-grade well-tensed seams for outer wear.

The optimized thread take-up mechanism and top covering thread path route contribute to an increased stability of top covering stitches. In addition, the machine is capable of performing sewing with a low tension applied to the thread to offer improved responsiveness to the sewing thread.

A differential-feed adjustment mechanism with a micro-adjustment mechanism to provide a constant differential-feed ratio. The differential-feed amount can be easily adjusted to the best suited value for the material to be used.

The machine comes with a variety of features to increase applicable types of sewing products.

Since the front and rear feed dogs are synchronized, the differential- feed ratio is constant, requiring no additional adjustment, even when the stitch length is changed.

Adjustment of the feed dog inclination can be carried out from outside with ease. The feed dog inclination adjustment mechanism works effectively to secure the material being sewn in place with increased reliability and thereby preventing uneven material feed and puckering.

The micro-lifter keeps the presser foot in a slightly raised position during sewing to help prevent problems such as slippage and deformation, or damages that can easily occur when sewing elastic materials.

The looper thread cam comes provided with a thread twining prevention mechanism.

Even if the thread twines around the looper thread cam, the cam can be easily detached for removal of the thread.

The well-balanced design of the machine achieves low-vibration and low-noise operation even under the high-speed mode.

This enables the operator to concentrate on sewing work in a more comfortable environment.

The machine is designed to use gauge components which are similar to commercially available ones.

This means that gauge components for the machine are readily available and can be replaced with little or no difficulty.
US Warranty 90 Days labor on defects in materials and workmanship.
Non-US Warranty: 30 days parts and labor
Included Accessories
Machine Brand: Juki
Machine Model: MF-7923-U11-B64
Machine Type: 3 Needle, belt driven,
bottom feed, coverstitch cylinderbed machine Universal type

Motor Type: Mini Servo with speed control
Motor Model: CSM-550-1
Voltage: 110
Phase: 1
Watts: 550
Stand/Legs:
Table Type: Top Mount
Table Dimensions: 48" x 20"
Thread Stand: Included

Other Images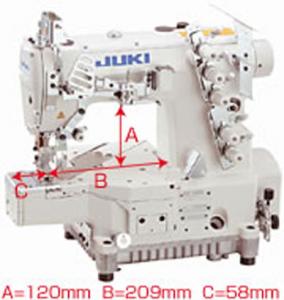 Comfortable working space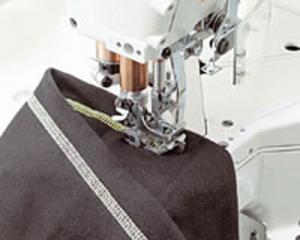 Seam quality, functions and performance have been totally renewed.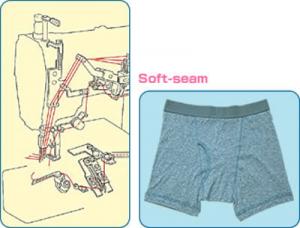 Application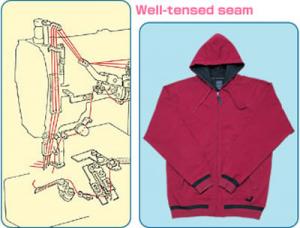 Application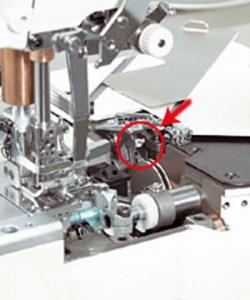 Simple maintenance mechanism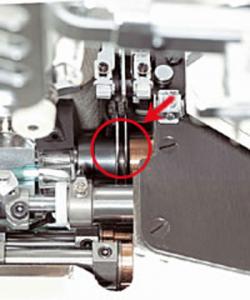 The machine is provided with a variety of mechanisms, which have been developed in consideration of production sites.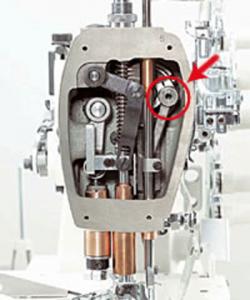 The mechanisms can be easily maintained, contributing to increased production efficiency.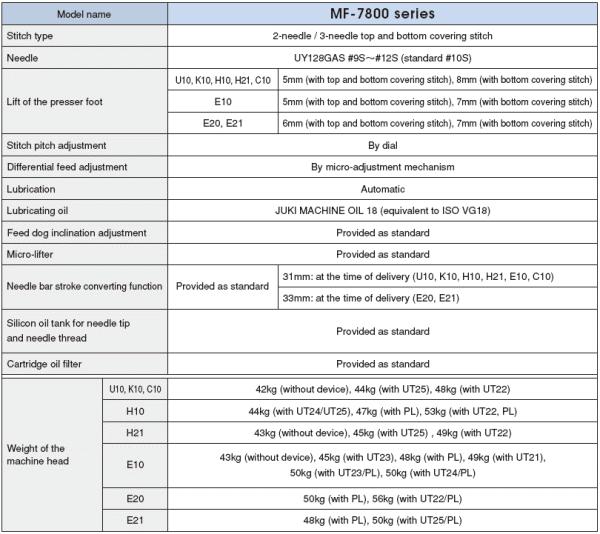 Technical DATA MF-7823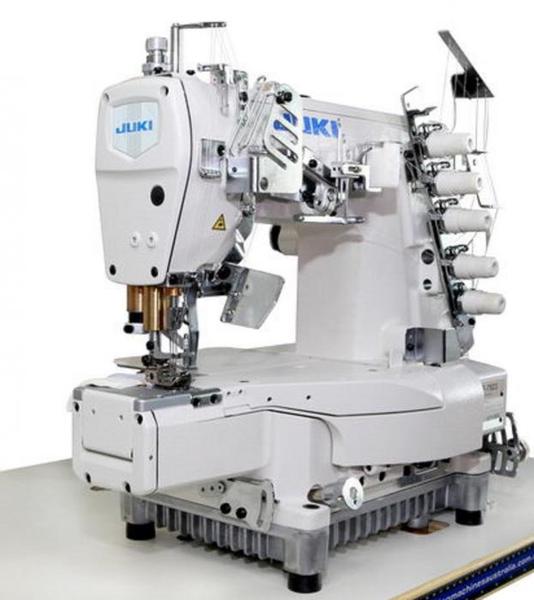 JUKI MF-7923 3 Needle High-Speed Free-Arm Top and Bottom Coverstitch, Cylinder Bed Industrial Sewing Machine With Table and Servo Motor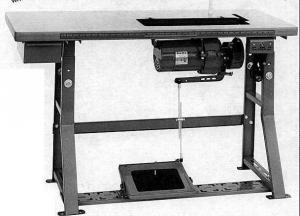 Choose unassembled or assembled stand for additional charge.