Special Features:
Newly developed electrically heated steam hose that prevents condensation
Instant stop/start heating
Light-Touch Microswitch
Seperate, lighter weight and precise temperature control that displays temperature digitally on an LCD panel
Adujustable temperature even during ironing
No condensation even at 120 degrees Celcius
Suitable for heat-sensitive materials


Specifications:
Voltage: 220v/110v
Electric Consumption: 840w
Iron Base Dimension: 205x116mm
Weight: 1.6kg
Iron Base: Tuffram Coating


Benefits:
Flexibility
Allows for a safer, more comfortable working enviorment due to reduced temperature
Reduces energy consumption and CO2 emissions

Specifications
*Electrical Heated Steam Hose with solenoid valve
*Light Touch for Steaming
*Lighter Weight & Precise temperature control
*No condensation even at low temperature

Main features:

Cut the waste steam and cut the electricity bill
Compared to traditional methods, efficient use of steam to the next level.
Cut the waste steam are of course directly to monthly electricity bill savings. The effect is quite obvious if you look at the chart.
Excellent responsiveness
Newly developed warm hose with built-in heaters to send the steam hose.
In preventing low-temperature steam through a hose when
Matically responsiveness. Also, compared to conventional order can be injected when necessary amount of steam always had been circulating steam
The amount of steam no waste.

Less fatigue:
Women who are even easier just press lightly with your thumb, that steaming is OK.
Less fatigue when working long hours does not worry about such as Tendonitis.
In addition to warm hose, valve performance is also improved
Press the switch at almost no time difference, the jets of steam. Drain well was eliminated.

Weight reduction:
Thermostat was attached to the back of the body to another place by weight of iron body.
To the LCD Panel, and set the temperature currently temperature digital and readable displays.
For the separate thermostat is always in sight, while manipulating iron fine temperature adjustment can be smoothly.

OK drain is no delicate fibers:
Iron base temperature is 120 ° c to 210 ° c available.
So does not raise the drain by adopting newly developed warm horse iron base temperature down to 120 ° c
Heat your very sensitive high-tech fiber.

Pro makes sense:. Choose with ease-of-use are ナオモト iron.
From no previous support grip, easier to see ironing tips
Even small parts such as cuffs, collar, pockets can be finished smoothly
Materials adopted urethane slip, and heat is confusing.
It is easy to hold handle with curve and fit nicely in the hand.
Cut the heat emitted by iron body firmly. Because the hand is not hot
Even long-running iron can be comfortable.
Other Images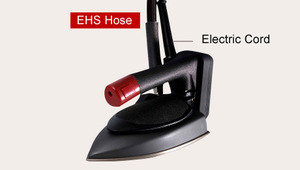 Newly Developed Electrically Heated Steam Hose. *Prevents condensation *Quick steam response *Instant stop / start steaming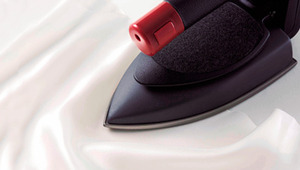 No condensation even at 120℃(248℉) *Iron base temperature ranges from 120℃(248℉)to 210℃(410℉) *Suitable for heat-sensitive materials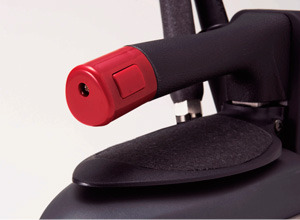 Open Cut. Easy ironing even on small parts like pockets, collar and sleeves.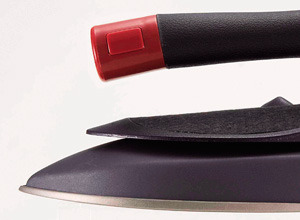 Tuffram Coating 3-D Curved Base Plate. *Smooth ironing with no wrinkles *Base plate easily cleaned *Ergonomic design