Wonder Fuse is useful for applique on apparel quilts embroidery quilts embroidery home decor and crafts. Wonder Fuse from Clover is a premium fusible fabric especially suited for appliqué in all forms. It is a soft, lightweight paper-backed fusible fine enough to bond with even the minutest fibers, ensuring edges are always clean and smooth. If the design is intended to be worn or laundered, apply zigzag or blanket stitches to the edges to ensure permanency. The lightweight construction of Wonder Fuse becomes virtually invisible between layers of fabric, adding neither bulk nor stiffness.
This paper backed fusible web will keep your fabric soft and ready to sew. Recommended for your most delicate work.
9inx8in sheets
10 pcs per package.
Useful for appliqué on apparel, quilts, embroidery, home decor and crafts. Use Wonder Fuse to turn most any fabric into a fusible fabric. This paper backed fusible web will keep your fabric soft and ready to sew. Recommended for your most delicate work. Packafe includes 10 pieces of 9x8" (230x200 mm) sheets.
Caution
Always pretest a swatch of fabric to ensure it is compatible with Wonder Fuse
Do not use with silk, lace, thin fabric and white fabric because adhesive material may ooze
Do not use with fabrics that do not tolerate heat or specially processed materials such as water resistant material
During use, iron should not touch the bonding surface/adhesive directly
If you wash fabric often, stitch or sew with seam allowance
Materials: Polyamide, Paper
Tool School: Wonder Fuse Video
Mini Quilt Appliqué with Wonder Fuse
Specifications
Wonder Fuse
with instructor Steve Butler
Class 110

What is it? – Appliqué . As a noun it's an amazing and beautiful fiber art form. As a verb, appliqué refers to the addition of subordinate decorative fabric motifs to a larger, supporting piece of fabric. It has applications to quilting, fashion, home décor and crafts. Appliqué can be elegant or simple and it can create real world, geometric or abstract schemes. By designed intention it can relate a story or simply project a meaningful image. It's all up to you. And when you consider your creative medium is a seemingly unending array of available and ever evolving fabric colors, patterns and textures, it's clear that your creative work is cut out for you. Well, actually you have to cut it out and then do the appliqué part. The creative process is the fun, even inspiring part. Putting it all together exactly as you've envisioned it can be more of a challenge. There are three primary methods to attach our fabric designs to our base fabric. Traditional applique turns and sews down the seam allowances of our motifs to that base. Sew and turn applique is a technique that uses a motif made of two identical pieces sewn right sides together and then turned inside out revealing smooth edges that are then attached to our base fabric. And, lastly, we have fusible applique. Perhaps the easiest and most direct method, fusible applique eliminates the need for seam allowances or duplicate shapes. The fusible material allows us to easily and precisely press our motif shapes onto our base fabric. More time creating and less time spent in frustration and tedium. Creative bliss goes to the head of he class and Clover is there to welcome you with Wonder Fuse, its industry unique quality fusible fabric.

What does it do? - Wonder Fuse was developed by Clover as a premium fusible fabric especially well-suited for appliqué in all forms.

It's an amazingly lightweight, paper backed fusible.
Fine enough to bond with even the most minute fibers.
Strong enough to bond with more robust fibers.
Produces edges that are always clean and smooth. No loose fibers of any weight left to deal with.
Soft enough to ensure that even multiple layers of appliqué pieces do not become stiff or bulky.
Does not become stiff with age.
Printer compatible.
Wonder Fuse is available in either a ten pack of 8 x 9 sheets or as a single 18" x 3 yard roll (Art No 4091.)


How do I share it? - By design, Wonder Fuse is ideally suited for quilting, fashion, home decor or crafting applications. Creative expression is the goal of most sewers. We're all happy to leave the frustration and tedium of that process behind. Wonder Fuse allows us to do that. Provide some killer samples for your friends to see and then use mini-classes and in-store demonstrations to show them that their most lofty creative intentions are easily within reach. If you're into appliqué you need to be into Wonder Fuse.

Wonder Fuse is very easy to use. Instructions are as follows.

Reverse and trace your applique design creating a mirror image on the release paper side of Wonder Fuse. Cut fusible web slightly larger than the traced piece.
Place fusible web (rough side) on the wrong side of the fabric. Use hot, dry iron and press for 5-8 seconds. *Note: always check your iron temperature with the fusible before you begin your work. Heavier fabric will require more time.
After temperature cools down, cut applique to size, following outlines drawn on the paper backing. Once the paper is cut to size, go ahead and peel off paper backing.
Place applique with the fusible web side down onto your project. Grab your hot. dry iron again to fuse applique to the background fabric. Optional: use a pressing sheet to prevent from damaging the fabric.
Something to keep in mind: Always pretest a swatch of fabric to ensure it is compatible with Wonder Fuse.



Other Images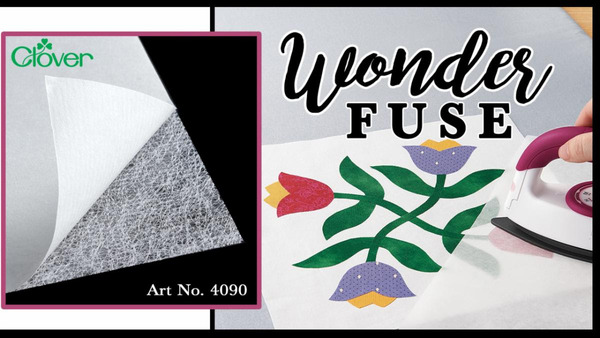 Clover CL4090 Wonder Fuse Paper Backed Fusible Web Fabric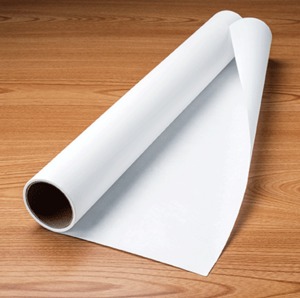 Optional Clover CL4091 Wonder Fuse Paper Backed Fusible Web Fabric 18" x 3 yard roll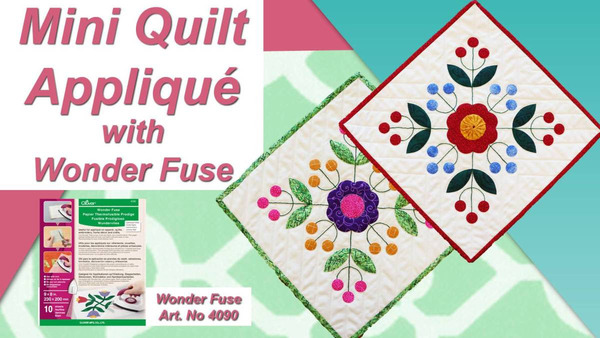 Use Wonder Fuse to make this project!!!! Mini Quilt Appliqué with Wonder Fuse Designed by Carol Mesimer We've introduced you to the new Wonder Fuse and now it's time to see it in action and see what it can do for you! How to use the Wonder Fuse: To use the Wonder Fuse first reverse and trace your appliqué design creating a ... Read more blog.clover-usa.com