Stretch Interlock Sewing Machine JAPAN MF3620, Stand 4200SPM, A new model Juki MF-3620 U300 with direct or belt drive (depending on stock) has been introduced as an addition to the MF Series of JUKI sewing machines. The new machine consumes only about half the power of the conventional models. The enhanced responsiveness (compared with the model equipped with the clutch motor) of the MF-3620 gives the operator complete control over the material when sewing curved sections. Safely within its new shield, the frame is equipped with mechanisms for micro-quantity lubrication and forced oil circulation. The thread take-up mechanism arranged on the outside of the arm prevents the entry of oil splashed and dust. The MF-3620 is also configured with JUKI's unique oil-thrower mechanism to protect the looper section from oil infiltration. Excess oil is speedily reclaimed via the new oil groove.
We are delighted to announce that new subclass models have been added; one model is best-suited to the sewing of hard-to-sew materials with multidirectional elasticity such as swimwear, while another model is for the prevention of uneven feed of the tape-attached parts of boxer briefs and running shirts to provide more consistent seam quality. In addition, the multipurpose type subclass model which is able to perform both one-side cutting and both-sides cutting has also been added, intended for sewing plants engaged in the sewing of diversified sewing items.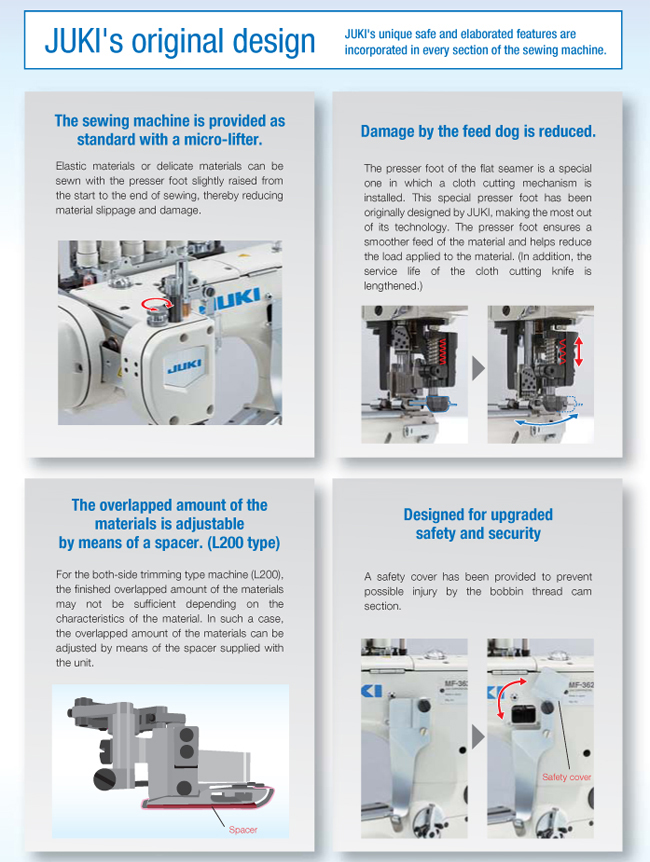 US Warranty 90 Days labor on defects in materials and workmanship.
Non-US Warranty: 30 days parts and labor
Bundle & Save
Get additional savings when you purchase any of these items along with this product.