*6 Extras! Creative DRAWings My Stitch Editor & Sizer Embroidery Software, Wilcom TrueSizer Format Conversion Software, Thread Color Conversion Software, Designs in Machine Embroidery Magazine Offer

YOU CAN MASTER the art of decorative quilting! You can now have the beauty and elegance of hand sewn stitches in a few simple clicks and create quilting works of art with unlimited inspiration!

Below are a few of the many features this amazing software will enable you to do:

Crazy Quilting:
Crazy Quilting is a time honored technique that directly reflects the artistic expression of the quilter. It is an art form in and of itself. Easily apply the look of hand stitched embellishments choosing from over 50 heirloom stitches to create exquisite embroidery that will be treasured for all time.

Echo Quilting:
Showcase your applique or embroidery with this radiating quilting method. Easily manipulate the echo impression to capture your inspiration in a few simple clicks.

Trapunto Quilting:
This sculptured quilting technique is made effortless and unlimited, allowing you to choose or create the trapunto effects you desire.

Stippling & Micro Stippling:
Create the look of free motion stippling and micro-stippling without the labor. Choose from over 300 advanced stippling designs or simply create your own!

Applique the Floriani Way:
Quilting applique is amazingly simple and unlimited with the tools to create, stitch and embellish any design with a little touch of fabric and a few simple clicks. Create a design or simply open an existing applique design to embellish on the fly.

Your Imagination is Your Only Limit!
Choose popular scanned fabrics or simply add your own favorites. Upload your own images and simply trace around them to add to your design repertoire.

Personalize IT!
Add text choosing from over 50 fonts plus endless borders and embellishments to create custom quilt labels or even custom quilt blocks.

*My Decorative Quilter will bring out the creative artist in every quilter. Over 2200 quilt blocks can be embellished with fonts, stipple, echo, trapunto or décor stitches with accuracy, speed and creativity.


GET MORE FROM YOUR MACHINE

Works on computerized embroidery and long arm quilting machines!
Scalability: Fonts, Borders, Flourishes (decors) and Blocks are rescalable without pixelation.
Audition Blocks: Work fast, keep checking until you get it right.
Heirloom Stitching: Gives you the ability to create irregular stitches that look like they were hand done.
Label Making: Use the 50 included fonts and the 100 included borders to create labels. Think of how that can help your business!
Redwork and Drawing: Turn line art images, jpegs, gifs into quilt designs.
Easy to Install and Use: Windows XP Home/Pro (SP1,2), vista, P3 300Mhz Processor, 300MB hard drive space, 128MB RAM, DVD Drive, 800x600 Display, Internet Access.
Free Customer Support: Floriani provides support from English-speaking embroiderers.


US Warranty 30 days replacement if defective.
Non-US Warranty: 30 days parts and labor
Specifications
MDQuilter II comes loaded with resources to get your creativity started:
Quilt Block Artwork

Image Resource Library

Embellishment Sets to Decorate your Blocks

Fonts Including 5 Applique Styles

Frame and Border Designs

Decorative Designs

Shape Echo Patterns

Custom Artwork Shapes

Advanced Stippling Styles
And much... much... MORE!!!!

Recommended System Requirements:

Genuine Intel Pentium IV, 2GHz PC computer (or higher) with a CD-ROM drive.

17" or 21" monitor with 1024x768 video resolution with 16-bit color display (or higher).

1 gigabyte of RAM.

Microsoft® Windows®8 and up operating system.

Minimum 1 gigabyte hard disk drive space available.

Mouse
Other Images

Pssst ... You can do this too! Here are some samples provided by Quilting ARTISTS around the world. Visit us online to hear all their amazing journeys to become Masters of the ART of Quilting!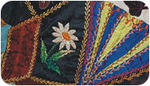 Your thread will surely dance on your quilts when you use Floriani's My Decorative Quilter. This amazing quilting software simulates the look of hand heirloom, echo, stipple stitches and more!
Lee, Alabama
Bought this with high expectations and have been extremely disappointed. only 3 tutorials on the new version and virtually NO support.