Learn to stich in 3D with appliqué & machine embroidery in one Stipple! step

The sky is the limit with what you can create with this collection

Whether you're a novice or a seasoned embroiderer, you'll enjoy creating with Stipple Fab Flowers & Medallions.

The collection includes three-dimensional applique flowers, six cheerful square blocks and two adaptable half-blocks.

This fun and versatile Stipple design set will be your new go-to collection for creating quick and easy projects – from impressive quilts and wall-hangings to unique totes and t-shirts.

Learn from the best and open yourself up to an entirely new world of possibilities!

Stipple! Fabulous Flowers & Medallions Includes:

6 square blocks, 2 half-blocks, 1 dimensional flower and 2 full-stipple border designs for the 200mm x 200mm (8" x 8") hoop, the 180mm x 300mm (7" x 12") hoop and the 130mm x 180mm (5" x 7") hoop
Printable step-by-step instructions to make the Fab Flowers & Medallions quilt (Finished size: 45" x 36 1/2")
Printable instructions for Eileen's Reversible Piecing Technique.


US Warranty 30 days replacement if defective.
Non-US Warranty: 30 days parts and labor
Specifications
EMBROIDERY FORMATS: ART, C2S, DST, EXP, HUS, JEF, PES, VIP, XXX
REQUIREMENTS: EMBROIDERY SOFTWARE, 5" X 7", 7" X 12" AND 8" X 8" EMBROIDERY FIELDS
DESIGN SIZES: 200MM X 200MM, 170MM X 170MM, 130MM X 130MM
STIPPLE! IS A PATENTED PROCESS: PATENT NUMBER 8,171,867

Embroidery Design Formats: ART, C2S, DST, EXP, HUS, JEF, PES, VIP, XXX
Designs sizes: 200mm x 200mm, 170mm x 170mm, 130mm x 130mm
Requirements: Embroidery software, 5" x 7", 7" x 12" or 8" x 8" hoop

Adobe Acrobat Reader software required to open PDF files.
Stipple! is a patented process: Patent Number 8,171,867
Other Images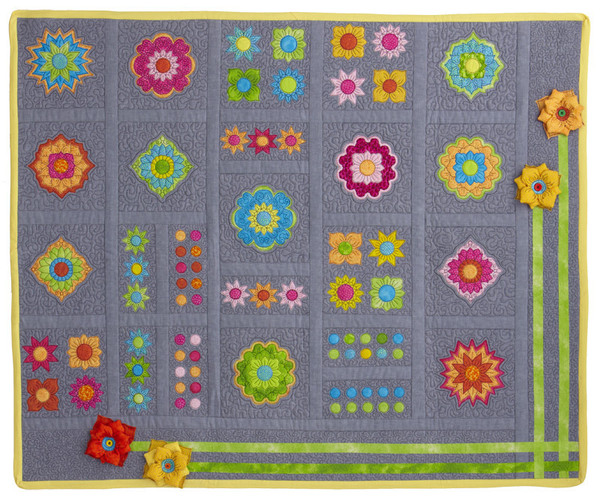 Printable step-by-step instructions to make the Fab Flowers & Medallions quilt as shown below. (Finished size: 45" x 36 1/2")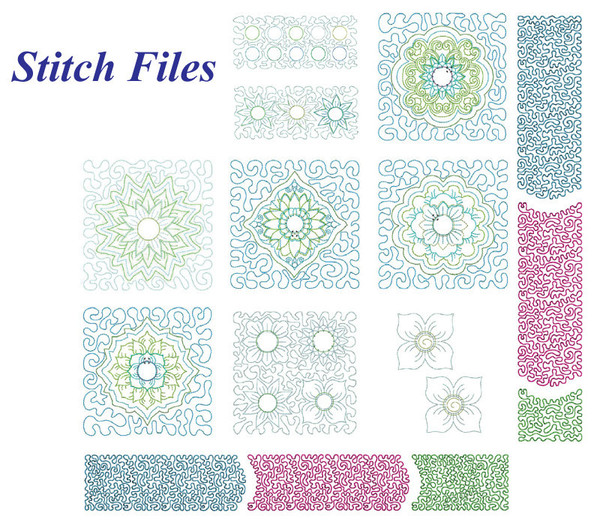 Fab Flowers & Medallions Contents: 6 square blocks, 2 half-blocks, 1 dimensional flower and 2 full-stipple border designs for the 200mm x 200mm (8" x 8") hoop, the 180mm x 300mm (7" x 12") hoop and the 130mm x 180mm (5" x 7") hoop