New DIME Inspirations software allows you to access, use and process any of your existing C2S file format embroidery designs, plus other new enhancements to the old software that it was updated from.
Create the perfect quilt block all in the hoop!
The perfect inspiration to create custom, traditional or foundation-pieced quilts with your embroidery machine!
Create the perfect quilt block that is pieced and quilted with precision - all in the hoop!
No more guesswork for accuracy -just hoop the fabrics and let My Block Piecer guide your embroidery machine to exact cutting, placement and piecing.
Let Your Embroidery Machine do the Cutting
Automatically convert My Block Piecer files to cut files. Simply save the file to your machine format and insert a cutwork needle. The machine will do the rest.
My Block Piecer files can be saved as SVG files compatible with most die cutting machines.
Audition your quilt before you sew a single stitch with over 20,000 fabrics from the most popular textile designers or scan your own in a few simple steps.
Never look for your software files again as My Block Piecer's intuitive interface saves all files in a single directory by project.
What's New in My Block Piecer
Unleash the Inner Quilt Designer Within YOU!
Audition your fabrics and blocks as well as your appliqué with DIME's new Inspired Fabric Library that is shared across My Quilt Embellisher, My Block Piecer and Perfect Embroidery Pro. Choose from thousands of popular fabrics or add easily your own! more info
Center Origin Features Provide Clear View of Your Embroidery Creation
Quick click method of moving a design to the center of the design page and displaying it in full view.
One Click Thread Brand Conversion
Never again have to manually convert each color within an embroidery design. New One Click Inspiration Thread Converter enables you to change all colors within a design to a different thread brand in seconds. more info
Inspiration Design Library
Now includes 40 beautiful designs provided by Great Notions.
The Embroiderer's Tool for Precision Quilting - All in the Hoop!
Supports Multiple Design Formats
Quilting Formats: QCC, CQP, HQF, SSD, and TXT | Machine Formats: .10o, .art, c2s, cnd, csd, dat, dsb, dst, dsz, exp, gnc, hus, jef, jef+, ksm, mgl, pcm, pcs, pes, sew, shv, stl, Uxx, vip, vp3, xxx
Minimum Software Requirements

Windows 7, 1 gigahertz (GHz) or faster 64-bit (x64) processor, 1G Hard Drive Space, 2 Gigabyte RAM, CD or DVD Optical Drive, 800 x 600 Display, Mouse and Internet Access.

Inspirations Software runs only on a PC, not through an emulator. See exception to this rule below.

Exception:
Inspirations Software will run on a MAC with the use of a MAC Key. For more information Click Here.


Specifications
More about the Manufacturer
For over 15 years, machine embroiderers have looked at Designs in Machine Embroidery magazine as their go-to resource for embroidery education. Today, Designs is expanding its offering of embroidery tools to include the Inspiration line of digital products: Perfect Embroidery Pro, a powerful embroidery digitizing software program; My Quilt Embellisher – the premiere embroidery software program for decorating quilts, quilt blocks and quilt borders; and My Block Piecer – the only software program for automatic piecing in the hoop. The Inspiration Line can only be purchased in authorized sewing machine retailers.

Our goal is to continue to inspire you –to help you be successful in every embroidery project you create.

You can count on video guidance, monthly webinars, trendy how-to projects, plus in-store events. At our Inspiration Social events, you'll experience embroidery on every level. We'll start with an idea – a drawing, and bring it to life on screen, then you'll learn how to position it properly and hoop successfully so that when you embroider you achieve the professional results we all strive for.

Here's just a few of the techniques you'll learn: how to create perfect lettering, make sizzling appliqué, transform stock embroidery designs into fluid embroidery, stitch continuous designs and tackle tricky fabrics. Look for an upcoming event at your local dealer.



Designs in Machine Embroidery Awarded G7 Solutions Software License

Dallas, Texas - August 16, 2014: G7 Solutions, an embroidery product & software technologies company, and RNK Distributing, the exclusive distributor of Floriani product, dissolved their partnership amicably on August 1, 2014.

The license agreement with the consumer, in all five previous software modules offered in the prior partnership, is with G7 Solutions.

G7 Solutions has chosen Designs in Machine Embroidery (DIME) to be the new Ambassador for their software and embroidery designs. Eileen Roche, a leader in providing education and information to the machine embroidery enthusiast through her magazine for over 15 years, will provide pure inspiration for all.

G7 Solutions will provide updates and new features to all prior customers. DIME will provide, in partnership with an Authorized Inspiration Dealer, the opportunity for every consumer who purchased the prior brand of software to transition to the corresponding model of Inspiration Software free of charge.

Installation of the free Inspiration Software will be a simple click and download process for the consumer. If the prior software is currently installed there will be no serial number required.

DIME is finalizing their network of Authorized Inspiration Dealers. All consumers will have the opportunity to transition to Inspiration through this network within 45 days or less. The Inspiration - brand will only be available through authorized brick and mortar dealer locations.

Other Images

My Block Piecer Includes 40 Inspiration Designs by Great Notions.
My Block Piecer Includes 40 Inspiration Designs by Great Notions.
My Block Piecer MSRP: $499. Create the perfect quilt block all in the hoop! The perfect inspiration to create custom, traditional or foundation-pieced quilts with your embroidery machine!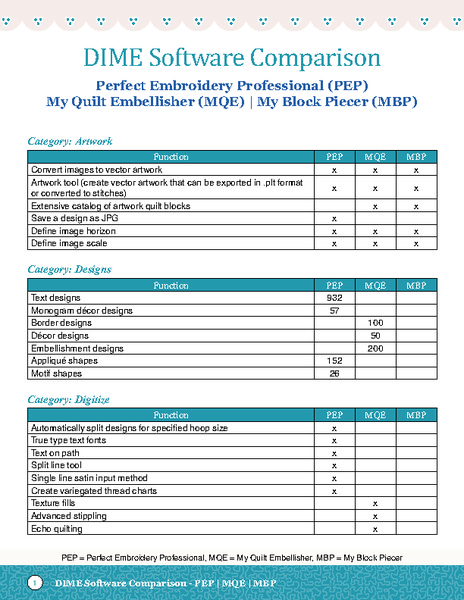 Comparison 1 DIME Software Comparison - PEP | MQE | MBP PEP = Perfect Embroidery Professional, MQE = My Quilt Embellisher, MBP = My Block Piecer Perfect Embroidery Professional (PEP) My Quilt Embellisher (MQE) | My Block Piecer (MBP)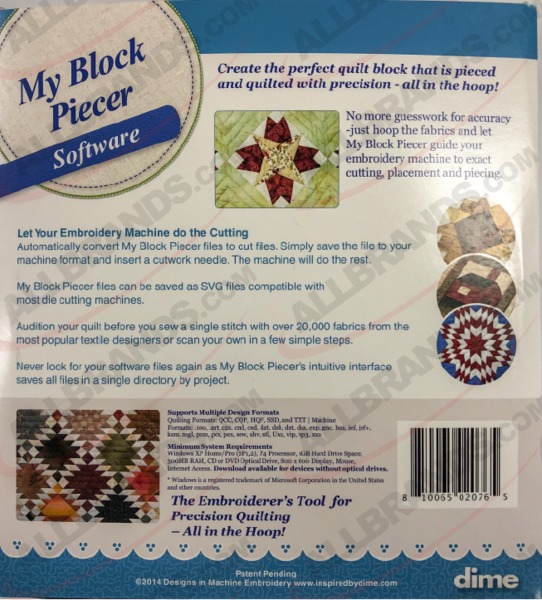 DIME Inspirations MBP My Block Piecer Quilting Software
IRENE J, KINGWOOD, TX
Everything arrived to my correct address. Thanks