* Synchrony Bank Sewing & More Fixed Payments 0% No Interest Financing with approved credit!
Click HERE to Apply Online for Synchrony Bank Sewing and More Credit Card Approval to use for Online Checkout up to 12mo, up to 60mo by calling 800-739-7374 or in AllBrands stores
New DIME Inspirations software allows you to access, use and process any of your existing C2S file format embroidery designs, plus other new enhancements to the old software that it was updated from.
Professional Grade Full Feature Embroidery Software
Includes all the tools you need in ONE powerful platform.
Now you can create professional quality embroidery EVERY TIME.
Perfect Embroidery Pro provides all the tools you need to achieve professional embroidery results in one feature-packed platform.
Includes all features of Perfect Embroidery Suite
Running Stitch for Redwork

Over 140 Fonts

Run Stitch Font

Tackle Twill Program

Inside-out Feature for Caps

New Pattern Fill Shapes

Save Design as JPG Feature

Auto Baste Feature

Create Custom Emboss & Fills

Alignment Icons for Easy Placement

Optimizes Entry and Exit Points

PLUS hundreds of custom features, designs and embellishments.
Digitizing Features


Magic Wand Segmented Auto Digitizing

Auto Digitizing Wizard

Create Manual, Run, Satin, Fill Stitches

Create Redwork Stitch

Create Custom Tackle Twill Designs

Create Custom Appliqué Designs

Create Custom Fill Patterns

Insert Keyboard Lettering (140+)

Run Stitch Font

View Features


3D Realistic View

Design Sequence

Design Gallery

Virtual Design Redraw

Grid Lines & Guidelines

Intelligent Ruler (gives recommendations)

Image Fading on Imported Images

Specialty Features


Design Optimization

Save Design to JPG in 3D View

Create Custom Thread Charts

Editing Features


Edit Density, Underlay, Compensation,& Stitch Lengths

Optimize Design Sequence

Optimize Sewing Sequence

Modify Start and End Points

Modify Stitch Direction/Angles

Modify Object's Shape

Unlimited Redo/Undo

Resize With Stitch Regenerating

Resize, Rotate & Distort Lettering

Create Emboss Lines

Alignment Tools

Edit Individual Stitch Points

Join Design Elements With Branching


Minimum Software Requirements

Windows 7, 1 gigahertz (GHz) or faster 64-bit (x64) processor, 1G Hard Drive Space, 2 Gigabyte RAM, CD or DVD Optical Drive, 800 x 600 Display, Mouse and Internet Access.

Inspirations Software runs only on a PC, not through an emulator. See exception to this rule below.

Exception:
Inspirations Software will run on a MAC with the use of a MAC Key. For more information
Click Here. .


Specifications
New Inspiration in Perfect Embroidery Pro MQE | MBP

Inspiration Design Library
Now includes 300 fabulous designs provided by Great Notions PLUS Monthly Design Contributions in "My Inspiration Today".

Design Conversion & Artwork Tools
Now you can convert designs and export artwork in five formats, including SVG for Silhouette™ and FCM for Brother Scan & Cut™.

Mini Fonts for Small Lettering
Easily create crisp lettering as small as 3mm! Perfect Embroidery Pro's Mini Font collection consists of 10 fonts ranging from 3 to 6 mm.

Click2Stitch Stabilizer and Hooping Companion
Click2Stitch feature is a unique and powerful tool for creating perfect embroidery! Simply answer a few questions about the design and the fabric, and not only is the design modified to fit the fabric type of choice as previous, now specific hooping and general stabilizing recommendations are provided.

Auto Fit Your Design to Over 100 New Hoops
Over 100 new hoop added sizes added including specialty sizes for DIME's Quick Snap and Snap Hoop.

50 New Motif Patterns Added
Unique motif embellishments to create dynamic fills and attractive runs.

One Click Thread Brand Conversion
Never again have to manually convert each color within an embroidery design. New One Click Inspiration Thread Converter enables you to change all colors within a design to a different thread brand in seconds.

Center Origin Features Provide Clear View of Your Embroidery Creation
Quick click method of moving a design to the center of the design page and displaying it in full view.

Perfect Placement Marks for Continuous Embroidery and Multi-Hooping
Select any of eight specific placement marks to stitch at the perimeter of the design; or, be moved to a more appropriate location.

Share Your Inspiration!
Instantly upload an image of your creation to your favorite social network.

Never be Confined by Your Hoop Size Again
Split Design feature divides a design into stitch-able segments for the designated hoop, regardless of hoop or design size.

Puffy Stitch Dimensional Appliqué Tools
Appliqué feature designed to be used with a tear-away fabric, such as Puffy Foam. This is different from a traditional appliqué stitch, because it must contain a trapping stitch line to prevent the fabric from dislodging from the center of the appliqué.

For over 15 years, machine embroiderers have looked at Designs in Machine Embroidery magazine as their go-to resource for embroidery education. Today, Designs is expanding its offering of embroidery tools to include the Inspiration line of digital products: Perfect Embroidery Pro, a powerful embroidery digitizing software program; My Quilt Embellisher – the premiere embroidery software program for decorating quilts, quilt blocks and quilt borders; and My Block Piecer – the only software program for automatic piecing in the hoop. The Inspiration Line can only be purchased in authorized sewing machine retailers.

Our goal is to continue to inspire you –to help you be successful in every embroidery project you create.

You can count on video guidance, monthly webinars, trendy how-to projects, plus in-store events. At our Inspiration Social events, you'll experience embroidery on every level. We'll start with an idea – a drawing, and bring it to life on screen, then you'll learn how to position it properly and hoop successfully so that when you embroider you achieve the professional results we all strive for.

Here's just a few of the techniques you'll learn: how to create perfect lettering, make sizzling appliqué, transform stock embroidery designs into fluid embroidery, stitch continuous designs and tackle tricky fabrics. Look for an upcoming event at your local dealer.

Designs in Machine Embroidery Awarded G7 Solutions Software License

Dallas, Texas - August 16, 2014: G7 Solutions, an embroidery product & software technologies company, and RNK Distributing, the exclusive distributor of Floriani product, dissolved their partnership amicably on August 1, 2014.

The license agreement with the consumer, in all five previous software modules offered in the prior partnership, is with G7 Solutions.

G7 Solutions has chosen Designs in Machine Embroidery (DIME) to be the new Ambassador for their software and embroidery designs. Eileen Roche, a leader in providing education and information to the machine embroidery enthusiast through her magazine for over 15 years, will provide pure inspiration for all.

G7 Solutions will provide updates and new features to all prior customers. DIME will provide, in partnership with an Authorized Inspiration Dealer, the opportunity for every consumer who purchased the prior brand of software to transition to the corresponding model of Inspiration Software free of charge.

Installation of the free Inspiration Software will be a simple click and download process for the consumer. If the prior software is currently installed there will be no serial number required.

DIME is finalizing their network of Authorized Inspiration Dealers. All consumers will have the opportunity to transition to Inspiration through this network within 45 days or less. The Inspiration - brand will only be available through authorized brick and mortar dealer locations.


Included Accessories
Step-by-step instruction manual included. Achieve professional embroidery results every time!
Other Images

Perfect Embroidery Professional Includes 300 Inspiration Designs by Great Notions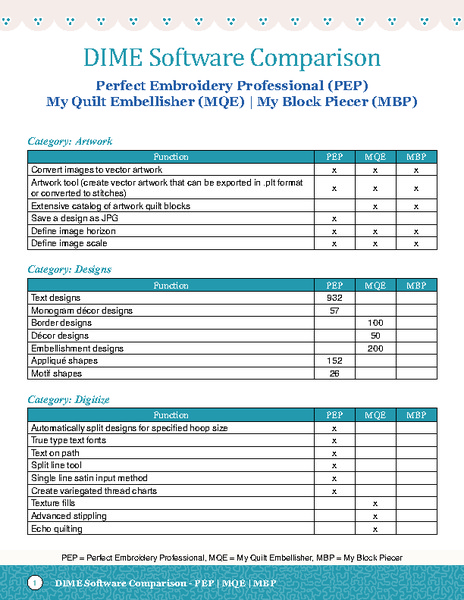 Comparison 1 DIME Software Comparison - PEP | MQE | MBP PEP = Perfect Embroidery Professional, MQE = My Quilt Embellisher, MBP = My Block Piecer Perfect Embroidery Professional (PEP) My Quilt Embellisher (MQE) | My Block Piecer (MBP)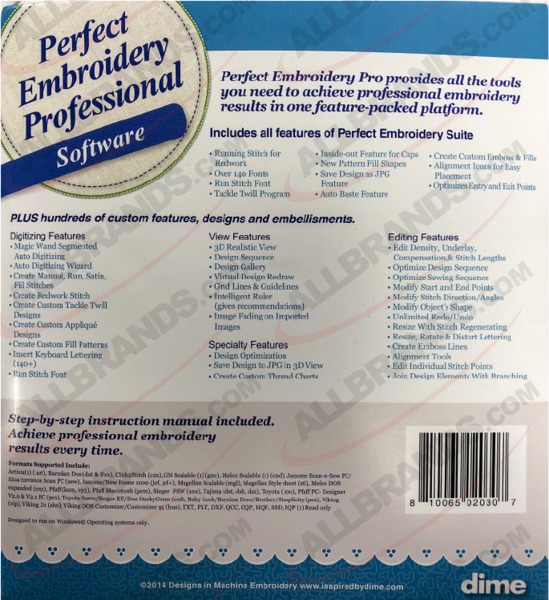 DIME Inspirations PEP Perfect Embroidery Professional Digitizing Software Complete
Pam M, Baton Rouge LA
Thanks, AllBrands, for being the dealer that provided the link to DIME Inspiration Software, and for the great social with Cindy Hogan. AND, I sure got great help and prompt service when I submitted a "support ticket" to the DIME tech department to help get my various FREE software installed on my laptop, which, by the way, is a Mac. Dori was the best. She is knowledgeable, patient, and very customer service-oriented. I may have been a little frustrated initially that changes were coming, but now I realize I have three great programs for the price of the one and all the upgrades are complimentary. We will have the best of both worlds, once we get past the growing pains. Happy stitching, Everyone! Pam