4-21-21-- This case base naturally tapers from the top to the bottom. This is why there's some discrepancy between measurements. We did a second measuring this morning based off the inner base of the case. These are: 13.5" L x 10.5" W
It seems in our book we "split the difference as higher to the top of the base the measurements are greater. So from the inner bottom of the base to the top of that base is 13.5"- 14.5" L and 10.5" – 11.5" W.
--------------------------------------------------------------------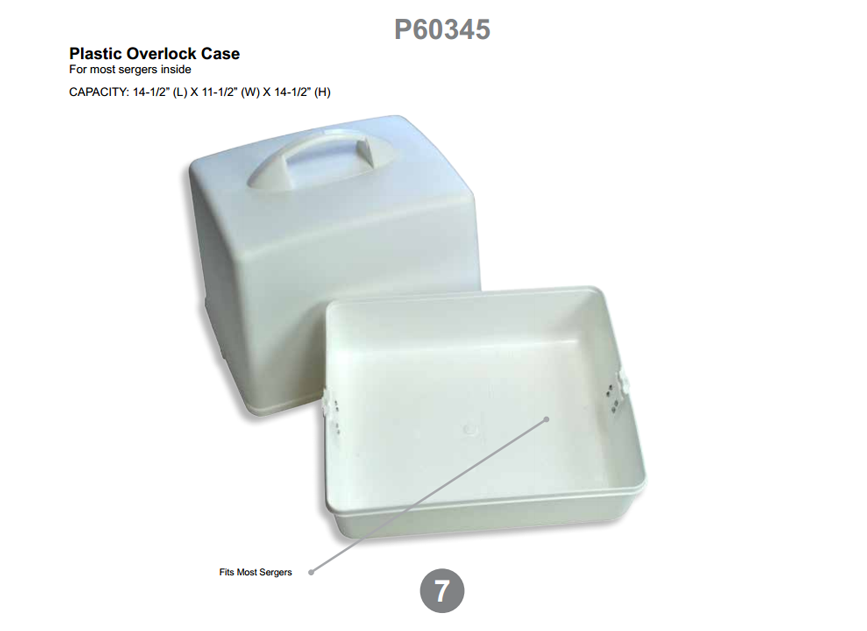 Interior measurements: 14 ½ W x 10 ½ L x 14 ½ H

Exterior measurements: 14 5/8 W x 11 5/8 L x 14 5/8 H

Handle height 1 ¾

Please measure your machine before ordering, and allow extra space to consider parts that might protrude from your machine.
US Warranty 1 year parts, 90 days labor on defects in materials and workmanship.
Non-US Warranty: 30 days parts and labor
Specifications
Plastic Overlock Case
For most sergers inside
CAPACITY: 14-1/2" (L) X 11-1/2" (W) X 14-1/2" (H)
Monelll W, Itasca TX
The email support was great. They spent alot of time trying to answer my questions about the product.
Monell W., Texas
My Baby Lock BL460B fits in this case. There is extra room for accessories in the case,too. The customer service was incredibly helpful and answered my emails about this product promptly. The free shipping cinched the order!
Monell W., Texas
My Baby Lock BL460B fits in this case. There is extra room for accessories in the case,too.
Vicky T, Paradise CA
Shipping was slow, but all other components of the order were satisfactory. The price was the best I could find.
Edward L, Wheaton IL
I chose 4 for customer service because I did not have interaction with your customer service people. My transaction was done online without human intervention. Pricing was excellent. That was how user friendly your website is. I am planning to order some more, I am just waiting for the right time.
Cynthia D, Henderson NV
Great products and I will order from this company again.
Roswitha A, Indian Trail NC
Perfect, just what I have been looking for for a while. Thank you, Ros
Beverly, Indiana
Will purchase future items.
Kimberley, Alabama
You have a fabulous selection of the very hard to find items I need to support my sewing business and at great prices.
Susan , TX

The measurements indicated that my serger would fit but it did not. It is not wide enough. I have a Huskylock 905.
Janet, California
Thank you for your prompt service.
Kerry, Ohio
Just what I needed at a great price. Thank you.
Sheri, Tennessee
This was the first time that I have ordered from this company.I just received my serger case only 3 days after I ordered it online. Was so excited that it was placed so neatly in a box and so the condition was perfect. It is the perfect size for my Singer serger. Will definitely order from the company again.
Chris, Maine
I've now made two purchases (same product) within a very short period of time. Both were priced well. Shipping was reasonable. Very timely delivery. Completely satisfied with purchase. Thanks very much!
Judy, Louisiana
I love Allbrands! I hope this website will always be there for the people like me. I rate ya'll the highest. Thanks
Kathy, Indiana
I really needed a case to keep my blind-stitch machine in and you had one for a really great price so bought it, now I can really keep the dust off. ☺ Thank you for having one in stock.
Lydia, Florida
I emailed a question about a product and got a very quick and accurate response. Thank you.
Mary, Maryland
Was very impressed with the case. It met my needs . Thanks for a great product.
Judy, Florida
I purchased a serger hard case, but haven't used it as yet. It will definitely serve the purpose of carrying my serger back and forth to class. Judy
Kia H., Hagerman, ID
It fit perfectly - finally after years of looking I found a hard case all I could find at the store was a soft case or a universal for both sewing and serger. This one is perfect - thank you!! Now if I can just find one for my Brother Sewing machine.
Edna B., Carriere, MS
I truly love Allbrands products.
Caryn P., South Lyon, MI
You are the best. Many quality products hard to find elsewhere. Best price w/ free shipping on most products. Love, Love, Love the Tacsew blind hemmer purchased a couple of years ago. Have guided many sewing friends to your site for sewing needs. Especially love your explanation of what products can be expected to do. That blind hemmer alone has saved literally over a thousand dollars in alteration expenses for my kids high school band program. Thank you.
Janet M, Pittsburgh PA
The wrong item was originally sent in the box. I called and they sent the correct one with a return label. I am very satisfied with the service. It was terrific. Thanks P.S. I just received the correct item yesterday and will drop the wrong item off to UPS today.