7000 Designs in .pen format which can be read exclusively by Brother embroidery machines, $5-10 Each, Disney & Pixar Designs, Frozen, Princess, Zootopia, Mickey, Minnie, Pals, Friends, Donald, Goofy, Pluto, Winnie the Pooh, Zootopia, Nickelodeon, Warner, Hanah Montana, Marango, Anita Goodesigns, Dakota Collectibles, Laura Ashley, Non-Disney and More!
See Disney's new Cruella DeVille embroidery designs now available for ordering online
See 748 New Designs, plus 27 Categories by Topic, including 7000 Individual Designs
Log On to iBroidery.com with your email and password if you have already registered your machine, or Create An Account Free of Charge
FREE Monthly Embroidery Design at iBroidery.com
Click HERE for FREE Brother Embroidery Design of the Month, and Sign Up Now for Latest News, Tips & Tricks from Educators, Plus Special Offers
*Note: files downloaded free or purchased at www.iBroidery.com are in .pen format which can be read exclusively by Brother embroidery machines, just as well as designs in .pes format. New .Pen format is exclusive to iBroidery.com downloads.
Imagine BugsBunny TweetyBird SpongeBob ScoobyDoo and many more, all at your fingertips, at prices you'll love! Disney Nickelodeon Warner Pixar HannahMontana LauraAshley & More
Introducing iBroidery design downloads exclusively for Brother embroidery machine customers! Choose your Brother Model, Select Hoop Size, Buy Individual Designs for $5-10 Each, or start with Free Monthly Designs.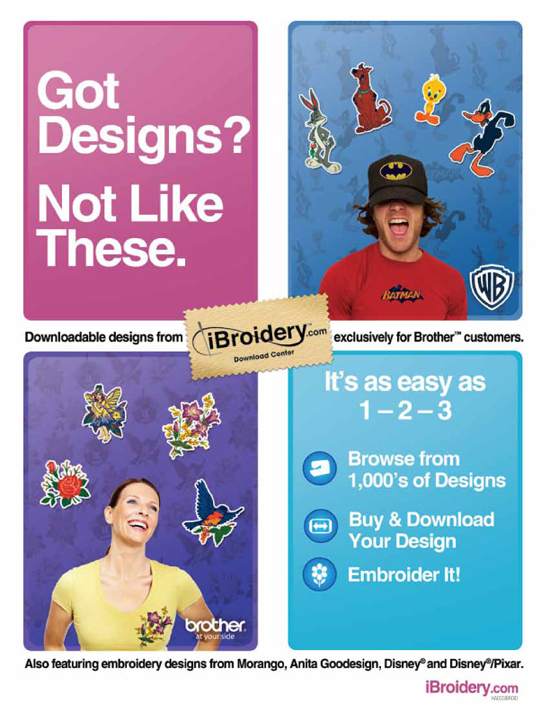 Exclusive downloadable embroidery designs, just for Brother Customers.
Introducing iBroidery Download Center
, the ultimate online retail embroidery design experience. Purchase thousands of designs--some of which have never been offered before--all at a price you'll love.
Get exclusive, downloadable licensed designs
from Disney. Disney/Pixar, Nickelodeon and Warner Bros, and the latest designs from Morango and Anita Goodesign. Plus, you can reach into the Brother design library and retrieve limited edition designs!
Download only the designs you want
--no subscription required, and no need to purchase an entire collection of designs!
Easy to navigate and use
--iBroidery Download Center allows you to customize your online experience:
• Create a personal file to include your machine information, contact and dealer preferences, and more.
• Create an online archive for the patterns you've purchased as well as a wish list of ones you'd like to buy in the future.
Visit www.ibroidery.com today
to see how easy and fun downloading embroidery designs online can be!
To start shopping, have your Brother machine model number, serial number and identification number, as well as the name of the retailer where you bought your machine.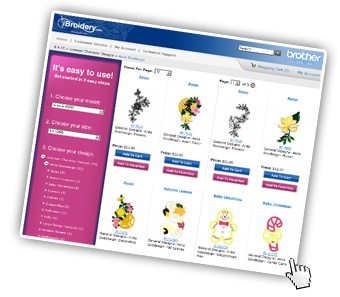 It's Easy to Use! Get Started in 3 Easy Steps...
1. Choose Your Model (Applies to 28 Brother Models)
2. Choose Your Size (Choose from 5 Hoop Sizes)
3. Choose Your Design
(Licensed Character Designs from Anita Goodesigns, Disney, Morango Designs, Nickelodeon, Pixar and Warner Bros. Plus, over 2,000 other designs to choose from including Absolutely Awesome, Alphabets, Animals, Antiques, Babies/Kids, Crafts, Emblems, Flowers/Plants, Fruits/Vegetables/Trees, Hobbies, Holidays, Home Decor, Laces/Decorative, Marines, Sceneries/Others, Sports, Transportation and World Cultures)
Designio DZ820E, DreamCreator™XE VM5100, DreamMaker™ XE VE2200, DreamWeaver™ XE VM6200D, Duetta® 2 4750D, Duetta® 4500D, Entrepreneur® PR650, Entrepreneur® PR650e, Entrepreneur® PR655, Entrepreneur® Pro PR1000, Entrepreneur® Pro PR1000e, HE1, HE-120, HE-240, Innov-ís 1000, Innov-ís 1200, Innov-ís 1250D, Innov-ís 1500D, Innov-ís 2500D, Innov-ís 2800D, Innov-ís 4000D, Innov-ís 4000DLTD, Innov-ís 500D, Innov-ís 900D, Innov-ís 950D, Innov-is 990D, Innov-is NQ1400E, Innov-is NQ3500D, Isodore® Innov-ís 5000, LB6770, LB6770 PRW, LB-6770THRD, LB6800, LB6800PRW, LB6800THRD, PE500, PE540D, PE700, PE700II, PE750D, PE770, PE780D, Quattro® 2 6700D, Quattro® 3 Trilogy Limited Edition Innov-ís 6750D, Quattro® NV6000D, SE270D, SE350, SE400, SE425, Simplicity by Brother SB7900E, Simplicity SB7050E, Simplicity SB7500, The Dream Machine XV8500D
The Brother PE540 with Access to Optional iBroidery.com Designs
Other Images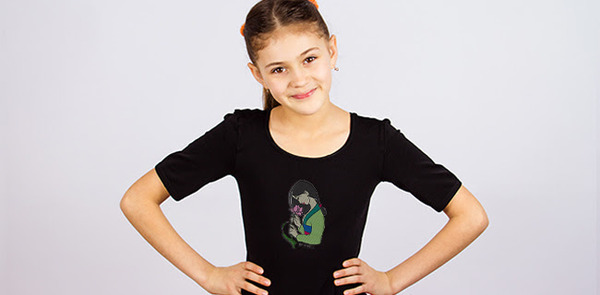 Disney's Mulan Designs on iBroidery.com Channel your inner creative power with new Disney Mulan embroidery designs on iBroidery.com. Create fun, personalized projects with Fa Mulan, Mushu and more in time for the new movie.

NOW ON IBROIDERY.COM

Disney Cinderella Designs on iBroidery.com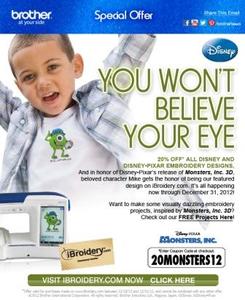 Monsters Designs on iBroidery.com

Disney Frozen Embroidery Designs Now Available!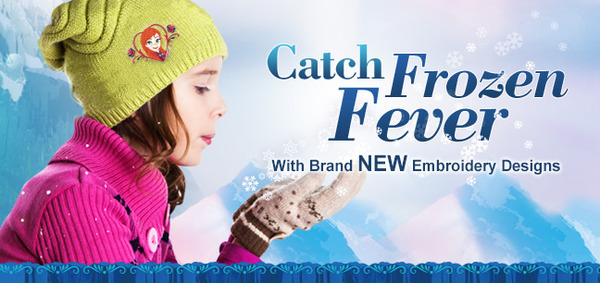 Catch Frozen Fever There's nothing cooler than Disney Frozen Embroidery Designs and only iBroidery.com has them. Choose from 18 great designs, including 6 brand new designs featuring Elsa and Anna. New Disney Frozen Designs on iBroidery.com

New Disney Frozen Fever Embroidery Designs from iBroidery.com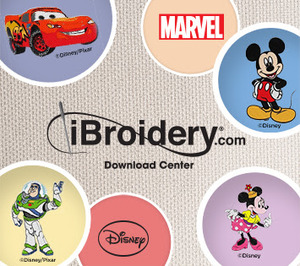 Sew Many Disney Embroidery Designs! • Downloadable embroidery designs, exclusively for Brother customers • Over 5,000 designs available • No subscription required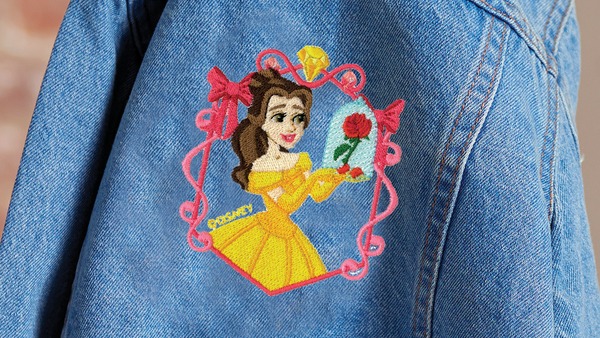 NEW DISNEY PRINCESS SERIES Add some "royalty" to your next project with the new Disney Princess Series on iBroidery. Check out eight fabulous designs featuring some of your favorite princesses