Not all button sewing machines are created equal. The all new 8100BS is equipped with direct drive technology for a more precise and quiet sewing experience. The 8100BS can change quickly from a 2 or 4-hole button and has programable speed and stitch count. The 8100BS is compatible for all types of apparel production, dry cleaning, and laundry applications.
For sewing buttons on all types of garments, the 8100BS with automatic thread trimmer, button line selector and an 8,16 or 32 stitch setting adjustment offers the whole package. Low noise and vibration design, and outstanding build quality.
Reliable Warranty Information
(.PDF)
Please review our Freight LTL Shipping Policies
Ships Ground Freight only.
*
For delivery please select options. "Lift Gate" which means a goods lifting platform installed at the rear of the delivery truck that facilitates the unloading of cargo from truck bed to the ground. Most shipments will require a lift gate, if there is not a loading dock, or fork lift available for delivery.
Ships LTL Ground freight only No Expedited Methods
US Warranty 1 year parts, 90 days labor on defects in materials and workmanship.
Non-US Warranty: 30 days parts and labor
Specifications
Direct drive technology

Maximum sewing speed 1800 RPM

Programmable display

Feed length (cross wise) 0.1 - 0.26" / 2.5 - 6.5 mm

2 or 4 hole button selector

Feed length (length wise) 0.1 - 0.26" / 2.5 - 6.5 mm

8, 16, or 32 stitch count selector

Needle system # 175 x 1

Needle bar stroke 1.91" / 48.6 mm
Other Images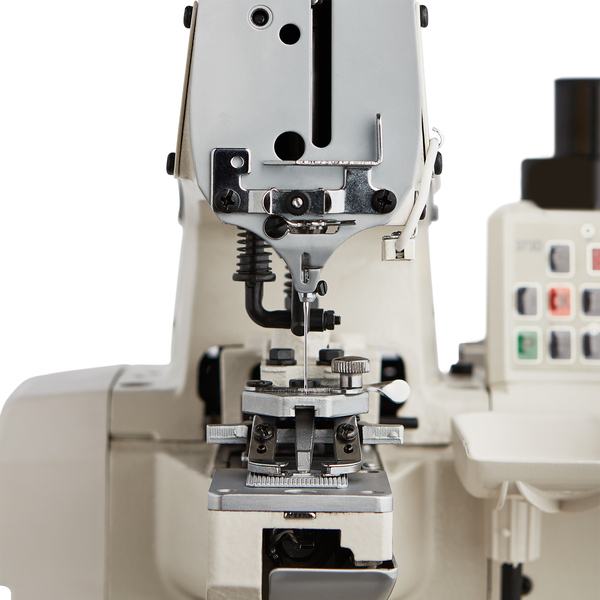 Be A Tailor
The 8100BS single-thread, chainstitch, button sewing machine, is perfect for sewing 2 or 4 hole buttons. With a built in auto trimmer, sewing buttons on blouses or suit jackets has never been easier.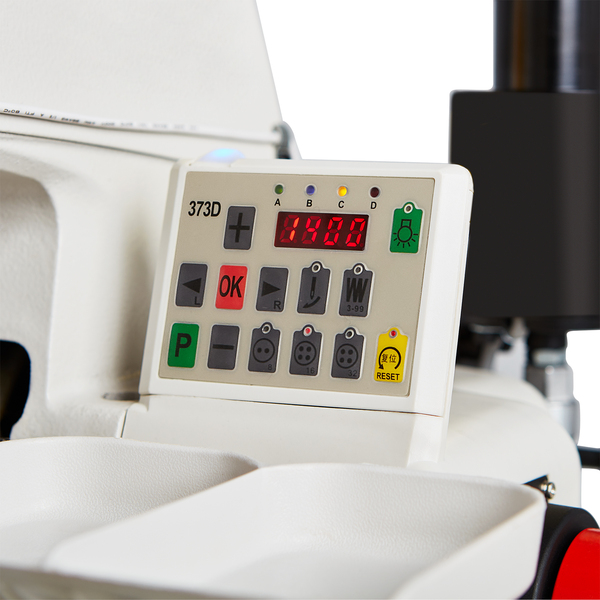 PROGRAMMED PRECISION
With a simple press of a button, the 8100BS can be programmed for two or four-hole buttons. You can also program the stitch count for a more precise and controlled stitch.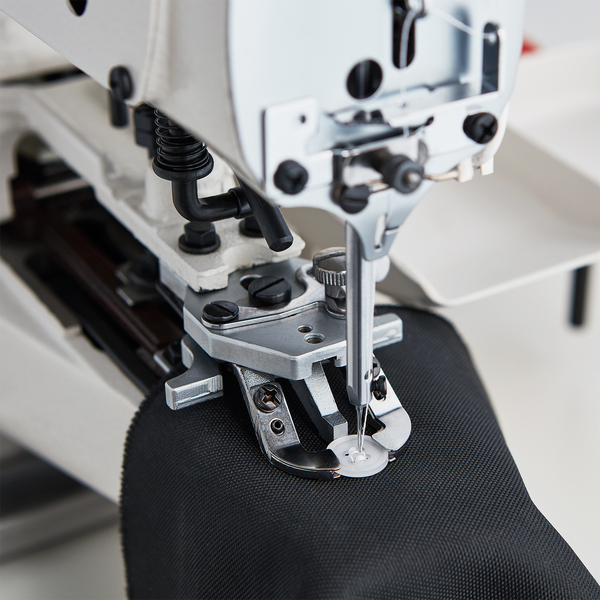 SEW WITH EASE
The 8100BS direct drive motor allows you to program the speed of the machine. This eliminates unwanted thread burn and allows for a more precise button sewing experience.
SUPERIOR STAND
Others skimp on the stand components, we don't. We only use 100% plywood in our tabletops (not cheap particle board) and our legs are made from heavy-duty 3/32" steel.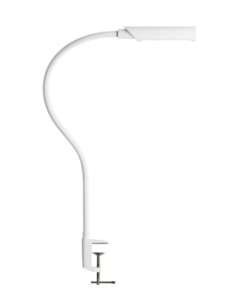 INCLUDES UBERLIGHT FLEX
At no additional cost, we are including our all-new UberLight™ Flex 3100TL LED task and sewing light when you purchase the 8100BS sewing machine. Our most advanced take sewing light is designed to see more with no glare and less eye strain.