33263: AllBrands.com Repair Service
Availability: Advance Orders Only. Please review the product description for complete details.
Condition: Retail

Features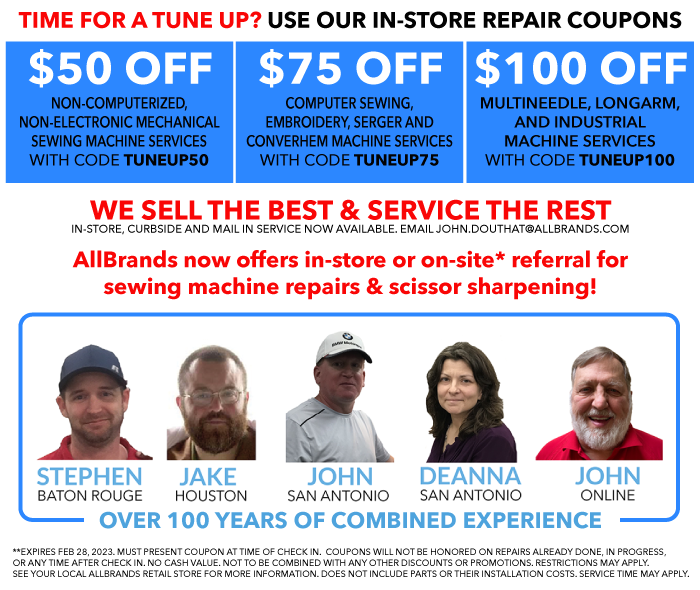 Allbrands.com has over 70 years of combined factory-trained mechanics experience in servicing portable sewing, serger, quilting, and embroidery machines. We now have premium professional repair services available on your sewing machines in-store or by mail.

For Portable Mechanical Sewing Machines without any electronics on board Minimum $199.99 Charge +$25 for Return Ship +Parts and Installation Labor. Minimum $299.99 charge for Portable Computer, Embroidery or Serger machines. Minimum $399.99 plus Freight for Multi Needle, Industrial, or Longarm machine heads. (do not send stands)

We are the Sewing Machine Doctors with a motto of Fix it Right The First Time with a warranty of 30 days on mechanical and electronic adjustments, not recleaning.
.
We Service AllBrands of Portable Machines: Brother, Babylock, Bernina, Elna, Juki, Kenmore, Necchi, Riccar, Pfaff, Singer, Viking, White, Simplicity.

Your sewing machine is your baby. We want to help you ensure the best quality stitches on your sewing, quilting, embroidery, or serger machine, that are well adjusted and running smoothly!

Review our simple 3 step process below to get started!
Or, Click HERE to Email Attn: John@AllBrands.com or general mailbox Attn: Service@AllBrands.com if you have any questions or want to send pictures, prior to placing your order
Mail-in or Ship in Service Plan for all portable home sewing and embroidery machines. Here is how the program works.
$199.99 +25.00 Return Shipping Cost if mail order: on Basic Mechanical Portable Sewing Machines.
$299.99 +25.00 Return Shipping Cost if mail order: Computerized Sewing, Embroidery Machines,Sergers, Portable Blind Hem Machines.
$399.99 +Pallatized Freight Return Shipping Cost if mail order: on Multi Needle Embroidery, Industrial Sewing Machine Heads, and Long Arm Quilting Machine heads.
Step 1.
Purchase the 149.99 dollars minimum charge repair service above plus 25 dollars added for our prepaid and insured return shipping costs in USA 48 States. $100 Upcharge for Electronic, Embroidery or Serger. $200 upcharge for Mulit Needle, Industrial, or Longarm Quilting Machines. We will email you an Authorization Number to put on the outside of the box for easy identification.
Step 2.
Ship your machine insured to Allbrands.com, Attn: Service Department, 20415 Highland Road, Baton Rouge, La. 70817. Pack in original carton with all styrofoam and double boxed, or wrap in 5" of heavy bubble wrap and double boxed. Include your foot control, bobbin case, bobbin, power cord, thread, needles and fabric samples, hooped fabric with stabilizer, copies of any prior repair tickets, printouts of our email communication, order confirmation, and any written documents regarding the sewing problems you are having with your machine.
Step 3.
We will service and ship your repaired machine back pre-paid and insured. If mechanical adjustments or parts are needed, our mechanics will email or call you for approval of estimates above our minimum service charges. Our charges includes removing covers, cleaning, oiling, replacing covers, and balancing thread tension in sew off. Our average repair bill includes and average of 2 mechanical or electronic adjustments
If your machine cannot be repaired or you do not want to pay for any additional parts or installation required,
the 25 dollar prepaid shipping charge will be used to return your portable machine to you un-repaired.
Why do I need to have my sewing machine serviced?
There are many moving parts in a sewing machine and if it moves, it needs lubrication. These days many of the moving parts are housed with computer circuit boards and wires around them. Our Sewing machine technicians are factory trained to maintain and service computerized sewing machines.
For best performance and years of sewing, our technicians suggest you have your machine serviced annually. Below is our 24-Point Tune-Up Checklist and a list of Sewing Machine Performance Tips that our technicians suggest between services.
Sewing Machine Performance Tips:
Keep your machine covered when not using it. Household dust, lint and pet hair can enter your machine in one of it's many openings causing all types of problems.
Keep your machine away from direct sunlight, high/low temperatures and humidity.
Use the right needle for your project and change your needle every 3 to 4 hours of sewing or after every other project. The needle is the major culprit for most sewing problems.
Use good quality thread.
Use bobbins made specifically for your machine and make sure your bobbin thread is wound tight and no loose threads are hanging.
DO NOT SEW OVER PINS! Your needle may break, you could damage the hook or pieces of the needle could fly up into your face.
Do not use canned air on your machine or blow into your machine. The lint is just being pushed further into the machine and you are spraying moisture into your machine which can cause corrosion or damage your circuit boards
Clean the bobbin area frequently. Refer to manual for instructions.

Have a 24 Point Inspection completed, at a qualified repair center, on your sewing machine once a year to keep it performing like new for years to come.
Extended US Warranty: 30 Days labor on defects in materials and workmanship.
Non-US Warranty: 30 days parts and labor.
Specifications
24-Point Tune-Up:
Below is a checklist all technicians complete, if applicable, with every 24-Point Sewing Machine Tune-up performed.
Check Bobbin Winder Mechanism
Inspect Cam Followers & Spacers
Clean Take-Up Lever
Clean & Lube - Pendulum Swing Mechanism
Check Spool Pins, Felts & Caps
Adjust Needle Bar Height
Check Light Bulb
Acuate All Levers & Knobs
Deburr Needle Plate
Polish Hook
Check Timing (Hook & Feed)
Inspect Feed Dogs & Adjust
Clean Bobbin Case
Adjust Bobbin Case Positioner Bracket
Inspect Gears
Check Linkage Bearings & Sleeves
Test Motor Blocks and Pivot Connections
Adjust Motor Belt & Inspect
Check Timing Belt for Wear
Test Tension Knobs & Springs For Torque
Electrical Cords Inspection
Inspect Foot Control Wear
Clean Exterior & Polish
Test Sew On Demo Fabric
Below is what we are taught by sewing machine manufacturers
Completely disassemble sewing machine
Clean out all lint and debris
Degumm and remove old oil and grease
Apply new oil and grease
Check and adjust/reset over 30 settings
Polish all areas in thread path, hook, bobbin case, needle plate, presser foot etc..
Check for any updates update as needed
Reset service programs and calibrations
Balance tensions
Sew it out and fine tune as needed
Then clean exterior of machine
Pinterest.com Maintenance for Sewing Machines
Nancy Zieman Video on 6 Techniques for Sewing Machine Maintenance
Click HERE for Sewing Machine Maintenance Tips from Cooperative Extension Service, New Mexico State University
Click HERE to Email Attn: John@AllBrands.com or Attn: Service@AllBrands.com if you have any questions prior to placing your order
Click HERE for You Tube videos on Home Sewing Machine Maintenance, so if it something simple that you can do at home, it doesn't need to go to the shop
Click HERE for You Tube videos on Home Sewing Machine Repair, so if it something simple that you can do at home, it doesn't need to go to the shop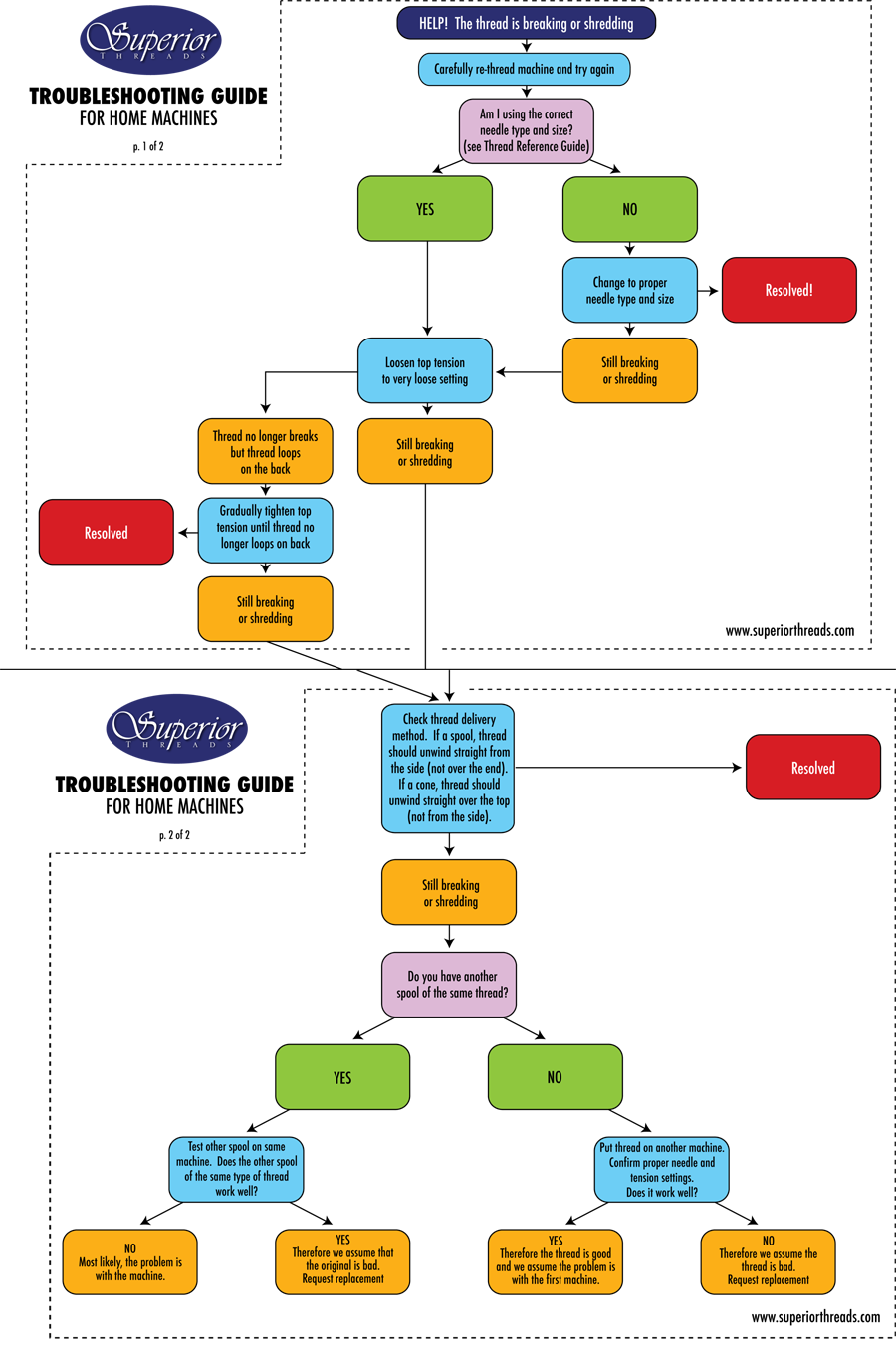 Click HERE for Zen and the Art of Sewing Machine Maintenance
7 Steps To Peak Performance For Your Sewing Machine from Fix Sewing Machine Institute
7 Steps To Peak Performance
For Your Sewing Machine from Fix Sewing Machine Institute
See You Tube Videos on Sewing Machine Repair
Although using a Bernina 1008, most of the information applies to most sewing machines. All sewing machines do better with a little bit of 'TLC'. Just a bit of a clean up and a drop of oil every now and then does wonders. Keeping your sewing machine clean and lubricated will reduce the wear and tear and keep everything running smoothly.
mizsparrow: How a sewing machine hooks threads into your fabric, on underneath oscillating shuttle sewing machines
Quick Guide for Sewing Machine Top Tension pdf by Cindy Needham
DIY: Cleaning Your Vintage Sewing Machine
Sewing Machne Maintenance Tips | National Sewing Circle. Jessica Giardino provides extremely beneficial tips on how to perform maintenance on your own sewing machine. Learn how to make repairs to your machine at home to save money and stitch happily. Find out how often you should perform maintenance on your machine as well as what tools you may need to help clean your sewing machine.
Singer Blog on Troubleshooting Tips
Sewing Machine Lubricants
How to Clean and Oil Your Bernina Sewing Machine.
Did you know you need to oil your Bernina sewing machine every 3 - 5 bobbins? You do! To many people neglect oiling their Bernina sewing machine or even worse have been told NOT to oil their sewing machine.
Bernina We All Sew Blog on How to Clean and Maintain Your Sewing Machine
Bernina ACHINE MAINTENANCE FREQUENTLY ASKED QUESTIONS: CLEANING AND OILING


Bernina Users - THIS IS NOT LINT! ***DO NOT REMOVE***
Video Tip: Avoid Thread Bird Nesting from Top Thread balling up underneath the fabric
15 Reasons Why a Sewing Machine Needle Breaks by Sewing Mastery, Heirloom Creations
A sewing machine needle can break for a variety of reasons. Sometimes it is operator error and sometimes it can be the wrong needle for the fabric. If you have experienced a rash of broken needles within a short amount of time, see if one of the following situations relates to you and learn how to overcome the problem.
Thread Catches on the Spool
Some thread brands have these lovely thread holders notched in the edge of the spool. Handy, yes, but if the thread spool is laying on its side it can catch in the groove, pull the thread tight and SNAP the sewing machine needle. To avoid this, be sure to stand this type of thread up using a vertical thread pin.
Thread Wraps Around the Spool Cap:
For threads that need a horizontal spool pin and a spool cap to hold them in place, the thread can get caught between the thread spool and the cap. Though a spool cap is necessary to keep the thread in place, it must be pushed into place so there is no gap for the thread to catch between the two. This is one of the reasons I prefer using a thread stand.
Whitening Your Yellowed Vintage Sewing, Serger, Embroidery, Quilting and Knitting Machine Plastic ABS Parts! (RetroBrite) This is a video demonstrating how I have whitened some ABS plastic pieces of a vintage knitting machine that had become yellow with age and exposure to UV light. This is the RetroBrite procedure, which you may have seen being used on old video game consoles, sneakers, computers, and other older ABS plastic products. Works very well, is inexpensive, and really helps restore these old beauties to their former glory.

Machine Maintenance with Gary | Echidna Sewing
How to oil your sewing machine needle bar, prevent costly repairs DIY simple fix drop in bobbin case. Jeff shows on Brother made Babylock Destiny
How to Remove Thread from the Take-Up Lever & Remove Fabric Stuck in the Needle Plate
Have you ever started sewing and the thread pulled out of the needle? Doug shares how to fix this common issue so you can return back to stitching. Plus, learn how to remove fabric that gets stuck on the machine after you have completed sewing.
Singer Sewing Tips 101: Maintenance and TLC


7132: Rex Artek RX-518 Portable Blind Stitch Hemmer Metal Sewing Machine

Our Price: $299.99
Prices are subject to change, and only current prices will be honored.

Shipping: Free Ground Shipping to the Contiguous USA
Availability: Usually leaves the warehouse in 2-3 business days.
Condition: New In Box

Features
Only $69.99 more for Organ Box of 50 LWx6T 29-34 Curved, Assorted Size Needles, for Portable Blind Hem Stitch Machines: Tacsew, Reliable, US Stitchline, Yamata, Gemsy, Rex, Tony, and Huei Hwang the manufacturer of Tacsew and Reliable in Taiwan.
Portable blindstitch machine

Complete with built-in 110 motor and foot control

Skip stitch

Very Durable

Curved needle

1200 S.P.M.

Portable Home Use Sewing Machine for Apparel Tailoring and Alterations only, not Heavy Drapery or Upholstery.

China made metal industrial sewing machines including portables are not always picture perfect, having blemishes that do no affect the operation of the machine. Most of these machines go into factories and workshops where functionality, not appearance, are the primary concerns.
Extended US Warranty: 90 Days labor on defects in materials and workmanship.
Non-US Warranty: 30 days parts and labor.
Specifications
Blindstitch Machine for Cuffs, Slack Bottoms, Hemming Dresses, Skirt and Coat Bottoms, Draperies, Negligees, Undergarments, Lapel Padding, Blouses Sleeves.
Portable blindstitch machine

Complete with built-in 110 motor and foot control

Skip stitch
Very Durable

Curved needle

1200 S.P.M

Portable Home Use Sewing Machine for Apparel Tailoring and Alterations only, not Heavy Drapery or Upholstery.

Click HERE for Short Generic Instruction Book Operating Manual User Guide for Table Top Portable Blindstitch Sewing Machines







Blind Hemmer Ending Stitch Techniques I show how I now end my blind hemmer stitches. In the past I always used the old technique of raising the needle to its' highest position and releasing the pressure foot and jerking the fabric back quickly to break the thread. This led to size 10 needles skipping stitches sooner than I thought they should. I contacted the mfg of my machine and they told me to use the technique I show in this video. Since I've gone to it my #10 needles are lasting much longer. :) The machine shown is an Industrial Consew made in Japan back in the 1970s. Kevin Sews Published on Jul 2, 2014