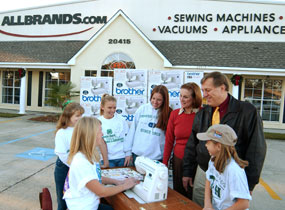 A Baton Rouge couple recently donated more than 100 sewing machines to the LSU AgCenter for use in its 4-H program.
The 123 sewing machines were given earlier this year by John and Annette Douthat, owners of AllBrands.com, a Baton Rouge-based sewing machine and small appliance business. The Louisiana donation is part of a national offer of machines made by the Douthats to stimulate an interest in sewing by 4-Hers across the country.
"The Douthats are big supporters of the 4-H program," said Dr. Paul Coreil, LSU AgCenter vice chancellor. "Their donation will benefit 4-H'ers across the United States."
Yvonne Marquette, an instructor in the LSU AgCenter's School of Human Ecology, said the Douthats' generous donation goes beyond the number of machines originally requested by state agents.
"We had compiled a list of 116 machines," Marquette said. "Mr. and Mrs. Douthat added another seven machines, bringing the total to 123. We are very thankful for their offer."
Ten of the sewing machines went to the LSU AgCenter's 4-H office in Union Parish. Carol Remy, an LSU AgCenter 4-H agent in that parish, said the donation will allow 4-H agents to offer workshops and programs that they couldn't offer before.
"I am thrilled to have received these sewing machines," Remy said. "By having these machines, we will be able to teach sewing to 10 to 20 people at a time."
Remy said she and a group of volunteers plan to teach some sewing and clothing workshops this summer.
4-H is the youth development and outreach program administered by the nation's land-grant universities. Terril Faul, head of the LSU AgCenter's 4-H and Youth Development Department, said the program promotes "learning by doing" and the development of youth leadership skills that will help them as they grow into the adults of the future.
For more information about the 4-H program, contact your parish LSU AgCenter Extension office or go to http://www.lsuagcenter.com and click on the 4-H link.