Green Label Certified. Durable, versatile, easy-to-use and easy to maintain. Two-motor system, 11.5 amp main motor, Sealed washable HEPA filtration, 13 inch cleaning path
Durable, versatile, easy-to-use and easy to maintain, this two-motor system with its convenient attachments make carpet, bare floor and above-the-floor cleaning effortless.
US Warranty 1 year limited warranty on defects in materials and workmanship.
Non-US Warranty: 30 days parts and labor
Specifications
Power: 11.5 amp
Filtration: Sealed HEPA
Container: Paper Dust Bag
Dust Capacity: 9.5 dry qts.
Cleaning Path: 13''
Cord Length: 50'
Tools: Telescopic Wand, Dusting Brush
Hose: 6' Reinforced Stretch
Motor CFM: 119
dB per ASTM: 74

Assembly Video. Sanitaire by Electrolux Commercial Vacuum Cleaners. Bagged and Bagless. Traditional Models Assembly. Sanitaire by Electrolux, Commercial Grade Vacuum Cleaners, Extremely Durable and Reliable Vacuums, Leading the Industry for many years, Sanitaire Vacuums are the Preferred Choice of Hotels, Motels, Restaurants and Professional Cleaning Crew.
Other Images

Unique extra-low profile
Folds down to 6" clearance to get under furniture and other low fixtures

Exclusive Patented Telescopic Wand with Permanently Attached Retractable Dust Brush
Cleans baseboards and other hard-to-reach places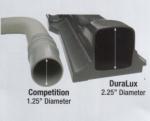 Extra-Large Clog-Free Intake
Picks up paper clips, tooth picks and other traditional "cloggers" with ease. It's twice as big as the narrow, spiral wound hoses found on most other commercial vacuums

Quick-Change Power Cord
On-site maintenance and multiple cord length options

CRI Green Label™ Industry approved, exceptional results Sanitaire CRI Green Label™ approved vacuums can satisfy any job requiring a higher level of filtration. The CRI Green Label signifies a superior cleaning vacuum that has passed stringent testing for soil removal, dust containment and carpet appearance retention.