Automated fabric pivoting creates precise circles with radii ranging from 30mm to 130mm

Excellent tool for creating circles with straight stitching, zigzag, embellishing and decorative stitches.
Easy to set up, easy to use!

Bundle includes: Circular Attachment, Braiding Foot, Cording Foot, Semicircular Protractor Template, Instruction Manual


Additional accessories to add to your creativity include the Braiding Foot with an adjustable guide that offers you hands-free (after set-up) placement of cords, ribbons and braiding up to 5mm in width centered along selected circle circumference. The Cording Foot for 7mm horizontal machines is used for embellishing projects with 1, 2 or 3 cords or decorative stitches. Great for couching! Use the Protractor Template as a guide for easy measuring and accurate stitching.


Compatible with Brother NV4000D Duetta® NV4500D, NV4750D, NV5000D. Innov-ís 1200, Innov-ís 1250D – New!, Innov-ís 1500D, Innov-ís 2500D, Innov-ís 2800D – New!, Innov-ís 40, Innov-ís 4000D, Innov-ís 80, Innov-ís 900D, Innov-ís 950D, NX-250, NX-450, NX-450Q, NX-650Q, QC-1000, Quattro® 6000D Needle Plates.


Project ideas available at www.brother.com


Fits 7 Piece Feed Dog Brother machines: The NV series, the QC series and the NX series.
For Use With: Quattro® NV6000D, Duetta® 4500D, Innov-ís 1200, Innov-ís 1500D, Innov-ís 2500D, Innov-ís 40, Innov-ís 4000D, Innov-ís 80, Innov-ís 900D, NX250, NX450, NX450Q, NX650Q, QC1000, Innov-ís 2800D, Innov-ís 1250D, Innov-ís 950D, Quattro® 2 6700D, Isodore® Innov-ís 5000, LB6800PRW, Duetta® 2 4750D, DreamWeaver™ XE VM6200D, Quattro® 3 Trilogy Limited Edition Innov-ís 6750D, Project Runway Limited Edition Innov-ís 40e, Project Runway Limited Edition Innov-ís 85e, Innov-ís NX570Q, LB6800THRD, DreamCreator™XE VM5100, The Dream Machine XV8500D, Innov-is 990D
Specifications
Create Precise Circles Automated fabric pivoting creates precise circles with radii ranging from 30mm to 130mm.
Excellent tool for creating circles with straight stitching, zigzag, embellishing and decorative stitches. Easy to set up, easy to use!
Features: This attachment bundle includes the circular sewing attachment, Brother braiding foot, Brother cording foot, a semicircular protractor template, and an instruction manual. Additional accessories to add to your creativity include the Braiding Foot with an adjustable guide that offers you hands-free (after set-up) placement of cords, ribbons and braiding up to 5mm in width centered along selected circle circumference.
The Cording Foot for 7mm horizontal machines is used for embellishing projects with 1, 2 or 3 cords or decorative stitches. Great for couching!
Use the Protractor Template as a guide for easy measuring and accurate stitching.
For Use With: QuattroTM6000D New!, DuettaTM 4500D, Innov-ís 1200, Innov-ís 1500D, Innov-ís 2500D, Innov-ís 40- Limited Edition, Innov-ís 4000D, Innov-ís 80- Limited Edition, Innov-ís 900D, NX-250, NX-450, NX-450Q, NX-650Q, QC-1000
Click HERE for Free Project Three Dimensional Rosette from Brother Foot of the Month
Other Images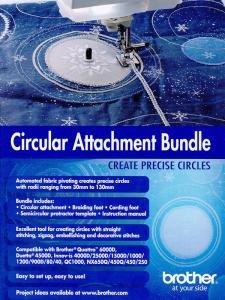 Brother SACIRC1 Circular Sewing Attachment Bundle, Create Precise Circles, 7mmW Decorative Stitches, 30-130mm Radius, Pin, Braid & Cord Feet, Template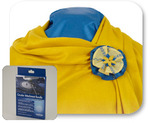 Click HERE for Free Project Three Dimensional Rosette from Brother Foot of the Month
Shari, Florida
Excellent price and very fast shipping. I have bookmarked your site for future needs.

Betty, Illinois
I greatly appreciate the personal follow up regarding my order from the customer service reps.

Jean, New Mexico
Order was received, processed and shipped quickly. I am pleased with my purchases and will shop with Allbrands again.

Diane, Wisconsin
Allbrands is my favorite spot to shop for sewing items. I have purchased my last sergers from you guys and you provide quality merchandise and good service.

Penny, New York
Keep doing what you do - I liked dealing with you. Thanks!

Linda, Virginia
Over the years I have used Allbrands.com for purchases from $25 to several thousands of dollars per order and I have always been happy with the products and service.

Sharie, Missouri
At first I could not tell if all 3 of my ordered items were in one shipment. The description for me online mentioned only the 1st item(Floriani Disc). Other than that, the shipment arrived in excellent time, great condition. I am very satisfied with your service.

Carolyn, Nevada
I have visited your store as well as your website. I have always been impressed with your pricing and customer service. Your company has made a lasting impression on me and I hope to continue doing business with you in the future. Thank you.


Bundle & Save
Get additional savings when you purchase any of these items along with this product.