*For Brother 901 1201, Melco Amaya Bravo & EP4, Janome MB4, Tajima, Baruden, Toyota, SWF Sunstar, Happy, Highlead, Renaissance, Ricoma, Prodigy, Generation, Meistergram, Etc.
These are round shank needles only for commercial and industrial embroidery machines, not flat shank needles which home embroidery machines require.
Titanium-nitride ceramic finish

More wear resistant than other needles.

When embroidering large stitch designs or penetrating very abrasive, dense or tough materials the needle points and surface will maintain its original shape and dimension 3 to 5 times longer.

Because titanium needles are made of stronger material they will last longer on tougher applications.

Needle Comparison Chart
Specifications
DBxK5 is standard for all new Brother and Tajima Industrial Embroidery Machines as well as many others. Round Shank (Industrial Needles)

While the needle is the least expensive component in any embroidery or sewing machine, it is the most important. High quality, ORGAN needles designed in cooperation with the machine builders assure maximum performance, quality, and economy.

ORGAN needles are manufactured from special high carbon, silicon rich steel. We use the latest state-of-the-art production techniques to insure high polished eyes for dependable, smoother stitches, consistent quality, and fewer thread breaks.

The Organ Needle Company works closely with all of Japan's sewing machine builders to design and manufacturer needles for optimal performance. A machine builder cannot afford to buy an inferior needle at any price!
Included Accessories
DBxK5 needles work with industrial embroidery machines that take round shank needles such as Tajima, SWF Sumstar, ZSK Germany, Barudan, Melco, Amaya, Bravo, Happy, Janome MB4 EP4, Toyota, Brother 901 1201, Highlead, Renaissance, Ricoma, Generation, Meistergram, Etx.
Other Images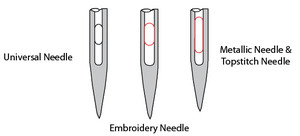 The most popular needle, the Universal, has an eye that is 40% the width of the blade. Really! There are three other needles with larger eyes, the Embroidery and even more pronounced is the elongated eye of the Metallic and Topstitch needles. Now what does a larger eye mean? There is less friction on the thread as it passes through the eye. Ever sew with a thread that breaks or tends to shred? Guess what, use a needle with a larger eye. If you have old thread or maybe a poor quality thread, use a needle with a larger eye. The thread and needle work hard and fast. Help them out when you can with a larger eye.
Janet, Colorado
Excellent experience ordering from Allbrands, always a pleasure! Thank You!

William J., Mayfield, KY
I'll highly recommend you to people I know.