100 needles per box. Embroidery Needles - Box of 100
This needle features a light ball point, wide eye and groove. Use with rayon, polyester and other specialty embroidery threads. The special scarf, widened groove and enlarged eye protect fragile threads and guard against excess friction allowing trouble-free embroidery and decorative stitching. Available in sizes 75, 90.
100 needles per box.
Box of 100 Needles

Has larger eye to minimize damage to and breakage of delicate machine embroidery threads



New announcement from Schmetz below! You will know they are chrome needles because it will be listed on the package. Coming late 2021!



Other Images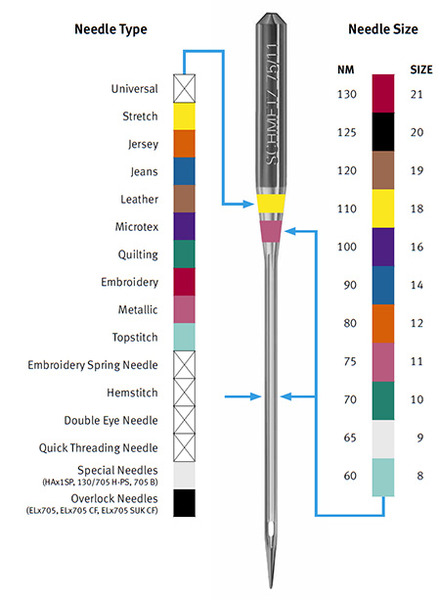 Schmetz Needle Color Chart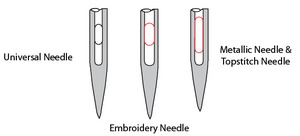 The most popular needle, the Universal, has an eye that is 40% the width of the blade. Really! There are three other needles with larger eyes, the Embroidery and even more pronounced is the elongated eye of the Metallic and Topstitch needles. Now what does a larger eye mean? There is less friction on the thread as it passes through the eye. Ever sew with a thread that breaks or tends to shred? Guess what, use a needle with a larger eye. If you have old thread or maybe a poor quality thread, use a needle with a larger eye. The thread and needle work hard and fast. Help them out when you can with a larger eye.
Patsy E, Centerville GA
Good Morning, I have always gotten good service and good products from you.. It is wonderful to have a dependable web page that I can manage and order from at the ripe old age of 83. Thank you Patsy

Loesje S, Cedar Rapids IA
I especially appreciated the Schmetz booklet included. It will make future orders easier.

Patricia P, Yuma AZ
All Brands is one of my go to sites for machine embroidery supplies!

Nancy M, Prescott AZ
Great service and prices, I love doing business with you.

Roxana, New Mexico
I would not have returned to re-order if I wasn't totally pleased with your service. I especially like the no shipping charges for the needles ordered. Thank you for being so prompt in sending the needles.

Mona, California
Everything was great! Thanks!

Lori, Maryland
I have been and continue to be very satisfied with AllBrands

Pamela, Michigan
I have purchased from your company in the past and keep coming back. Your prices are great with a vast selection of products to choose from. I will continue to shop with your company. Your telephone customer service was also terrific.

Linda, Georgia
I was very pleased about the way my order was handled. It got to me in time and I actually asked customer service which needle I needed for my machine. They e-mailed me back the same day with the correct size and needle. Thanks for your help. I was very satisfied. Linda

Janie, Virginia
Very happy with purchase and service. Would order again.

Eva, Florida
first time to buy from you will buy again if opportunity arises.

Nira, Washington
I've ordered from you many times and always been satisfied with your selection, price and fast and inexpensive shipping.

Lorene, Maryland
As always, AllBrands has been stellar. Keep it up.

Bernadette, Pennsylvania
This was my first order with your company. It took a little searching to find what I was looking for. I have been very pleased with my order and will be back. Thanks!

Helga, Houston
I am very satisfied with the product I received, with the speed my order was delivered to me and, the price for the order. I will definitely buy from AllBrands again. Thank you for treating a customer like a king. Helga M.H. Beam

Sue P., Magnolia, TX
Your service and delivery were excellent. I will be back for more.

Charlotte A., Oak Hills, CA
I have always been pleased with AllBrands. When I purchase something online I always include the shipping price to calculate in how much money I've saved. I have always been pleased. Items are well packed and shipping is timely. Keep up the good work!

Evonne T, Grands Pass OR
I only marked the Satisfaction with Price down because I am always looking for a better deal, though I haven't found one better than yours.