Suitable for a Large family room or bedroom (350 sq ft CADR); the Winix WAC5300 True HEPA Air Cleaner with PlasmaWave™ Technology combines the best air cleaning technologies to deliver clean, fresh air. 99.97% efficient True-HEPA Filtration; Odor Control Carbon Pre-filter; and PlasmaWave™ Technology combine to offer superior control of Household Odors, Pollutants and Allergens.
Energy Star Qualified, AHAM Certified, UL Approved.
3 - Stage Air Cleaning
Effectively removes a broad range of Odors, Allergens and other Airborne Pollutants Including: Dust, Smoke, Pollen, Pet Dander, Mold, Viruses, Bacteria, VOC's
True HEPA Filtration
Captures 99.97% of airborne pollutants, pet dander and allergens as small as 0.3 microns.
Odor control Carbon Pre-Filter
Formulated to capture offensive Smoke, Cooking and other Household Odors. The disposable carbon sheet also works as a pre-filter to capture large particles like hair, carpet fibers and dust adding life to your filter
PlasmaWave™ Technology
Attacks pollutants at a molecular level to Neutralize viruses, bacteria, chemical vapors, odors, and gases in the air - without producing harmful ozone.
Air Quality Sensor
Offers Set-and-forget convenience by automatically adjusting your air cleaner settings to meet the needs of your environment.
CADR Room Size Rating
350 sq ft - Suitable for the large family room or bedroom.
Energy Star Qualified
To save you money.
4 Ways to Improve Your Home Air Quality
US Warranty 1 year limited warranty on defects in materials and workmanship.
Extended US Warranty: Extended Warranty Available
Non-US Warranty: 30 days parts and labor
Specifications
Detailed Specifications
AHAM Room Size Rating
350 sq ft - Suitable for a large room
AHAM CADR Scores (Dust/Smoke/Pollen)
236/248/252
Replacement Filter #
Standard: 115115 or Ultimate: 119110
3-Stage Air Cleaning
1) Odor absorbing carbon pre-filter
2)99.97% effective washable True HEPA
3)PlasmaWave™ Technology
PlasmaWave™ Technology
Yes
True HEPA Efficiency
99.97%
Carbon Pre-Filter
Yes
Energy Star Qualified
Yes
Air Quality Sensor
Yes
Sleep Mode
Yes
Auto Mode
Yes
Replace Filter Indicator
Yes (Based on Actual Usage)
Number of Fan Speeds
4
Control Type
Digital Display
Color (Body/Front)
Silver
Technical Specifications
Unit Dimensions (in.)
(L)16.3 x (W) 8.5 x (H)21.7
Unit Weight (lb.)
15.7
Packaged Dimensions (in.)
(L)19.1 x (W)11.4 x (H)24.4
Packaged Weight (lbs.)
17.9
Voltage / Hertz / Amps
AC 120V / 60 (Hz) / 1.1
Watts (Low/High)
6 / 70
Power Cord
2 Prong / 6.8 ft.
Dust CADR/Watt
4.1
Air Intake
Front
Air Out Vent
Top
CFM (Quiet/Med/High/Turbo)
53 / 113 / 173 / 226
Certifications
UL / CUL Listed
Yes
CARB Certified
Yes
Energy Star
Yes
Warranty Information
Warranty
1 Year Limited
Other Images

Winix WAC5300 True HEPA Air Cleaner Purifier, PlasmaWave Technology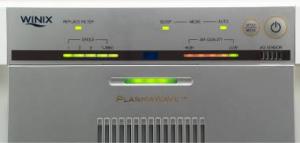 Control panel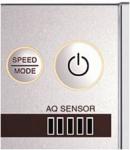 Power and speed buttons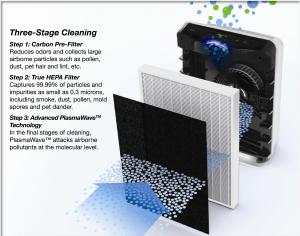 Step 1:Carbon Pre-Filter reduces odors and collects large airborne particles such as pollen, dust, pet hair and lint, etc.
Step 2:True HEPA Filter captures 99.97% of particles and impurities as small as 0.3 microns, including smoke, dust, pollen, mold spores and pet dander.
Step 3:Advanced PlasmaWave Technology in the final stages of cleaning attacks airborne pollutants at the molecular level.
Bundle & Save
Get additional savings when you purchase any of these items along with this product.