Providing a large cutting area, this table is built to the perfect standing height reducing back fatigue caused by bending. . Call 1-800-SEW SERG or 800-739-7374 for details.
The Tailormade Cutting Table will make a perfect companion workstation for any crafter, and sewer. It provides an expansive work surface with loads of storage. At an ideal ergonomic standing height of 3 feet, your back will thank you!
The work area is ergonomically designed and supported by four foldout doors positioned magnetically, making the work area much more stable than other available fold down tables. The work area can easily fold away for storage when not in use.
Design Features
1. Removable fabric and accessory bins provide easy access and organization. Generous storage for sewing machine, overlocker or other large items.
2. The large capacity drawers are supported with full-extension steel drawer glides.
3. The corners of the top work surface are rounded and finished to prevent fabric from snagging.
4. Each side extension can be positioned independently and are supported by two gate legs.
5 Rolling Casters: All 8 casters are lockable and are designed to roll easily.
The Tailormade Design Advantages:
Fully assembled. Simply add the casters, handles and accessory storage

Extra-stable construction

Easy-rolling, locking casters

Specially designed reinforced frame

No-snag flush mount hinges prevent fabric catching or snagging

Mar-resistant finish

Drawers, Bins and Shelves for maximum storage
US Warranty 1 year replacement on defective or missing parts.
Non-US Warranty: 30 days parts and labor
Specifications
Cabinet Dimensions
Closed:
20" Wide
39-3/8" Deep
35-1/4" High
Fully Opened:
71-1/2" Wide (With Right Extension positioned)
39-1/2" Deep (With Front & Back Leaf Extensions positioned)
36" High
*Ships and Packaged Fully Assembled
Add the casters and drawer handles
Please review our Freight LTL Shipping Policies
Ships Ground Freight only.
*
For delivery please select options. "Lift Gate" which means a goods lifting platform installed at the rear of the delivery truck that facilitates the unloading of cargo from truck bed to the ground. Most shipments will require a lift gate, if there is not a loading dock, or fork lift available for delivery.
Other Images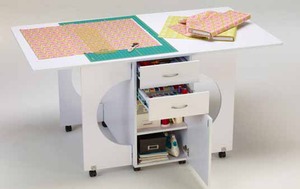 Fully Open Front Side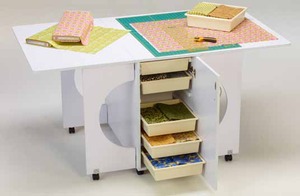 Fully Open Back Side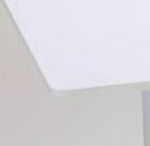 Rounded Corners: The Corners of the top work surface are rounded and finished to prevent fabric from snagging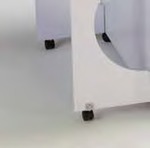 Double Gate Legs for added stability, features lockable rolling casters
Stores easily when not in use Shown in White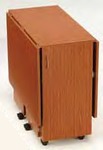 Stores easily when not in use Shown in Teak
Dianne P, Acworth GA
High quality product!

Debbie, Tulsa, OK
I bought the Teak Tailormade Cutting Table. It was delivered today. It's beautiful. I love the compartments to store things and size it is. To be honest I have two Koala sewing machine cabinets which were over $5000.00 dollars total and believe me this Tailormade cutting table is better made and more useful. And was only $799.99 plus tax. This is the best decision I have made in a while.