On Order! Help improve your stitch quality with the straight stitch and needle plate accessory. Perfect for quilting and lightweight fabrics, this accessory will help with even your most challenging projects! Light weight fabrics will not be pushed down the small needle hole in the plate, which can cause jams. .
This straight stitch foot and straight stitch needle plate set helps prevent puckering of fabrics while sewing and is especially useful when sewing with lightweight fabrics. The small hole located in the straight stitch needle plate, along with the straight stitch foot, help prevent your fabric from being pulled down into the feed dogs, thus helping to avoid puckering.
Originally For Use With: Innov-is NQ1300PRW, Innov-is NQ3500D, Innov-is NQ700PRW, Innov-is NQ900PRW
See Videos Using a Straight Stitch Foot with a Straight Stitch Needle Plate to prevent Skipped Stitches and Puckering of Fabrics.
Other Images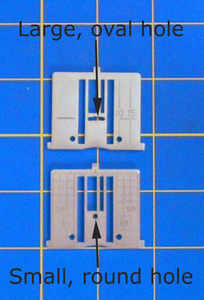 Switch to a straight stitch throat plate. Most sewing machines come with the zig zag throat plate, so you may have to purchase the additional throat plate. You'll know it is for straight stitching, because it has a small round hole instead of an oval. There's one drawback to using this straight stitch throat plate......You MUST use the needle in the center position. If you adjust your needle position to create the perfect 1/4 inch seam allowance, you'll be breaking needles, as the needle will hit the plate instead of the hole. The benefit of using this plate is the hole is smaller. Your needle can't 'push' extra fabric through it and distort your stitches.
Clayton A, Boise ID
Shipped quickly that is a big plus

Shirley S, Cadiz KY
Great for all your sewing needs. Excellent prices. Thanks.