Super Bright light on the go, Flexible neck extends up to 13" high, 24 energy efficient LED bulbs and three levels of brightness so you can choose how much light to shed on a project.

24 LED bulbs, stays bright for 100,000 hours.
3 levels of brightness.
Adjustable light, folds flat!
Includes 3 1/2' USB power cable, but does not include batteries.
Specifications
Light casts bright for approximately 100,000 hours.

If you used this light for 8 eight hours every day, it would last over 30 years.

Simply press the power symbol on the top of the base to choose the brightness you desire.

Easily adjust height to shed light where you need it.

Compact light folds flat for easy transportation. Folded base measures 2-3/4"W x 5"L x 1-3/4"H.

Includes USB power cord; 42" long. Light can also work on batteries.

Requires four AA batteries (not included).*

Lightweight; approximately 6 ounces.

Includes instructions
Other Images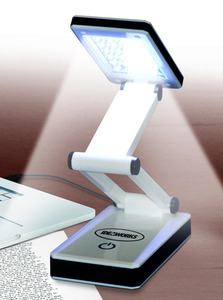 Super Bright FAE6921 Portable LED Desk Lamp, Folds Flat, 24 Bulbs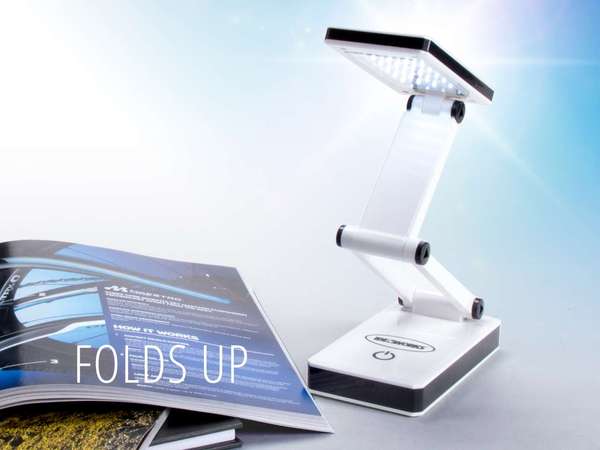 Super Bright FAE6921 Portable LED Desk Lamp, Folds Flat, 24 Bulbs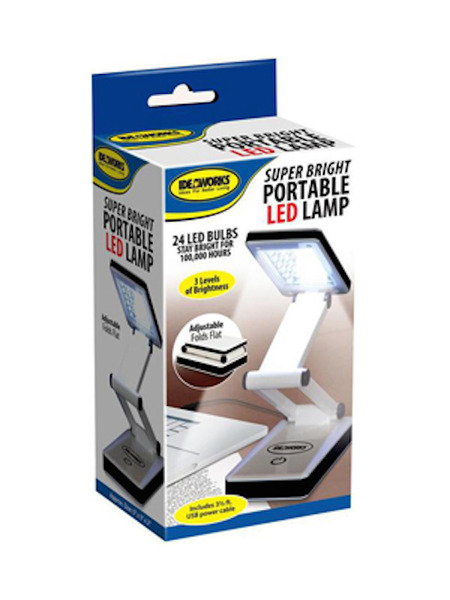 Packaging FOR Super Bright FAE6921 Portable LED Desk Lamp, Folds Flat, 24 Bulbs, 3 Brightness Levels 100,000 Hours (8Hrs/Day = 30 Years) 42" USB Power Cable, AA*
GPC: Home & Garden › Lighting › Lamps › Table Lamps