Comes Unassembled *Please note that our standard White Helmsman table, we have in stock for immediate shipment. The lead time greatly depends on the colors. We have currently in stock black, yellow and blue. Merrow 9/15/20

You can remove the foot pedal at the bottom of the stand for your portable non-industrial sewing machines with built in motor and portable foot control. Helmsman tables do not include a motor for your existing machine so you will have to install your own motor under the table. Foot pedal included can be repositioned on the bar for stand up operation, but not lowered flush with the floor for sit down operation. .

The MERROW HELMSMAN TABLE is the latest portable sewing solution, designed to be easy to self assemble, lightweight, and durable. It is the narrowest table on the market, featuring a frame that is adjustable in height and seated atop locking wheels. It's design makes it both ergonomically friendly and also highly transportable, as it can be adjusted for any location or environment. Additionally, it can be used with an air, clutch, or servo motor. The MERROW HELMSMAN TABLE is an easy way to increase productivity through greater machine mobility and table customization.

The MERROW HELMSMAN TABLE is designed to be the most efficient, reliable, and portable table for all sewing solutions. It accommodates all standard motors as well as air motors, and can be configured for wet environments.

The MERROW HELMSMAN TABLE is an easy way to increase productivity though greater machine mobility and table customization. Additional configurations for wet environments available.
Specifications
Great for Sewing Enthusiasts or Professional Operators; The HELMSMAN SEWING TABLE is a high
quality industrial sewing table designed and Engineered by Merrow. It is a space-saving, rolling table
(24x20x(33-37)), with adjustable height, locking casters, and a versatile wooden table top. The
Helmsman is rated to support 300lbs., and can accommodate most industrial sewing machines and all
motors with a standard 3-bolt mounting set-up. It comes standard with 2-1/2-inch rolling casters.
Length: 20 in.
Width: 24 in.
Height: 33-37 in.(adjustable)
Weight: 55 lbs
Wheel Diameter: 2-1/2 in. (75mm)
Weight Rating: 300 lbs
Table Top Material: Wood
Includes
Table Top

Z-Legs

4 Locking swivel casters

Treadle Rod

Treadle

Belt Guard

Assembly Hardware

Assembly Instructions

Helmsman ships in two boxes:
26 X 20 X 4: 19lbs
34 X 24 X 4: 38lbs

Table media assets & assembly instructions

Other Images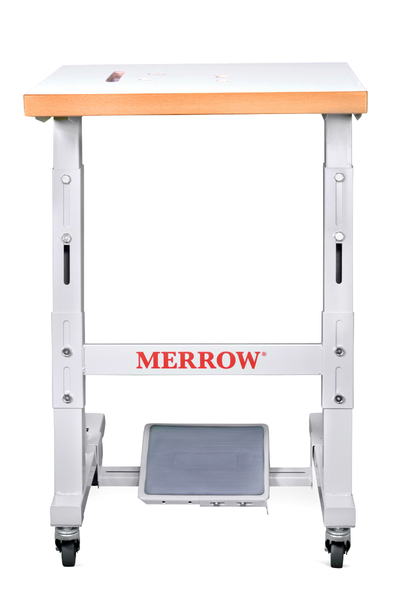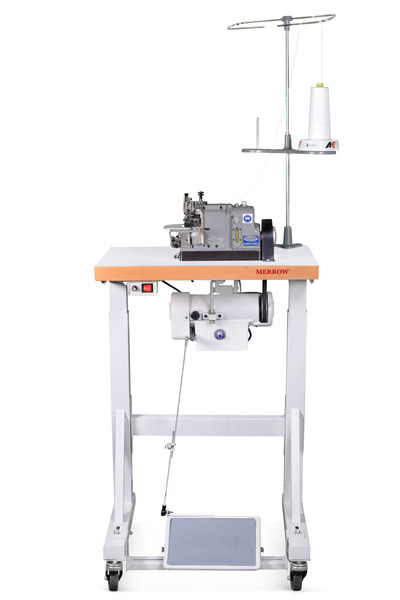 Front View With Optional Merrow Machine Installed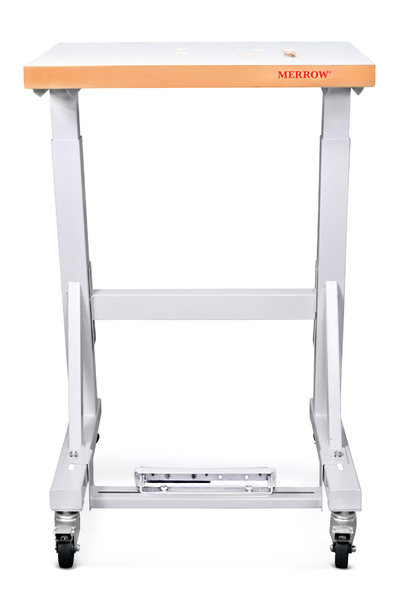 Without foot pedal installed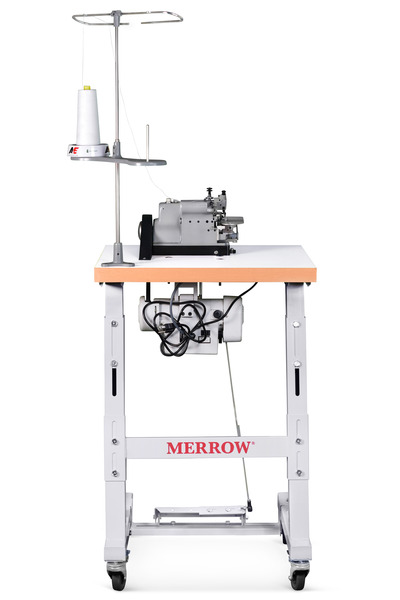 Side View with Optional Merrow machine installed.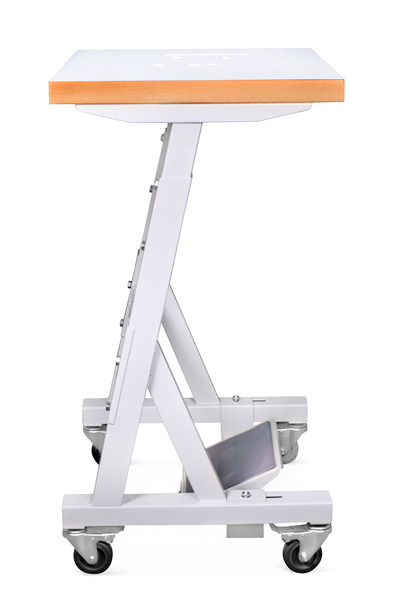 2.5" lockable casters included.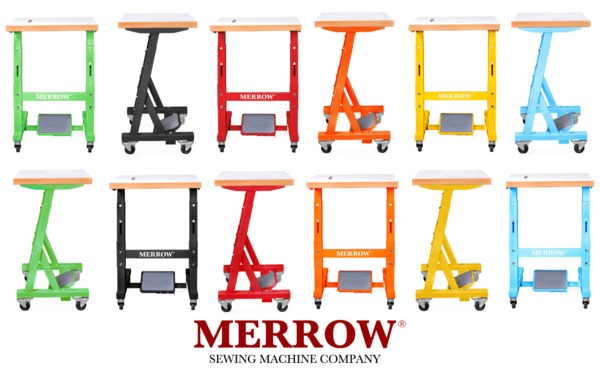 Front and Side views in color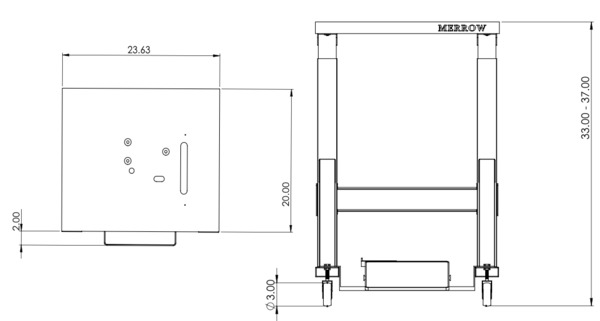 Dimensions: Merrow Helmsman Compact Sewing Table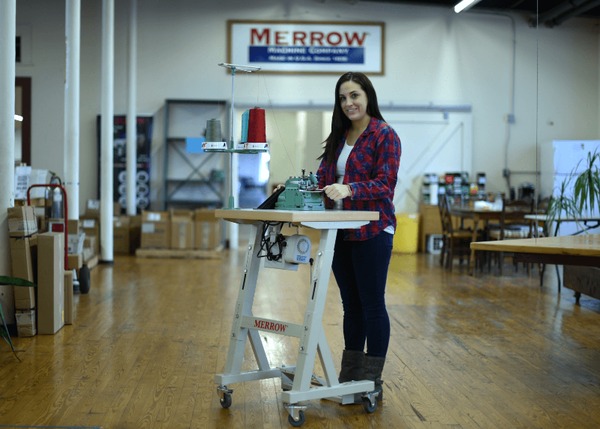 Stand Up Operation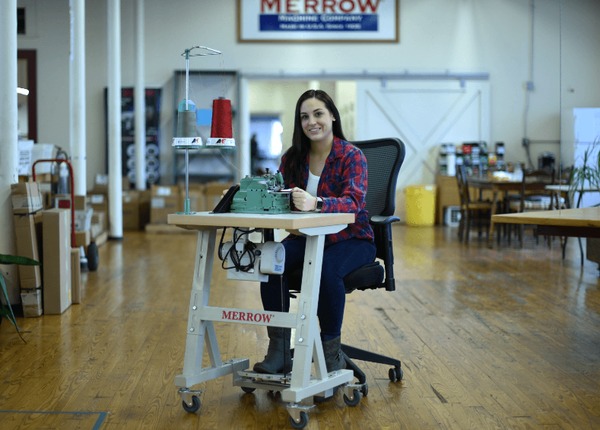 Sit Down Opeation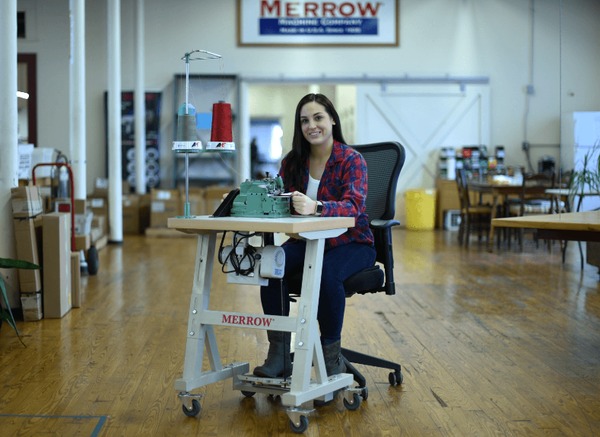 MERROW PROFESSIONAL SEWING COMPACT HELMSMAN TABLE with optional machine, motor and thread stand