360 Degree Multi-Directional Cordless Steam Iron with Ceramic Sole Plate Cordless design allows for free movement and no cord snags. Curved, high-quality Ceramic-coated soleplate with durable, non-stick surface effectively distributes heat and glides smoothly over fabrics. 360-degree multi-directional capability for smooth ironing in any direction. Vertical steam feature de-wrinkles hanging garments. Power 1500W Detachable water tank for easy-filling. Power base features retractable cord reel and heat-resistant carrying case. Limited 1 year warranty.
Say good-bye to the twists and hassles of a power cord and welcome the freedom of cordless ironing with a 1500 Watt steam/dry iron, charging base and carrying case.


Make everyday ironing more effortless with an easy-glide, double-pointed ceramic soleplate for smooth, evenly heated, multi-directional ironing.


As you iron, an adjustable steam button applies the perfect concentration of steam for crease and wrinkle-free ironing on a variety of fabrics.


For safety, the charging base shuts off automatically after 10 minutes if left plugged in and not in use; a retractable reel neatly stores the cord inside the base.


A lightweight carrying case makes it easy to store the iron when not in use; and easily portable for quilters and crafters to bring both iron and charging base to classes and retreats!
US Warranty 1 year limited warranty on defects in materials and workmanship.
Non-US Warranty: 30 days parts and labor
Specifications
Panasonic 360º Freestyle Advanced Ceramic Cordless Iron Tired of getting tangled? Smooth out your ironing process with the freedom of cordless ironing. The unique, double-pointed soleplate allows you to iron smoothly and efficiently in any direction and handles tight spots — think collars and cuffs — like a champ. The expansive surface area is ideal for large fabrics like curtains and tablecloths. Press out the wrinkles in your fabric care routine by going cordless. What You Get Iron with detachable water tank Charging base Cover case Instruction manual Manufacturer's 1-year limited
Q. What is the benefit of CORDLESS iron? Playlist: Part1 CORDLESS, Part2 How to Use: Multi Direction Soleplate, Part3 Safety Functions, Part 4 Steam Functions│Panasonic Cordless Steam Iron NI-WL41
Panasonic NI-WL600 Prior Model Video
Panasonic NI-WL600. You know what I hate most about ironing? The cord that gets in the way, the water that sputters out when you were only trying for steam and the length of time most irons take to heat up and the amount of time it takes to actually do the ironing.
More Videos on Panasonic Cordless Irons
Other Images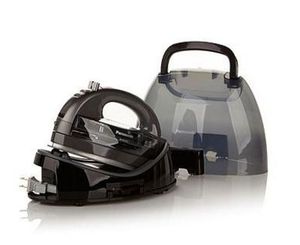 Charcoal Black NIWL602L In Stock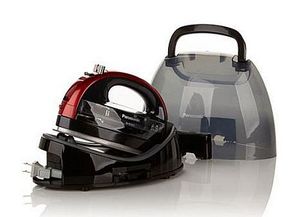 Red NIWL602R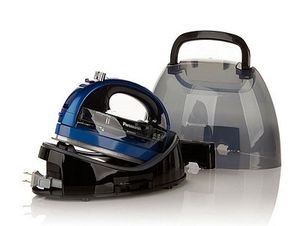 Blue NIWL602A Preorder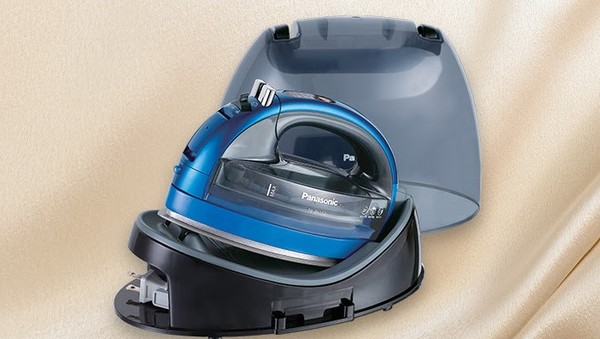 Enjoy the ease and full-featured convenience of cordless, 360° ironing with this distinctive, quick-heating 1500 Watt steam/dry iron. A super-smooth ceramic soleplate sails through wrinkles. Steam and temperature levels are one-button simple, and a lightweight carrying case makes your iron portable, ideal for quilters and crafters.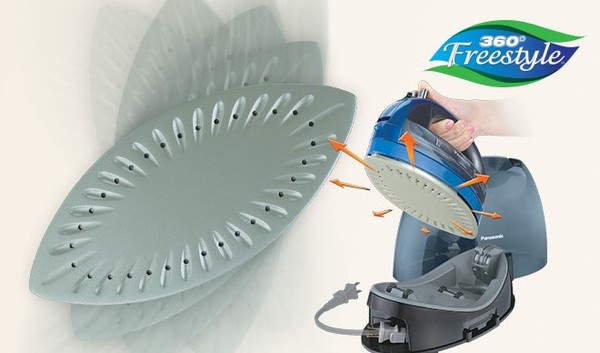 With its smooth, non-stick double-pointed ceramic soleplate, this cordless Freestyle iron moves effortlessly in any direction to eliminate wrinkles and creases from sleeves, cuffs, collars, slacks and more with precision and speed. Ideal for frequent ironing tasks, the iron's super-smooth, non-stick ceramic soleplate evenly distributes heat to the entire soleplate surface to easily handle a range of dry and steam heat settings. It also eliminates static, even at high temperature levels.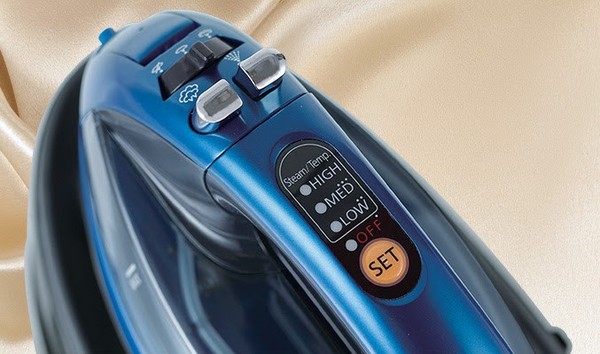 Simply place the iron into the charging base and set the temperature to match the fabric you want to iron. In just two to three minutes, the soleplate is perfectly heated and ready to go. Place the iron back in the base when you pause to shift garments on your ironing board to maintain iron temperature.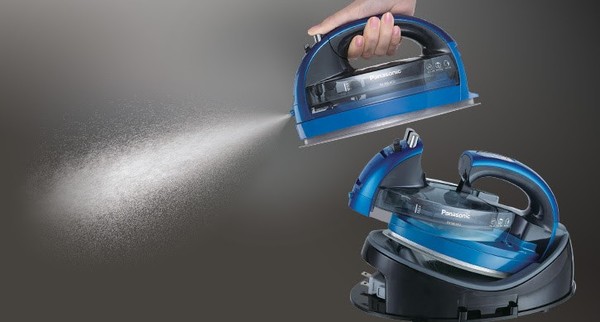 Confidently apply the perfect concentration of steam, or no steam at all, to all your ironing tasks. Set to HIGH for heavier and everyday fabrics, LOW for more delicate fabrics and quick, easy touch-ups or choose DRY for ironing when no steam is needed.

A convenient spray-mist button instantly puts an extra shot of moisture exactly when and where you need it to eliminate stubborn wrinkles from sleeves, collars, trousers and more.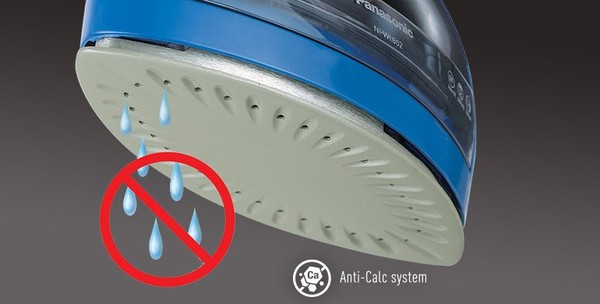 The iron's built-in anti-drip system provides a long-life water seal inside the iron's body to prevent hot, unvaporized water leakage and protect your fabrics from water spotting.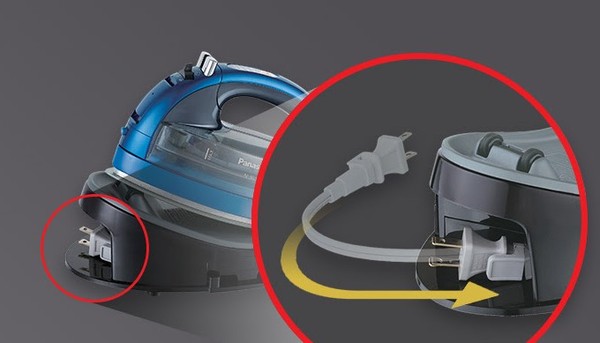 When ironing is finished, the touch of a button on the charging base automatically retracts the power cord inside the base to eliminate tangled, unruly power cord storage.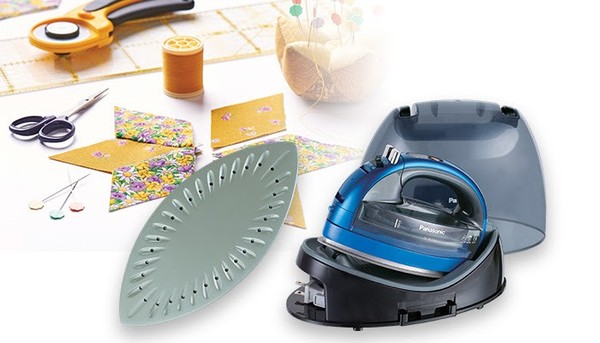 Cordless convenience, double-pointed soleplate and 360° ironing freedom also make the NI-WL602A ideal for quilting, crafting and sewing. The lightweight carrying case and handle let you easily bring your iron and charging base to classes and retreats.
Cheryl B, Mt. Pleasant WI
Received my iron quicker than expected. Price was great!

Yulunda B, Katy TX
I love my iron and will definitely be ordering more items again.

Charlene G, Scarborough ME
I'm going to really like the cordless aspect of this iron. Haven't used it much yet, but I know I'm not going to regret my purchase.




Margaret B, Wayne IL
Excellent service

Maggie K, Bishop CA
I love my iron! It came very quickly...thank you very much!