Use at the ironing board or sewing Machine. Grippy tip for holding fabric. Angled tip for good reach and visibilty. Comfortable in the hand. Heat resistant silicone tip for working near iron while pressing.

Tool School: Hold It Precision Stiletto
Specifications
Use this product at the ironing board or sewing machine. This angled grippy tip gives you a good reach and maximum visibility.
Other Images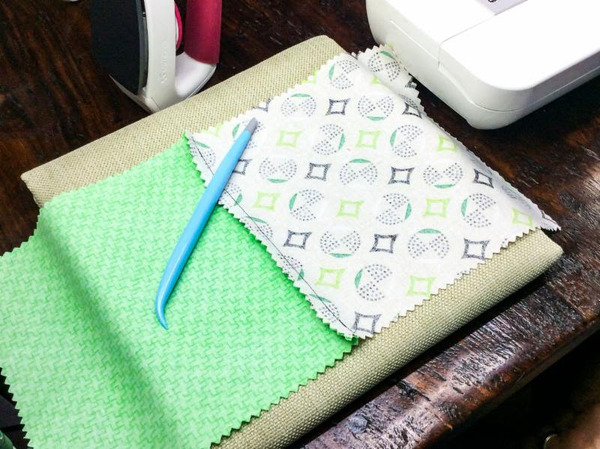 Clover CL7807 Hold It Precision Stiletto, Pointed Tool for Ironing or Sewing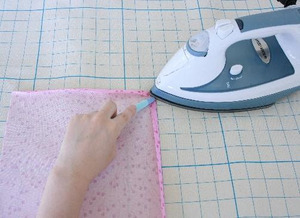 Hold It Precision Stiletto. What is it? So much of what we do in sewing involves detail work. Quilting, fashion, home decor or accessories all are made better when we pay attention to even the most obscure details in the construction process. But this requires more than just paying attention. It means all of those little points, folds, creases or seams have to be perfect. Unfortunately when we're sewing or pressing these details into place our fingers often go into harm's way. Proximity to sharp needles and hot irons can be a real creative buzz kill. And even if we can save our fingers from perforation or pressing, they often obstruct our view of the sewing field and those all important details. But do not despair. Necessity is the mother of invention and over time we've developed "pointy" little instruments that substitute for our fingers. A tailor's awl, crochet hooks, knitting needles, nail files, tips of tweezers, tapestry needles or even chop sticks enhanced with a pencil sharpener (really) have been used. They all perform some function (sort of) but nothing to really write home about. In an effort to enhance your creative process, Clover has developed the ultimate fabric manipulation tool to support any sewing or pressing functions that we might need to implement. We call it the Hold It Precision Stiletto.

What does it do?- At it's very essence a sewing stiletto simply keeps us from getting our fingers where they shouldn't be, in the path of an approaching sewing machine needle or right next to a hot iron. Clover's Hold It Precision Stiletto is designed to do just that and so much more. Constructed with a unique polymer resin it is both strong and heat resistant. It is designed to be held comfortably in your hand. One end has a sharp, curved tip to allow easy fabric manipulation without obstructing your field of view. The other end has a silicon coated "grippy" tip beveled at the precise angle to enhance the friction that holds those detailed pieces in place as they are pressed into shape. Using the Hold It Precision Stiletto we can position our fabric perfectly when sewing. This is especially useful when we're sewing blocks together and need to make sure seam allowances lie flat as they feed under the presser foot, or when we can't or don't want to use pins to hold our fabric in place or when we're sewing tiny blocks or when we're manipulating pleated trims or when we're matching fabric patterns or accomplishing any number of other sewing functions. Same for the pressing station. Because we can hold our fabric with precision while pressing, we can press open seams or press in points, creases. folds or other shapes quickly and correctly the first time. No time consuming "do over's" an no burns.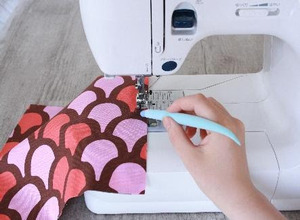 How do I share it?- Clover's Hold It Precision Stiletto allows us to manipulate our fabric right up to the point of the needle or right next to a hot iron. It is unique among all sewing stilettos because of its versatility in design and construction. It does it all. In-store demonstrations and classes featuring the implementation of this valuable tool will make fans of everyone. This is truly one of those tools that having used it you will wonder how you ever did without it. Visit www.clover-usa.com to download free project sheets.