*Financing Available*
*Up to 48 Months Bernina Credit Card Fixed Payment No Interest Financing with approved credit!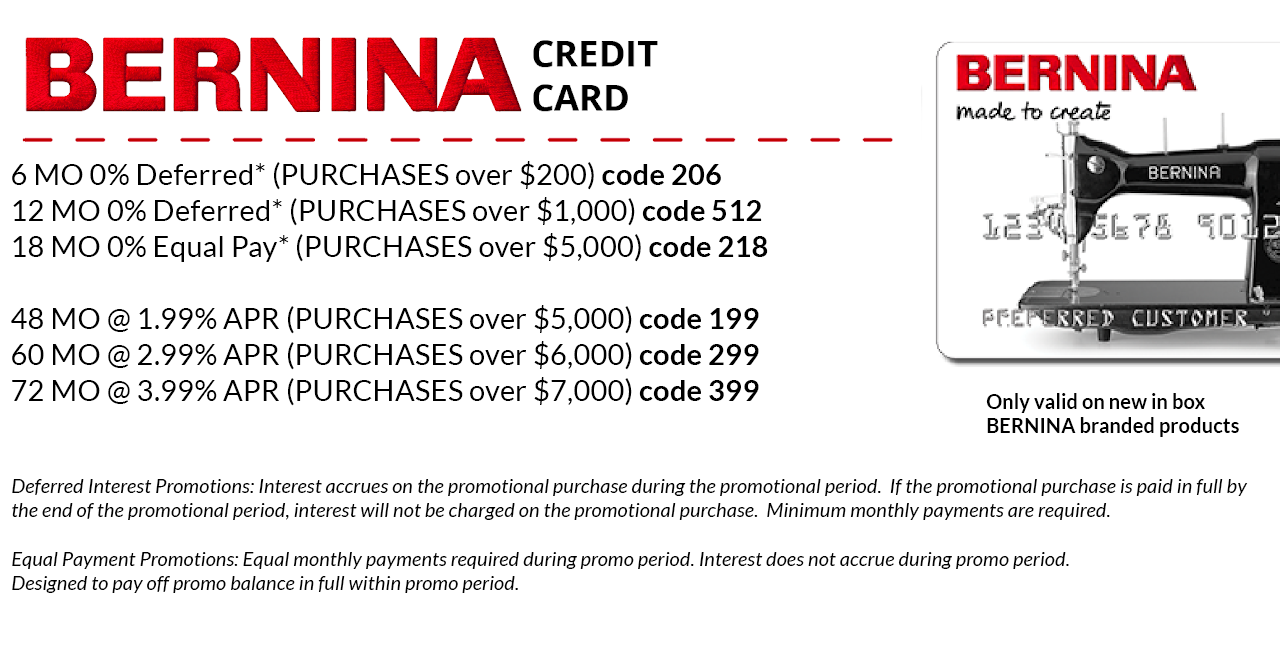 Click HERE to Apply Online.
Download Bernina ARTlink 9 here
BERNINA 770 QE E
Perfect for Sewists, Quilters & Embroiderers
Handle large quilts with ease
Precise and perfect stitches
Patchwork foot 97D included
Enjoy superb fabric feed
Embroidery capable
Specifications
Quilting stitches total: 74
Large Embroidery Module (SDT): optional
Maximum sewing speed (stitches per minute): 1000
Sewing space to the right of the needle: 10" / 254 mm
Color touch screen: 7" / 18 cm
BSR 3 mode (basting)
Start/stop button (stitching without foot control)
History function (most-recently-used stitch patterns)
Included Accessories
Bernina Stitch Regulator (BSR)
Reverse Pattern Foot #1C
Reverse Pattern Foot #1D
Buttonhole Foot with Slide #3A
Zipper Foot #4D
Open Embroidery Foot #20C
Freearm Slide-on Table
Bernina Accessory Box
4 Bobbins (one of them in the sewing computer)
2 Foam pads
Soft Cover with pocket
3 Spool discs
Seam ripper
Height compensation tool
Selection of needles
Angular Torx wrench
Screwdriver Torx, gray
Screwdriver red
Brush
Lubricator
Power cable
Foot control
Other Images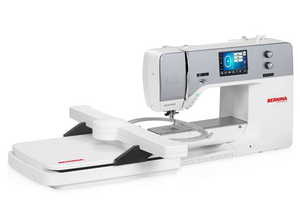 Bernina B770QE +E PLUS Sewing Machine and Optional Embroidery SDT Module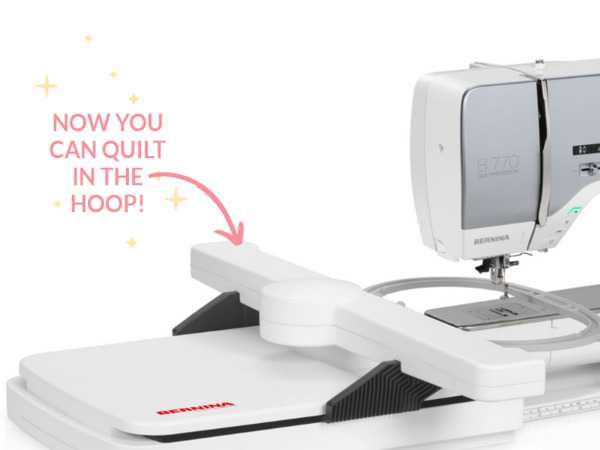 Optional Embroidery Module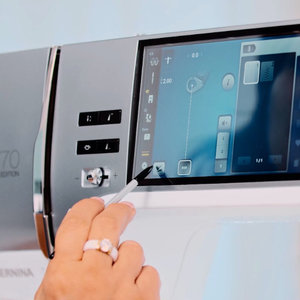 Reduce quilting fatigue with KickStart
• Relax your foot for more comfortability
• Easily control the start/stop function
• Perfect when quilting for long periods of time
The KickStart function allows quilting in a continuous sewing mode without having to keep constant pressure on the foot control. The function can easily be activated or deactivated on the touch screen.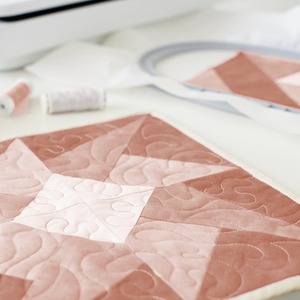 Quilting in the hoop
• Create quilt patterns through embroidery
• 275 embroidery designs
• Eight embroidery fonts
Browse through the unique, built-in design collection, complete with beautifully patterned quilt blocks and continuous line quilting designs all done in embroidery. Furthermore, the B 770 QE PLUS includes 275 embroidery designs and eight embroidery fonts.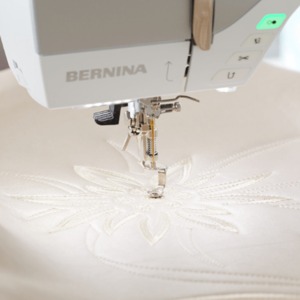 Pinpoint Placement and Lock function
• Place your embroidery design exactly
• Lock your designs during positioning
• Professionally positioned designs
Place your embroidery design on the fabric exactly where you want it quickly and precisely. The new Lock function will help maintain the size of the design while you position it.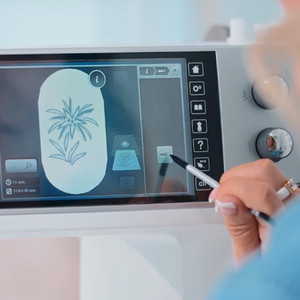 Group/Ungroup and rearrange designs
• Group or ungroup designs
• Rearrange designs
• Both functions can be combined
Combine embroidery designs to edit all at one time with the Group feature. Break apart designs to edit individually using the Ungroup feature. Change the stitch out sequence of design layers. Use Rearrange in combination with Group and Ungroup for further editing possibilities.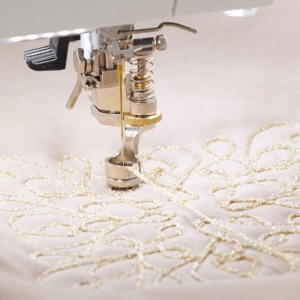 Beautiful couching
• With the Rulerfoot #72 / #72S
• And the Couching Inserts
• Easy to use in the hoop
The Adjustable Ruler Foot #72 / #72S can now be selected while embroidering with Couching Inserts. The possible embroidery area will adjust accordingly. These accessories are optionally available.