*Financing Available*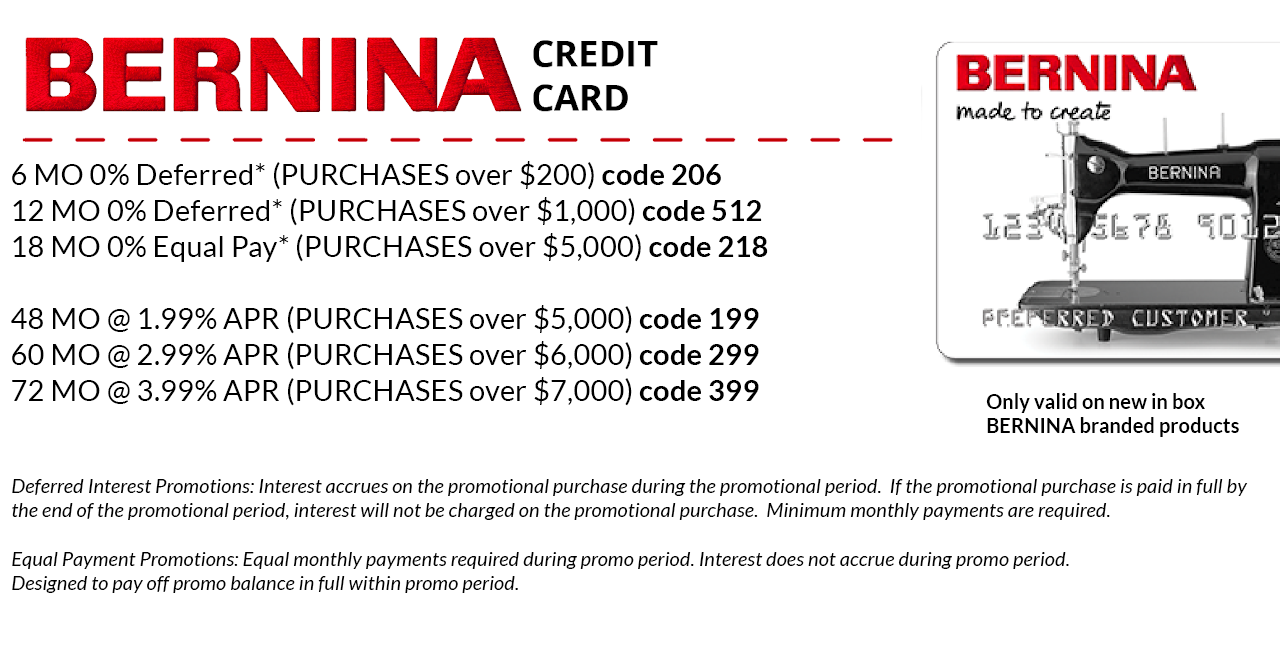 Click HERE to Apply Online.
here
Compare Bernina machines here
Click here to view the Bernina comparison sheet
The BERNINA 740 is a sewing machine packed with BERNINA's best features, including an updated user interface and a 4.3-inch high-resolution color touch screen that shows stitches on screen in actual size. Additionally, the B 740 comes standard with five full shank BERNINA presser feet, 241 stitches, and memory for four personal programs. It's also compatible with the optional BERNINA Stitch Regulator (BSR).
BERNINA 740 Comfortable sewing and embellishing
BERNINA Hook with 9 mm stitch width

BERNINA Adaptive Thread Tension

BERNINA Dual Feed

Total Stitch Control

Simple, modern operation

BERNINA 740: The best technology for sewing and quilting.
Feature packed and fabulous! The BERNINA 740 combines innovative functions and features with an extra-large work area and intuitive touchscreen control. The extended freearm offers 254 mm of space to the right of the needle, and the fast and quiet BERNINA Hook sews high-precision stitches up to 9 mm in width. The bobbin holds up to 70 % more thread than standard bobbins, and thanks to the integrated BERNINA Dual Feed, hard-to-manage and fine fabrics, or multiple layers, can be used seamlessly to achieve extraordinary results.



Tutorial on the BERNINA 740 and 770 QE: Sewing with Dual Feed. The BERNINA Dual Feed – one of the smartest and most helpful features you'll find on the BERNINA 740 and 770 QE. In this tutorial we will show you what this clever helper can do. With simultaneous upper and lower fabric feeds, the Dual Feed allows for precise seam tracking and guarantees accurate results, even with multi-layer, extra-thick or difficult to move textiles.

The video instruction clearly shows you how to use it during patchwork or quilting work. It also shows how to successfully handle sewing work when accuracy is crucial, for example when you have to handle patterned fabrics. With multiple fabric layers, the BERNINA Dual Feed feature prevents the individual layers from shifting against each other, even with slippery or badly moving materials such as leather, viscose, silk or elastic. You will be astounded at just how easy and convenient sewing can be with the Dual Feed.
US Warranty 25 years head, 5 years electronics, 1 years labor
Non-US Warranty: 30 days parts and labor
Included Accessories
B740 SEWING ONLY:
5 Presser Feet:
 Reverse Pattern Foot #1C
 Reverse Pattern Foot #1D
 Buttonhole Foot #3A
 Zipper Foot #4D
 Open Embroidery Foot #20C
Additional Accessories
 Instruction Manual
 Power Cord
 BERNINA Foot Control
 Free Hand System
 Slide-on Table (no guide)
 Soft Cover
 Accessory Wardrobe
 1 Pkg. Asst. Needles
 Height Compensation Tool
 Seam Guide Right
 Torx Screwdriver (Gray)
 Angular Torx Screwdriver
 Small Screwdriver
 Touch Screen Pen
 Oiler
 6 Bobbins
 Seam Ripper
 Lint Brush
 2 Foam Pads
 3 Spool Caps
Other Images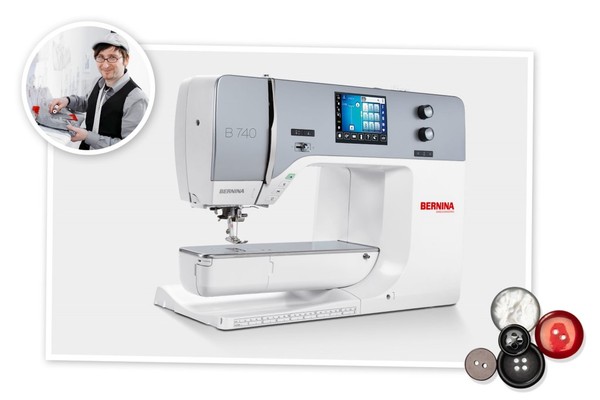 BERNINA 740 – comfortable, intuitive and inspiring. The BERNINA 740 makes sewing dreams come true. The BERNINA 740 won over Swiss designer Mathias Ackermann right from the start: "Working with a BERNINA has an inspirational effect on my designs. I love working with the BERNINA 740, and not just because of its well-engineered technology. Features such as the threader and the BERNINA Stitch Regulator thrill me to bits. What's more, its versatility inspires me with new ideas, and its user-friendliness is simply brilliant. It also sews the finest fabrics, effortlessly"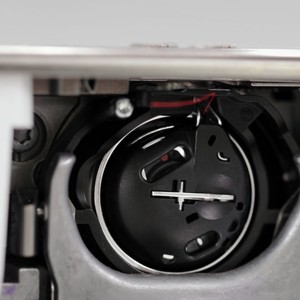 The BERNINA Hook. The heart of the BERNINA 7 Series features a novel, centrally placed driver, which allows the BERNINA Hook to run fast yet quietly. The BERNINA Hook sews high-precision stitches up to 9 mm in width with speeds up to 1,000 stitches per minute. The bobbin holds up to 70% more thread than standard bobbins allowing you to sew longer without interruption.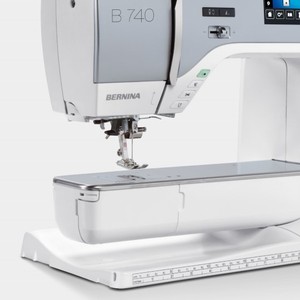 Extended Freearm for Big Projects. The BERNINA 7 Series boasts a meticulously engineered extended freearm with 10 inches of working space to the right of the needle. Not only does the BERNINA 740 provide plenty of room for large sewing projects; with its 9 mm stitch width, it's also ideally suited for beautiful decorative stitching. Small sewing jobs such as inserting zippers are completed flawlessly. And as your ambitions grow, the BERNINA 740 can be further upgraded with a wealth of optional accessories. For instance, add the BERNINA Stitch Regulator (BSR), which guarantees consistent stitches when free-motion sewing and quilting (with the feed dog lowered) no matter how quickly you move the fabric.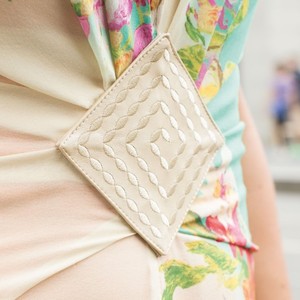 Total Stitch Control. All BERNINA 7 Series models provide an exclusive level of stitch control. Whether altering the stitch length, stitch width or needle position, the machine will remember the stitch details for you. Your personal settings can be saved and retrieved at will—and the USB connection even allows you to import and export stitches and stitch patterns or combinations.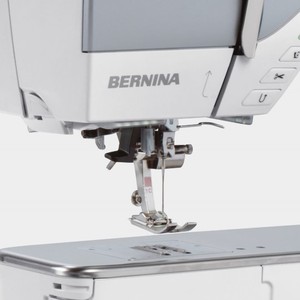 Semi-automatic needle threader. The BERNINA 740 responds to your needs. The presser foot automatically lowers at the start of a seam and lifts at the end. The machine will cut the thread for you at the end of your seam or color change. Also included is a practical extension table with ample space to hold your larger sewing projects.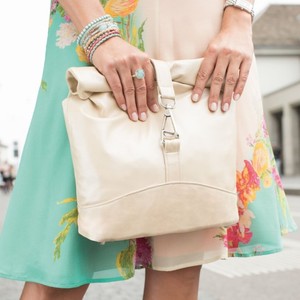 BERNINA Adaptive Thread Tension. The BERNINA Adaptive Thread Tension, a BERNINA innovation, provides ideal thread tension while sewing to achieve perfect stitch quality on both sides of the fabric. Once the tension is set according to the thread and fabric used, BERNINA Adaptive Thread Tension will constantly check the thread tension, adjusting it automatically if needed. It produces excellent sewing results, all achieved without even pressing a button.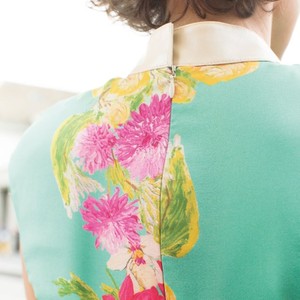 BERNINA Dual Feed. The innovative BERNINA Dual Feed tames hard-to-manage fabrics providing superb fabric feed and optimum visibility while sewing. Easy to engage when needed, the BERNINA Dual Feed tucks completely out of the way when it's not.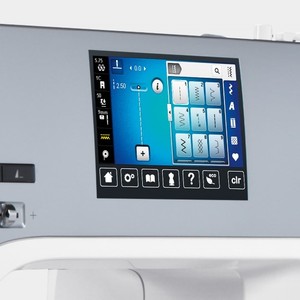 New user interface. User-friendly features and intuitive navigation: the Sewing Consultant and built-in tutorials offer direct onscreen support and instant answers to your questions.

Bernina Financing Available