Bundle & Save
Get additional savings when you purchase any of these items along with this product.

Add 3/8" to 1.5" wider gauge between for $500 more than 1/4" standard gauge (Machine Like Juki LG-158 at $11999 which is only Single Needle 30" Long Arm Walking Foot Industrial Sewing Machine)
Includes Safety Clutch for Retiming, 3/4" Presser Foot Lift, .25/64" Maximum Stitch Length, Big M Bobbins for Lockstitches not Chain Stitches, Power Stand 1500SPM
Extra 7x3, (DYx3) Organ Regular Industrial Needles Box of 100 - Specify Machine Brand Model & Needle System # - Choose ONE Size Only per Box
Extra Heavy Duty, Double Needle, Drop Feed, Needle Feed (compound Feed), Alternating Presser Feet Lockstitch Machine
With: Extra Large Bobbins And Vertical Axis Hooks, Centralized Arm Lubrication, Reservoir-oiled Hooks With Micrometric Control Valve, Presser Foot Locking Lever, Push Button Stitch Regulator, Reverse Feed, Safety Clutch, Built-in Bobbin Winder, Front Handwheel, Puller (Optional), One Piece Upper Casting, Easy To Convert Between 1 And 2 Needle
1500 Stitches Per Minute

30" Arm

Clearance Under Foot: 25/32"

Needle Bar Stroke: 1-27/32"

Stitch Length Maximum: 25/64"

Compound Feed, Walking Foot

Presser Foot Locking Lever

Built in Bobbin Winder

Heavy Duty Top Shaft

Includes Table, Stand, Motor

Applications:

Suitable for sewing extra heavyweight materials such as canvas, vinyl, leather, synthetics and various coated, laminated and rubberized fabrics.
Designed for stitching such products as tents, tarps, awnings, truck covers, auto, marine and furniture upholstery, sails, matting, carpets, polishing wheels, mops, luggage, construction barriers, field covers, divider curtains, fabric structures and heavy bulky products.
Suitable for stitching double seams and lap seaming.

Features:

Compound feed, walking foot mechanism insures positive and even feeding of the material.
Safety clutch protects the hooks from being damaged in case of accidental strain
Reverse feed operated by foot pedal
Centralized arm lubrication
Reservoir-oiled hooks with micrometric control valve
Presser foot locking lever
Built-in bobbin winder
Push button stitch regulator
Extra heavy duty top shaft with four ball bearings for support
Extra large bobbins and vertical axis hooks for use of heavy thread; also allows for long operation between bobbin changes
High lift
Front handwheel (on 30" arm) allows for easy positioning of the needle(s)
745RP is available with optional factory-installed, bottom driven, feed-synchronized puller. Puller mechanism is completely concealed and does not restrict work space.

US Warranty 90 Days labor on defects in materials and workmanship.
Non-US Warranty: 30 days parts and labor
Specifications
1500 stitches per minute

Compound feed, walking foot mechanism insures positive and even feeding of the material

Safety clutch protects the hook(s) from being damaged in case of accidental strain

Reverse feed operated by foot pedal

Centralized arm lubrication

Reservoir-oiled hook(s)( with micrometric control valve

Presser foot locking lever

Built-in bobbin winder

Push button stitch regulator

Extra heavy duty top shaft with four ball bearings for support

Extra large bobbins(s) and vertical axis hook(s) for use of heavy thread; also allows for longer operation between bobbin changes

High lift

Front hand-wheel (on 30" arm) allows for easy positioning of the needle(s)

744RP/745RP are also available with optional factory-installed, feed-synchronized puller. Puller mechanism is completely concealed and does not restrict work space

Clearance under foot: 25/32"

Needle bar stroke: 1-27/32"

Stitch length maximum: 25/64"

Needles: 7x3, (DYx3)

Metal bobbins: 70141

Hook: 70140

Standard needle spacing: 1/4"

Stitch type: 301

Suitable for sewing extra heavyweight materials such as canvas, vinyl, leather, synthetics and various coated, laminated and rubberized fabrics.

Designed for stitching such products as tents, tarps, awnings, truck covers, auto, marine and furniture upholstery, sails, matting, carpets, polishing wheels, mops, luggage, construction barriers, field covers, divider curtains, fabric structures and heavy bulky products.

Model 745R suitable for stitching double seams and lap seaming

Specifications
Number of Needles 2 (Double)
Feeding Mechanism Walking Foot
Workspace Long Arm
Standard or Full Function Standard Functions
Speed, Max (S.P.M.) 1500
Clearence Under Presser Foot 25/32" (20mm)
Stitch Length 25/64" (10mm)
Work Space 20" (508mm)
Needle 7x3 (DYx3)
Bobbin 70141
Bed Size 33 5/16" x 9 1/16" (846mm x 230mm)
Stitch Type 301
Hook 70140

For comparison purposed Sew Pro 745-30 long arm double needle walking foot, jumbo bobbin. double needle long arm walking foot sewing machine without puller feed. Shows optional air foot lift, auto reverse pedal and needle positioner not included with Consew 745-30P basic mechanical model .
Great for sewing tarps, tents, large covers, extra large bobbin


Please review our Freight LTL Shipping Policies
Other Images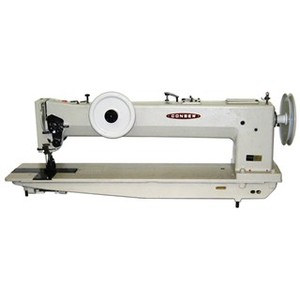 Overview Extra Heavy Duty, Double Needle, Drop Feed, Needle Feed (compound Feed), Alternating Presser Feet Lockstitch Machine With: Extra Large Bobbins And Vertical Axis Hooks, Centralized Arm Lubrication, Reservoir-oiled Hooks With Micrometric Control Valve, Presser Foot Locking Lever, Push Button Stitch Regulator, Reverse Feed, Safety Clutch, Built-in Bobbin Winder, Front Handwheel, Puller (Optional), One Piece Upper Casting, Easy To Convert Between 1 And 2 Needle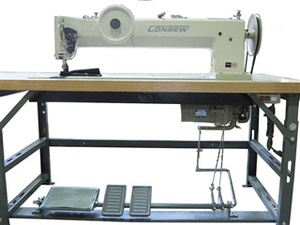 With Power Stand