Original Juki Aluminum Bobbins For Juki TL-2200QVP Long Arm Quilting Machines.

Juki part # D9117-141-E00

Juki.com charges $4.50 retail price per bobbin online at https://www.juki.com/partstore/products.php?product=D9117141E00

Large capacity M size bobbins.

Bobbin size : 1" diameter X 3/8" thick (25.5mm X 10mm)

Genuine Juki part.
Other Images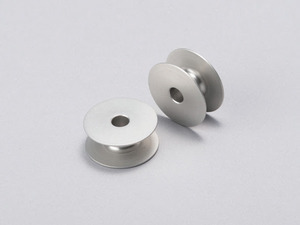 Juki M Size Bobbins (Part no. D9117141E00) M size bobbins for a double capacity hook made from solid aluminum.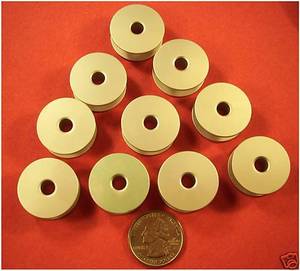 About the size of a quarter.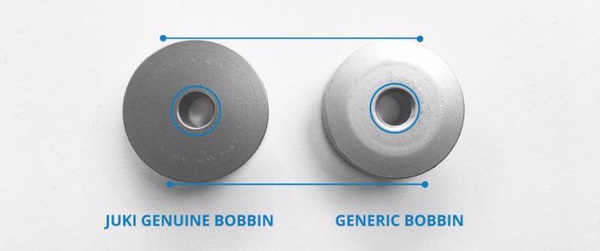 A Full-proof Tip That Will Change Your Quilting Experience! There are a number of companies that create "generic" or "universal" bobbins and while these bobbins might look identical, they have differences in size, weight, and shape that may cause issues while you sew or quilt. We will be comparing a genuine JUKI "M" style bobbin for the TL-2200QVP versus a longarm generic bobbin. In this image, the center hole is too large for the bobbin winder making it difficult to wind properly. Additionally, because the bobbin center hole is too large and the generic bobbin is smaller in size, this means that the generic bobbin will not fit correctly in the bobbin case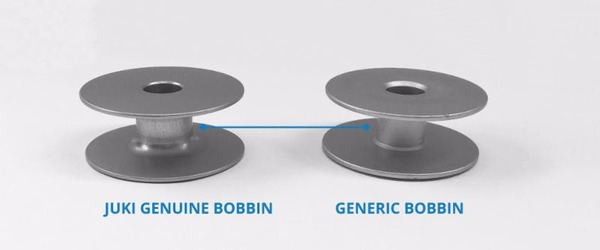 In this image, the generic bobbin has an inside core that is straight and not concave like the genuine bobbin affecting the way the thread winds. Having genuine bobbins ensures less issues with your tension and stitches creating a smoother quilting experience!
Donna H, Ft. Collins CO
Difficult to get Juki products for Miyabi since my vendor went out of business.

Dee L, Redding CA
I've purchased different items from Allbrands before and have always been satisfied.

Chris T, Inver Grove Heights MN
Didn't deal with customer service. Shipping slow by Amazon standards. The best price I found. Thanks