* Synchrony Bank Sewing & More Fixed Payments 0% No Interest Financing with approved credit!
Click HERE to Apply Online for Synchrony Bank Sewing and More Credit Card Approval to use for Online Checkout or in AllBrands stores

LAURASTAR 2 YEAR LIMITED WARRANTY FOR USA
Laurastar Lift Xtra 1980 revolutionizes ironing and steaming. Coated in a simple and elegant matte gold, this new generation 3-in-1 steam generator irons, steams and disinfects clothes. No more need to adjust the temperature, and the iron's 3D soleplate allows you to avoid creases! With a unique design and exceptional steam, ironing becomes easier than ever.
Elimination of germs that resist to 30 and 40C wash cycles and prevention of allergies thanks to the Laurastar dry microfine steam.

You can iron on a board or steam directly on a hanger

Perfect results in a single movement for all fabrics and colors thanks to a professional iron

No more creases thanks to the 3D soleplate

East to put away, easy to move around and ready in 3 minutes thanks to its unique ergonomics

No longer any need to adjust the temperature

DRY MICROFINE STEAM
Laurastar DMS guarantees you a perfect result in half the time, treating fabrics gently by delicately plumping them and providing a hygienic effect at the heart of fibres that kills 99.9% of bacteria and viruses, and 100% of dust mites* through the simple act of ironing: Performance, care and hygiene thanks to steam that doesn't leave your clothes wet and works 15 times faster than steam from standard steam generators.

*tests carried out by 3 independent laboratories certified ISO 17025

ACTIVE 3D SOLEPLATE
To ensure your clothes remain beautiful, Laurastar created the 3D active soleplate.
An exclusive feature that offers unrivalled ironing in a single movement, thanks to the surface of the soleplate that holds the fabric in place while steam is distributed over its entire surface to effortlessly eliminate creases.
The fibers are thoroughly refreshed.

PULSE STEAM
Laurastar is not content to rest on its laurels. Although acknowledged around the world as the Swiss specialist in ultra-fine and powerful steam, Laurastar never stops innovating.
Laurastar's latest high-end models are equipped with pulsed steam, the ultimate finishing touch to take care of your clothing.
Diffused through a series of bursts, pulsed steam ensures an optimum amount of steam for perfect results, regardless of the color or fabric of your clothing.

SINGLE TEMPERATURE
After having conducted studies in our laboratories, we have determined the ideal temperature for ironing. No more adjustments! Your Laurastar Smart or Lift Xtra will automatically reach the ideal temperature for all of your fabrics.

REMOVABLE WATER TANK
You'll be able to add water without interrupting your ironing.

CABLE REWINDER
No more cables cluttering up the floor! With the automatic rewinder, the cable can be stored away with ease.

SAFE STORAGE SPACE
The iron's storage space is heat resistant, allowing you to put away your iron while it's still hot, immediately after you've used it.





HOW TO OVERRIDE the dual shut off option, i.e., allows auto shut off feature to be turned on or off. Hold the power switch when turning the system on for about 5 to 10 seconds. The power button should blink to indicate it has been over ridden. I am not sure which model she has but the serial number indicates if it is on lift/system with this feature it should be one with this feature.
US Warranty 2 Year Limited Warranty
Extended US Warranty: Extended Warranty Available
Non-US Warranty: 30 days parts and labor
Specifications
GENERAL FEATURES
Constant steam pressure, 3.5 bars

Unlimited autonomy while ironing.

Device power: 2200 W.

Steam ready light.

IRON

Aluminum iron soleplate, brushed finish.

Iron rest.

Iron weight: 1 kg.

WATER TANK

Tank capacity:
1.1 liters

Visible water level.

Tank empty light.

Tank handle.

ANTI-SCALE TREATMENT

Anti-scale system.

Filter cartridge.

DIMENSIONS AND WEIGHT

Dimensions (H x W x L): 45 x 28 x 28 cm

Length of electric cable: 2.3 m

Length of steam cord: 1.95 m

Total weight: 5.5 kg

ACCESSORIES

Anti-scale filter

Water tank

Protective soleplate

Special insulating mat

Steam cord holder


Included Accessories
Water tank

Heat resistant iron mat

Steam cord holder

All accessories marked.
No Returns.
Other Images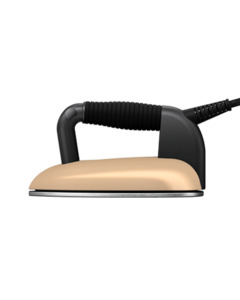 Single, ideal, temperature for ironing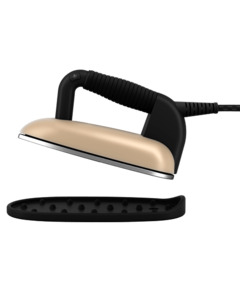 Dry microfine steam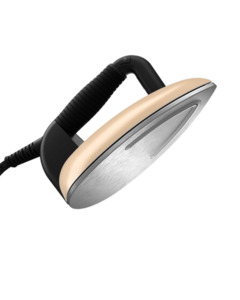 Active 3D soleplate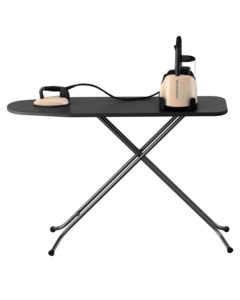 Iron on a board or steam directly on a hanger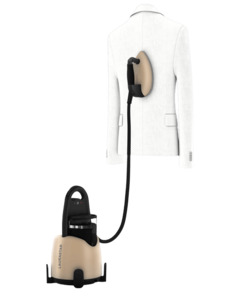 Iron on a board or steam directly on a hanger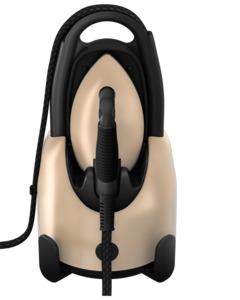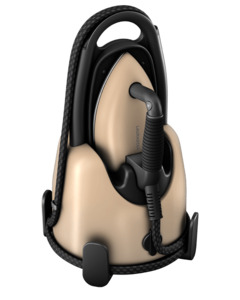 LauraStar LIFT Xtra New1980 Special Edition 3-in-1 Steam Generator Iron, Matte Gold, irons, steams and disinfects clothes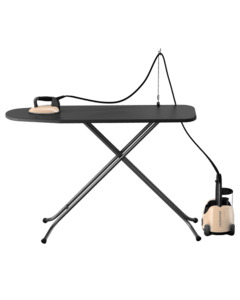 Use on your ironing board
Bundle & Save
Get additional savings when you purchase any of these items along with this product.