US Warranty 30 days replacement if defective.
Non-US Warranty: 30 days parts and labor
Specifications
Gracie Laser Stylus:
Pattern tracing is easier than ever before with the Gracie Laser. Compatible with current Grace frame carriage handles.
The Gracie Laser can easily be attached to the front or back of your frame's carriage and is battery powered so you won't have cords getting in the way!
It is fully adjustable, has swivel movement and comes with four different laser tips to control the size of your tracing laser.
Please click here for assembly instructions
(.pdf)
Laser Light can follow patterns on a roll or the fabric designs of an existing fabric quilt. Universal swivel mount can be positioned at any angle on the machine or frame.
The Gracie Laser is the latest in a line of quality accessories to enhance your quilting experience.
No cords to hang you up

Position the stylus at any angle with the universal swivel mount

Easily compatible with your quilting frame

Follow patterns on work or fabric surface

Extended hours of use (runs on two AA batteries).

Comes with 1mm, 1.5mm 2mm, 2.5mm size tips to give you a variety of point sizes.

Attaches to the front OR back of your frames carriage

Locking swivel to position the stylus at any angle




Other Images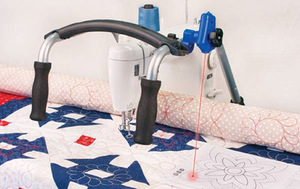 Grace Gracie Battery Power Laser Light Stylus Pointer to Follow Patterns, is ideal for placement on front or rear handles for domestic portable home sewing machines.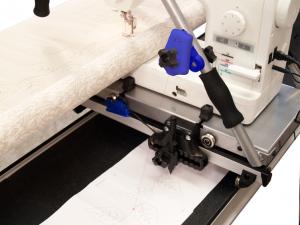 Showing laser light mounted at rear of machine to follow patterns on table.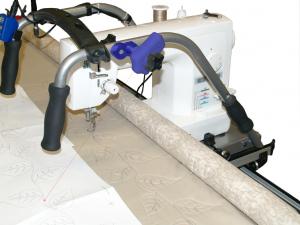 Laser Stylus can be attached to front or rear handles on either side of your machine.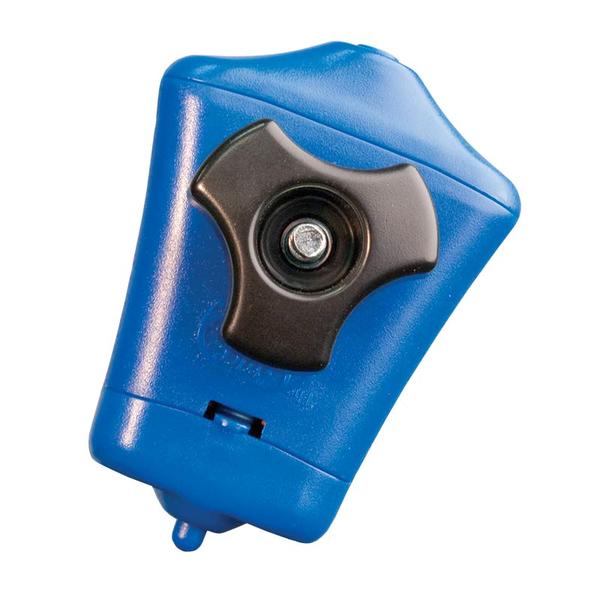 The Gracie Laser can easily be attached to the front or back of your frame's carriage and is battery powered so you won't have cords getting in the way! It is fully adjustable and even has the capability of swivel movement. It comes with four different laser tips to control the size of your tracing laser.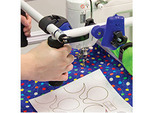 Gracie Laser Stylus. 1. Versatile: Attaches to the front or back of your frame carriage. 2. Battery Powered: No cord to get in the way 3. Locking Swivel: To position stylus at any angle 4. Laser Tips: To control the size for pinpoint accuracy
Sandie H, Sault Ste Marie ON
Ingenious design. Materials used appear low quality. Hopefully the laser light will operate for a long time. So happy that you put this product on sale. I have been watching it for over 5 years and this was a he first time a sale on it was offered!

Mario A, Chicago IL
Fast shipping and the free shipping sealed the deal. Haven't had a chance to assemble but checked boxes and seems to be okay. I did use your online chat with a billing question and they were very helpful. Looking forward to future purchases.

Dotti O , Union KY
I'm so impressed with All Brands and my Grace SR2 quilting frame. My only issue was I did not get notification that it shipped; but I received it faster than I imagined, so it is by no means a complaint.

Sandy C, Victor MT
Got my replacement end pieces and all is good. Have sewn two small lap quilts on it and I absolutely love both the frame and the machine from Grace...thanks so much for all your kind help!

Berthalyn M, Turkey Creek LA
I purchased this through the Lafayette Store. The staff their was awesome!

Jan Z, Darby MT
I was very impressed with service and customer service. I could not ask any better. And will be doing more business with you. Thank You

Jack, Kentucky
You are doing good.

Laura, Indiana
I am happy.

Mary, Illinois
I give your service and website an A-plus!

VJ, New Zealand
I'm a first time customer living in New Zealand and am very impressed with Allbrands.com so wouldn't hesitate to use again in the future. :)

Maryann, Connecticut
I've purchased many products from AllBrands and have never had a problem.

Maureen, Colorado
I enjoy doing business with you. All of my transactions have been a pleasant experience. Thank you so much for the opportunity to do business with you.

Anthony, Connecticut
Good product and well written instructions.

Andrea, Indiana
The laser works fine. We did have to rig up a system to attach it to my machine, but with a little piece of wood and some ingenuity, my laser is now very usable. Thanks

Carolyn, Nevada
I ordered a laser light for a GMQ Pro frame. It came with no instructions for assembly or attaching it to my frame. This was extremely disappointing. Other than that I was satisfied with your service. I was able to contact the Grace Co. and they e-mailed a link to the proper instructions.

Nancy, Michigan
I had no problems with my order and it arrived on time. Thank you.

Patricia B., American Canyon, CA
I love shopping with AllBrands. Your website is super easy to navigate, and the products are always exactly as you describe. Thanks so much for great service and great products!

Dianne C, Sherwood OR
Thank you for your quick service. The price was great.

Lelia B, VA
This was not the first purchase from your company and it won't be the last. It's been a good experience.