Includes 1750 Watts, 2.6L Tank, 303.8ºF, 87 PSI, 17 Piece Deluxe Accessory Tools Kit, Auto Refill, Kills Germs, Stainless Steel Tank, Made in Italy, EMC2 No Scale Technology, Optional Trolley Cart with Direct Water Feed.
Professional Features And Performance
The new EnviroMate PRO (EP1000) takes on the most challenging cleaning and sanitizing jobs with ease. From hospitals and schools to restaurants and hotels the Enviromate PRO beats the performance and price of comparable machines in the steam-cleaning category.
Why Clean With Steam?
Steam deodorizes and sanitizes with heat and moisture and since the only ingredient required for the EnviroMate PRO (EP1000) is water, commercial cleaning has never been safer, healthier, more cost-effective or environmentally friendly. The premium choice for professionals and the most discerning homeowners.
• 2.6 L - .68 gallon boiler tank
• 3.1 L - .81 gallon water tank
• Steam tank temperature 151º C – 303.8º F
• Bacteria is killed at 140º C – 284º F
• Higher body for efficient air-flow, reduces internal heat
• 1750W heating element
CSS Technology
With CSS you will never run out of steam in the middle of cleaning again. Simply refill the water tank when the water level is low and away you go.
EMC2
Prevents scale built-up in the machine, and makes water softer leaving no residue on cleaned surfaces. Click on the image for more details.
5 Year Limited Warranty
Aided by EMC2, the stainless steel AISI 304 steam tank is covered by a 5 year limited warranty. The upper (ABS) and lower (PA66 – 30% fiberglass, heat and fire resistant to 220º C) portion of the EP1000 are both strong and flexible.
6 Bar Pressure
Our 6-bar (87 psi) operating pressure ensures outstanding professional results.
17-Piece Accessory Kit
Made in Italy, the best steam cleaning methods include the use of superior quality accessories. Everything you need to get started is included. Just add water!
Electronic Control Panel
The control panel on the EP1000 indicates which steam setting is being used. The pressure gauge allows for monitoring of the systems steam pressure.
Adjustable Steam And Hot Water Flush
Low, medium and high pressure settings on the handle allow the operator to control the steam pressure, including a hot-water flush setting for removal of debris.
The new Brio PRO (1000CC) takes on the most challenging cleaning and sanitizing jobs with ease.
Great for cleaning schools
Commercial kitchen cleaning
Health care facility cleaning
Office Cleaning
Kennel Cleaning
Restroom cleaning
Auto Detailing
Gym cleaning
Gum removal
Carpet cleaning
Appliance cleaning
Glass cleaning
Sealed hard flooring cleaning
Door handle sanitation
Tape residue
Kick plate cleaning
Trolley assembly
BBQ cleaning
Brio Pro assembly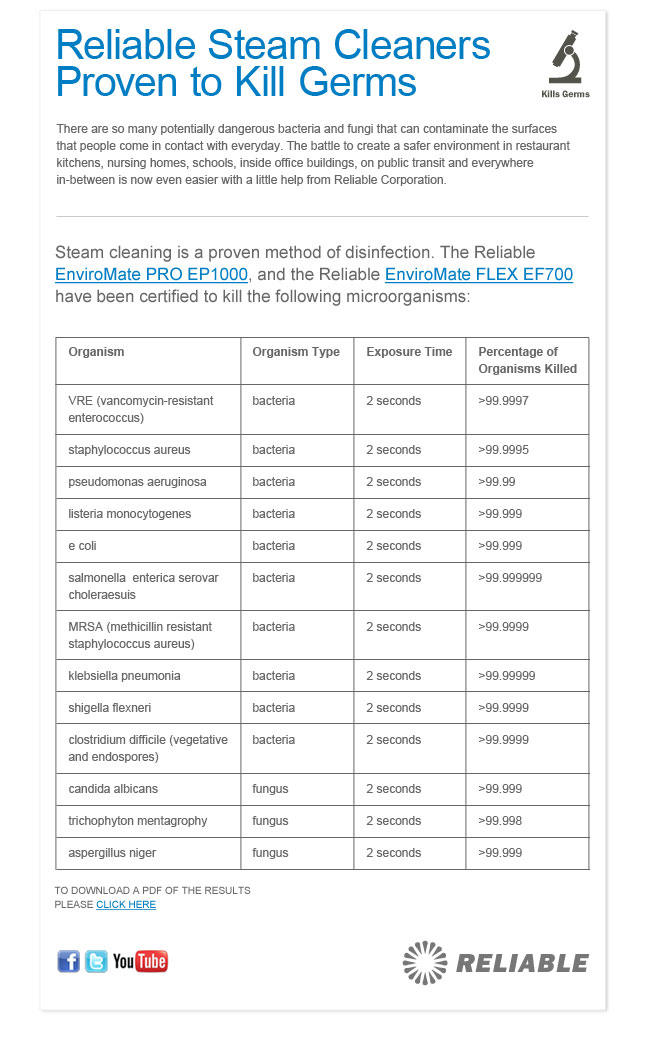 Reliable Warranty Information
(.PDF)
US Warranty Lifetime Boiler Warranty
Extended US Warranty: Free 5-Year Warranty
Non-US Warranty: 30 days parts and labor
Specifications
Electrical: 110V/120V

Boiler & water capacity: 11 cups– 2.6L | 13 cups – 3.1.L

Operating pressure: 87 PSI – 6 bar

Wattage: 1750W – 2 elements

Boiler temperature: 302°F – 320°F

Tip temperature: 257°F – 125°C

Tank construction: Stainless steel 18/10

Length of electrical cord: 15.4' – 4.7 m

Length of steam hose: 9.6' – 2.95 m

Net weight: 23 lb – 10.5 kg

Shipping weight: 31 lb – 14 kg

Product dimensions: 19" x 14.5" x 14"

Shipping dimensions: 23" x 20.5" x 16"

Country of origin: Italy

Electrical approval: cETLus

Warranty: Ltd 1 year, 5 years tank & shell
Steam Cleaner Product Comparisons
Feature

Steam Only
√
√
√
√
Steam and Vacuum
-
-
-
-
Accessories
14-piece
21-piece
13-piece
13-piece
+ 7 piece bonus kit
Boiler Temperature
302ºF – 320ºF
150ºC – 160ºC
302ºF – 320ºF
150ºC – 160ºC
302ºF – 320ºF
150ºC – 160ºC
302ºF – 320ºF
150ºC – 160ºC
Steam Tip Temperature
245ºF | 118ºC
210ºF | 99ºC
221ºF | 105ºC
221ºF | 105ºC
# of Heating Elements
1
1
1
1
Heating System
Boiler type
Boiler type
Boiler type
CCS
Steam Ready Time
2 minutes
5 minutes
10 minutes
5 minutes
Cleaning Time
15 minutes
45 minutes
75 minutes
Unlimited
Tank Construction
Aluminum
Aluminum
Double Wall
Stainless steel
Stainless steel
Steam Hose Length
n/a
6.5' | 2m
7' | 2.1m
7' | 2.1m
ECM2
-
-
-
-
HEPA Filtration
-
-
-
-
Electrical Cord Length
19.5' | 5.9m
18.5' | 5.6m
8' | 2.4m
8' | 2.4m
Total Water Capacity
1.25 cups | 300cc
5.7 cups | 1.35L
8.45 cups | 2L
9.3 cups | 2.2L
Net Weight
2.5 lb | 1.1 kg
11.6 lb | 5.2 kg
14.5 lb | 6.5 kg
15.5 lb | 7 kg
Wattage
1200W
1400W
1780W
1450W
Warranty
1 Year Limited
1 Year Limited
1 Year Limited
1 Year Limited
3 Year Boiler
3 Year Boiler
3 Year Boiler
Feature

Steam Only
√
√
-
√
Steam and Vacuum
-
-
√
-
Accessories
14-piece
14-piece
+ 7 piece bonus kit
24-piece
17-piece
Boiler Temperature
302ºF – 320ºF
150ºC – 160ºC
302ºF – 320ºF
150ºC – 160ºC
302ºF – 320ºF
150ºC – 160ºC
302ºF – 320ºF
150ºC – 160ºC
Steam Tip Temperature
245ºF | 118ºC
245ºF | 118ºC
245ºF | 118ºC
250ºF | 121ºC
# of Heating Elements
2
2
2
1
Heating System
Boiler type
CSS
CSS
CCS
Steam Ready Time
10 minutes
5 minutes
5 minutes
10 minutes
Cleaning Time
75 minutes
Unlimited
Unlimited
Unlimited
Tank Construction
Stainless steel
Stainless steel
Stainless steel
Stainless steel
Steam Hose Length
9.6' | 2.9m
9.6' | 2.9m
7.2' | 2.2m
9.6' | 2.9m
ECM2
-
-
-
√
HEPA Filtration
-
-
√
-
Electrical Cord Length
16.3' | 5m
16.3' | 5m
16.3' | 5m
15.4' | 4.7m
Total Water Capacity
8.45 cups | 2L
11 cups | 2.6L
7.6 cups | 1.8L
1.3 gallon | 5L
Net Weight
12.8 lb | 5.8 kg
15.1 lb | 6.85 kg
25.8 lb | 11.7 kg
23 lb | 10.5 kg
Wattage
1700W
1700W
1700W
1750W
Warranty
1 Year Limited
1 Year Limited
1 Year Limited
1 Year Limited
5 Year Boiler
5 Year Boiler
5 Year Boiler
5 Year Boiler